Equality for Female Boxers in the Olympics
WBAN PETITION
Home Page
Search WBAN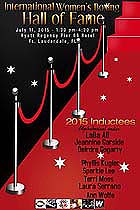 IWBHF Hall of Fame Ceremony, July 11, 2015
For Full Details!
Latest News-Women
Biography- Sue TL Fox
Latest Rankings
Boxer's Profiles
Fight Results
Upcoming Events
Knockouts!
Past/Present Ratings
Fight Photo Gallery
Boxing Trivia
Tiger Tales by Fox
Amateur Scene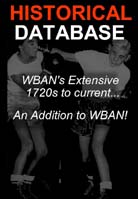 Boxers Websites
Women Cops who Box
Exclusive Interviews
Bust a Fighter!
Mixed Matches
Mismatches
About WBAN
Advertise on WBAN
Other Links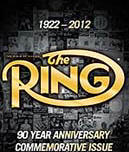 Sue Fox Named in the "Top Ten" Most -Significant Female Boxers of All Time - Ring Magazine - Feb. 2012
HISTORY OF
WOMEN'S BOXING
Historical -All links
Historical Events
History Firsts
Flash from the Past
Past Boxer Profiles
70'S/80'S Past Boxers
Pre-70'S Boxers
Past Amateur Boxers
About Sue TL Fox
Video streaming, over
11, 500 photos, and more!

Matchmaker's Hot List - Exclusive Matchup!

Hot Hot HOT Photo Galleries!Flash Photo Slideshows!

Boxing Records for women boxers..archived records!
FREE WORLDWIDE
CONTACT LISTING!
This is perfect for Promoters, Matchmakers, Managers, Matchmakers, Trainers, Boxers, etc.


To Sign Up!
Having Problems
with the website?
Send an Email
Directly to WBAN!




What is a world champion?
By Sue TL Fox
October 18, 2005



(OCT 18) Webster Dictionary describes a champion as a "winner of first prize or first place in competition." Taken a step farther, Webster's defines the best as "excelling all others."

Those definitions may be accurate in other sports, but all too often it seems they fail to apply in women's boxing, where anyone willing to write a check and buy a piece of hardware can find a sanctioning body more than happy to slap their initials on a world championship fight. How many times have we seen, or will we see boxing matches that are advertised as "world title fights", only to discover a fighter truly deserving their world ranking matched against someone who at best qualifies as "luke warm," or worse.

While promoters and sanctioning bodies make their money off such bouts, fans are often left to wonder why such a bout deserved its "world title" designation. Sadly, neither have little reason to give the public better, since they both are often "in" and "out" of a boxing venue before the public and fans realize they've been shortchanged.

If this is the best the sport can offer, fans think, why should I be interested? Too often, such fights are no more competitive than having your 80-year-old grandmother run a marathon against a top long-distance runner. Fans shouldn't be expected to pay good money to see either type of charade either.

When WBAN receives notice of upcoming "world title" bouts, it is both numbing and disturbing to see who is matched against who at times. To be sure, there are good matchups worthy of a "world title" designation, but it definitely deflates the spirit and devalues deserving fighters to see the bad ones that come across our desk.