(DEC 10) On December 8, 2007, at the Nyayo Stadium, in Nairobi, Kenya, Former Commonwealth Welterweight champion Joshua 'Poison' Onyango won a 3rd round KO against Ugandan Billy 'the beast' Kizito to claim the vacant Universal Boxing Organisation (UBO) welterweight title. Joshua was fighting for the first time at home in five years. He is currently based in the United States.

Onyango walked into a right hook from the Ugandan and
went down in the first round. The former commonwealth
champion beat the count and came back into the game
resoundingly making his presence felt and at the same
time using his guard well to neutralise the hard
hitting Ugandan's punches.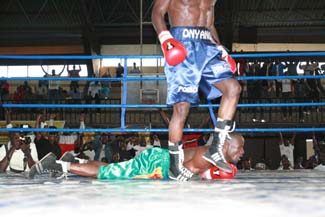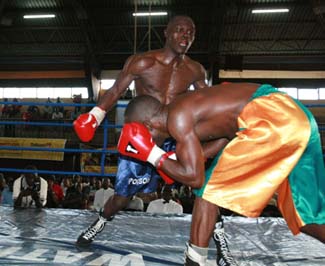 The second round was an evenly contested bout, both
boxers taking the game to each other, although Onyango
seemed to be fighting more cautiously, of course not
wanting another knock. In the middle of the third
round, Onyango had put up the pressure against the
Ugandan with accurate body punches that seemed to have
their effect on his opponent. One such right to Kizito's ribs was followed by an accurate left to the jaw that had Kizito sprawled on the canvas, face fast. Referee Vedo Okumu counted out KIzito and stopped the fight.

'I was not in a great hurry in the first round' Onyango said, ' I was trying to find my range. I usually start my onslaught in the middle rounds."

The new champion however acknowledged his opponents
abilities, "he is a hard hitter and is a very strong
with his hooks. He is awkward in his style and that
makes it hard for me to put their punches together."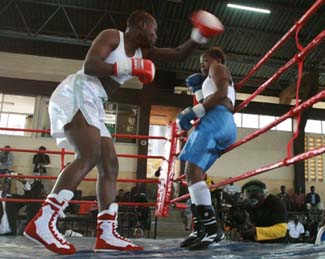 Earlier in the evening, former GBU women's Middleweight
champion Conjestina Achieng fought out a close win
against debut Charity Mukami in a six-round non-title
bout. The débutante had been soundingly dismissed as a
mismatch for the former champion silenced her critics
when she took the game to her superior opponent.

Fleet footed and quick with her jabs, Mukami contained
Achieng's onslaught from the 1st round and had the
crowd on its feet with her agile movements and
counter-punching. the judges scored the fight 58-58,
60-54 and 58-55.