It may have been (as Roberto Santos claims) the women's fight that was the subject of most interest in Juriquilla on Friday, but Julio Cesar Chávez Jr. stole back the show for the men on fight night with his 25th minute knockout of Giuseppe Loriga of Italy. For all we know, another ten minutes would have given Ana María Torres time to find the knockout she was looking for on the same bill against Myung Ok Ryu of North Korea, but ten two-minute rounds are all the women are allotted and the fight ended in an anticlimactic majority draw.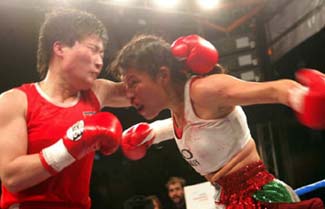 With the result, Myung Ok Ryu of North Korea retained the WBC super flyweight title she won under controversial circumstances in Gaeseong City last October. Neither fight, it appears, was much of an advertisement for the sport – still less for the system: after the first eight minutes, one judge had Torres two rounds up, another judge had her two rounds down, whilst the third made it a draw. (Why not just toss a coin?) At the end, Robert Hecko scored it 93-97 for Torres, whilst the other two (Rubén Carrión and Glen Rick Crocker) arrived by different routes at the same result: 95-95.
If the Mexican reports are to be believed, the change of venue didn't at all force Ryu to adopt a cleaner style of fighting, as Torres had fondly supposed it would; exactly as in the first fight, (it is claimed) she resorted to clinching or attacked with the head whenever she felt threatened, despite warnings from the referee. Torres, whose nose was bleeding as early as the third round, seemed more preoccupied with how to avoid being hit by her opponent's head than with hitting it.
In the two final rounds, which one judge had her winning and the others judged even, the challenger went all out for the knockout, allowing Ryu to respond with combinations to the head, but time ran out before either woman could press home an advantage.
Date: 2008-04-26
Venue: Plaza de Toros, Juriquilla (Querétaro)
Over 10 two-minute rounds for the WBC super flyweight title
Myung Ok Ryu (North Korea) v Ana María Torres (Mexico)
Result: Majority draw (93-97 in favour of Torres, 95-95, 95-95)
(Referee: Rocky Burcke)