It was Wang's toughest fight to date, to say the least.
Yanan "China Doll" Wang squeaked by in her WBC/WIBA middleweight championship fight against the American challenger Akondaye Fountain Friday night at the Sichuan Gymnasium in Chengdu, China.
"It's the toughest fight Nayan has experienced in her whole career," Wang's manager and trainer Zeming Yang told WBAN after the fight at dinner table in his hotel.
Wang started out slow, but won big on the scorecards – 98-91, 97-92 and 95-94.
She got off on the wrong foot, being outboxed and absorbing hard beatings both to her body and her head. By the third round, she was caught by a left hook and hit canvas. Wang barely beat the count, with a painful expression on her face, and survived the round.
All three judges had Fountain winning on the scorecards - 39-38, and 38-37 twice, before the fifth stanza.
The "China Doll", taller, rangier and much younger, rallied from the second half, keeping her opponent at bay and connecting consecutive blows to her rivalry's head.
"Nayan is a slow starter," Yang said. "And this time, she got only five minutes to warm up."
Wang made a spectacular sixth as the 35-year-old Fountain faded, landing wicked combinations to the veteran's head. She brought the momentum to the seventh and by the end of the round, Wang had taken the lead in all three judges' scorecards, which is 68-66 and 67-65 twice.
"Don't worry. You are taking the lead," Yang shouted in Chinese in between rounds. "Step out, Step out! Only right hand! Knock her out!"
The knockout, which both fighters were gunning for didn't occur, yet it was Wang who kept the pace and controlled the last few rounds till the final sound of the bell.
The crowd erupted when the announcer declared the score - 98-91, 97-92 and 95-94, all in favor of the "China Doll".
"I need to have a good rest after this tough fight," Wang told WBAN at dinner table. "She (Fountain) was dissatisfied with the result and cried. I think she's a fairly excellent boxer."
Photo Illustration
WBC female middleweight champion Yanan Wang, of China squeaked by when facing her toughest opponent to date Akondaye Fountain of America in an action-packed WBC female championship bout in Chengdu, China on November 7, 2008. The final score is 95-94, 97-92 and 98-91, all in favor of Yanan Wang.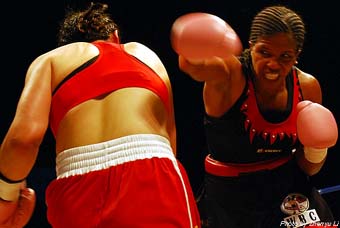 Akondaye Fountain, right, throws a hard right when confronting the reigning champion Yanan Wang in the WBC female championship bout in Chengdu, China on November 7, 2008. (Photo/Zhenyu Li)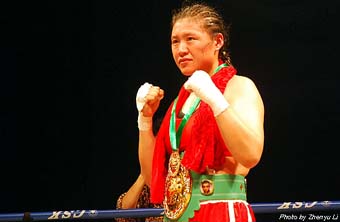 The reigning champion Yanan Wang, of China, celebrates after defeating the American challenger Akondaye Fountain in an action-packed WBC female championship bout in Chengdu, China on November 7, 2008. (Photo/Zhenyu Li)