Equality for Female Boxers in the Olympics
WBAN PETITION
Home Page
Search WBAN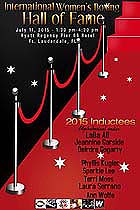 IWBHF Hall of Fame Ceremony, July 11, 2015
For Full Details!
Latest News-Women
Biography- Sue TL Fox
Latest Rankings
Boxer's Profiles
Fight Results
Upcoming Events
Knockouts!
Past/Present Ratings
Fight Photo Gallery
Boxing Trivia
Tiger Tales by Fox
Amateur Scene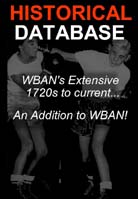 Boxers Websites
Women Cops who Box
Exclusive Interviews
Bust a Fighter!
Mixed Matches
Mismatches
About WBAN
Advertise on WBAN
Other Links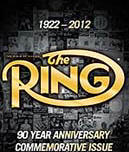 Sue Fox Named in the "Top Ten" Most -Significant Female Boxers of All Time - Ring Magazine - Feb. 2012
HISTORY OF
WOMEN'S BOXING
Historical -All links
Historical Events
History Firsts
Flash from the Past
Past Boxer Profiles
70'S/80'S Past Boxers
Pre-70'S Boxers
Past Amateur Boxers
About Sue TL Fox
Video streaming, over
11, 500 photos, and more!

Matchmaker's Hot List - Exclusive Matchup!

Hot Hot HOT Photo Galleries!Flash Photo Slideshows!

Boxing Records for women boxers..archived records!
FREE WORLDWIDE
CONTACT LISTING!
This is perfect for Promoters, Matchmakers, Managers, Matchmakers, Trainers, Boxers, etc.


To Sign Up!
Having Problems
with the website?
Send an Email
Directly to WBAN!




Today: Press Conference Open to the Public - Holm -Clampitt Main Event!
June 29, 2010

(JUNE 29) WBAN has been notified via press release that Holly Holm will be fighting Jaime Clampitt on August 6, 2010 for the IBA junior welterweight World Title.

The press conference that is OPEN TO THE PUBLIC will be held at the Hard Rock Hotel and Casino Bingo Showroom on TODAY, at 2:00 p.m. [This casino was formerly called the Isleta)

In attendance: WIBA Light Welterweight Super Champion - Holly "The Preacher's Daughter" Holm
and IWBF Light Welterweight World Title Jaime "The Hurricane" Clampitt --plus the undercard.

This event is promoted by Fresquez Productions, Inc. and Hard Rock Hotel and Casino. For more information, please see fresquezproductions.com or call 505-884-7484.