(AUG 20) Tonight WBO Bantamweight Champion, Kaliesha "Wild Wild" West, of Moreno Valley, California, will defend her title at the Black Pyramid Casino, in Manzanillo, Colima, Mexico, against Jessica Villafranca, Nicolas Romero, Mexico, in a 10-round bout. Their fight will be televised on "Televisa" at 8 p.m. CT. The fight card titled, "Triple Corona," is presented by the Mexican boxing promotion, HG Boxing.

In a second bout, Arely Mucino, will be defending her IBF Flyweight title against Susana Vazquez in a 10 rounder.
Yesterday the weigh-in took place, and WBAN received some weigh-in photos of the boxers.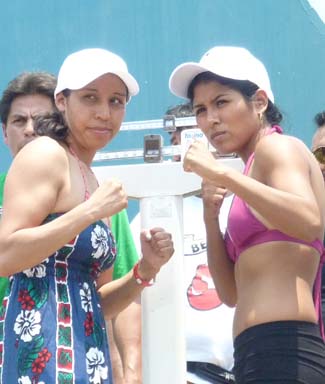 AT THE SCALES YESTERDAY:

Surrounded by and unbeatable atmosphere this afternoon the fighters of the show "TRIPLE CORONA" (Triple Crown) cleared the weigh in with out any complications on the scale and they declared to be ready to get into the ring in go for the win in the boxing show presented by HG Boxing this Saturday on Black Pyramid Casino in Manzanillo, Colima, Mexico.
Arely "Ametralladora" Muciño is the main event of this amazing boxing show, she climbed the scale located in the Historic downtown of the city to register a weigh of 50.800 Kg, act followed by the applause of all fans at tenting the weigh in. Her opponent, Susana "Toluquita" Vazquez also climbed the scale to regiter the same weigh as her opponent. Everything is ready for this fight in the Flyweigh division for the IBF Flyweight World Title.

"I feel very happy of having beaten the first obstacle , I feel strong and focused to defend my crown" declared Arely who was visible exited by the way things have gone for her.

"I know that i Will have a very complicated opponent but I'm very motivated and well prepared to go back home with the belt"


Kaliesha "Wild Wild" West (13-1-3, 4 KO's) stopped the scale at 53.500 jg. (118 pounds) to face a tough opponent as Jessica Villafranca (12-2, 6 KO's) from Mexico City in what will be the second defense of the World Title that is property of Kaliesha.

The boxer born in Michigan 23 years ago is an exotic mix of cultures from Mexican, core an and Cherokees to African American and that is reflected on the ring. "K" as she is known among her friend and family will be visiting Mexico for the first time since her appearance in a Mexican ring in 2008.

"I feel nervous but grateful at the same time, I understand that the Mexican public is hard to please and I will do my best to do it. I had the best training camp of my life and I hope to shine tomorrow."

About her opponent she said the Jessica is taller and younger that her and also has a lot of amateur experience and in her last fight she has fought three division above her natural weigh class.

"I'm very happy of being in front of this great public" finalized the queen of the 118 pounds division.