(JAN 12) Mexico's Mariana "Barbie" Juárez, 32-5-3 (15KO)who was named "Fighter of the Year" by the World Boxing Council at its recent convention held at the Mandalay Bay Hotel and Resort, in Las Vegas, Nevada, returned to the gym on Monday to prepare her fifth WBC flyweight title defense.
In 2011, Juárez successfully defended her crown four times, which was one of the contributing factors for being picked by the WBC as the top female boxer of the year.
"In mid February, our champion [Juárez] will risk her WBC title", said Arturo Contreras, matchmaker of "Boxeo de Gala", the company that represent Juarez exclusively.
Best known as "La Barbie", this beautiful female Mexican fighter had her best year in 2011. She became the WBC flyweight champion after defeating Italy's Simona Galassi in a tremendous bout on March 11th, in Mexico City.

Her rival, yet to be confirmed, will be the dangerous Japanese fighter, Naoko Fujioka, who is the current WBC strawweight champion.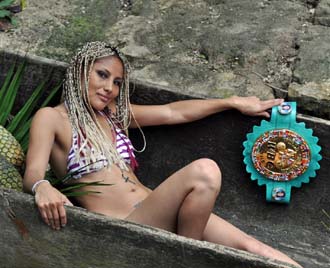 Photo from the 2012 Calendar featuring Juarez - Calendar has been very successful in Mexico City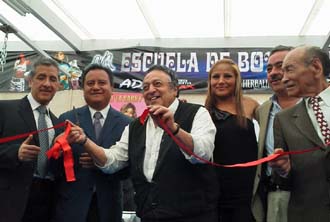 Also, earlier today, accompanied by Don Jose Sulaiman and her promoter Fausto Garcia, Juarez opened her Gym in Santa Ursula Coapa, Mexico City. She has promised to give free boxing lessons to children who have good grades.

"I appreciate infinitely the support that "RING TELMEX PROGRAM", gave me in the past three years, because without it, this dream could not have happened," said the Champion with tears in her eyes during the grand opening of her Gym.