(JAN 22) Zulina "La Loba" Muñoz, who is the current WBC bantamweight silver world champion, yesterday approved the official weigh-in as required by the World Boxing Council seven days before the fight, registering 116.404 pounds, 1.5 pounds below the limit of her division, as next week, will defend her title against Paulina Cardona from Colombia in the Jose Cuervo Saloon in Mexico City.

The event took place at the "Boxeo de Gala" Gym, which is owned by Dr. Fausto Daniel Garcia.

In general, fighters work hard to be a few pounds over the limit of the division, but Zulina, dressed as Wonder Woman, not only marked the limit, but below.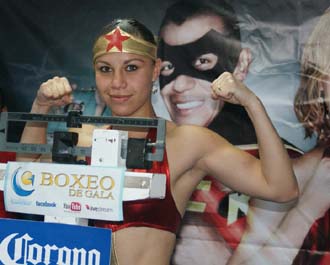 "Don´t worry, the day of the fight I'm going to weigh more than I gave today. I fortunately have no difficulty with the scale, and before a fight, instead of having to lose pounds, what I do is the reverse" said Zulina.