(FEB 16) Santa Ana Star Casino, Santa Ana Pueblo New Mexico: Former professional boxer and boxing promoter Stephanie 'Golden Girl" Jaramillo and her promotional company, Golden Girl Promotions, are proud to announce that they will be returning to Santa Ana Star Casino on April 28, 2012. And this time she will be bringing a few friends along for the event!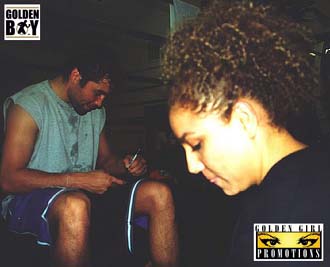 Co-promoted with Oscar De La Hoya's Golden Boy Promotions, the card will feature Albuquerque's own future World Champion Fidel "The Atrisco Kid" Maldonado Jr., who will be headlining the event when he defends his WBC Youth World Championship Title in front of his hometown crowd. Backed up by a strong under card of New Mexico's young talent, this event will provide the boxing fans their moneys worth.

Golden Boy and Golden Girl Promotions would appreciate your presence at our Official Event Announcement Press Conference to be held at the Santa Ana Star Casino's Cheenah Lounge on February 28th, 2012 at 2:00pm. We will be announcing Fidel's opponent, introducing you to the under card of New Mexico's up and coming local talent, provide information regarding ticket pricing and purchasing info, as well as a media disk with all necessary logos, pictures and information.

For any questions prior to the event, or if you would like to reserve your Media Credential for the April 28th event, you are welcome to email Dominic Gonzales at ceo@goldengirl.us.

Also please visit: www.goldenboypromotions.com, www.goldengirl.us, and www.santaanastar.com for more info.