(MAR 17) Tonight in Mexico City, the Jamaican born and New York resident, Alcia "Slick" Ashley, (17-9-1, 1 KO) is ready to defend her World Boxing Council (WBC) super bantamweight world title in the card "Two Queens for a Crown" hosted by Boxeo de Gala and they are expecting 5,000 aficionados.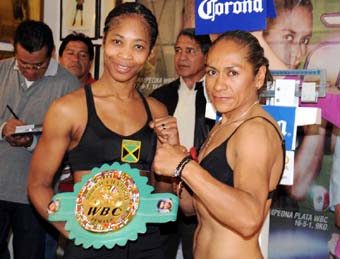 Her rival, hometown boxer Mary E. Villalobos, (16-5-1 9 KO) will have the support of the local audience and may build the confidence needed for her to snatch Ashley's belt.

Ashley, known for her quickness, precision with her fists, and boxing elegant legs, has the advantage of 6 inches in height.

Villalobos will have to use her intelligence rather than strength tonight to cover her trips to the champion. "The Explosive as she is known, cannot get carried away by emotion, as the elusive Ashley will do her job.

The fight will be on Channel 28 in Mexico and will be held in the Deportivo de los Trabajadores del Metro.