(MAR 10) The awful British Weather – cold with pouring rain, did not put off the loyal band of boxing fans at London, England's York Hall, Bethnall Green on the afternoon of Sunday, 4th March 2012.

SEIZE THE DAY was the event's title staged by The Queen of British Professional Boxing, Miranda Carter of LEFT JAB promotions.

This ladies Super Featherweight fight was the first in an eigiht-bout tournament. Originally listed as over 4 x 3 minute rounds...it was in fact (correctly) fought over 6 x 2 minute rounds.

ARETI "The Master" MASTRODOUKA who will be 36 years old later this month, was making her world debut as a professional boxer.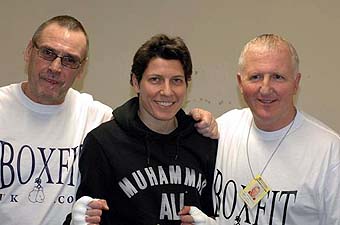 MANAGER JOHNNY EAMES, MASTRODOUKA, TRAINER ALEC WILKEY
Born in Greece, her home is in Athens. However, Areti has been training since July 2011 under ALEX WILKEY in the TKO Gym, London, England, where she is managed by JOHNNY EAMES.

Before this fight she had an amateur boxing record of 28 wins, and 7 losses Twice winning a Silver Medal as Runner Up in the 60 Kilogram's class in the Women's Amateur World Championships in 2002 and 2003

Her record as a Full Contact Kickboxer was even better, winning the Women's World Championship in the 60 Kilos weight class. Triumphant in 29 of her 30 fights.

Granted an annual licence by the British Boxing Board of Control she is keen to make her way as a professional boxer and is looking for sponsorship.

Her opponent: KRISTINE "Rattler" SHERGOLD (31) from Exeter, Devon, England who, after a short period as an amateur boxer has had an uneven record as a professional with 4 wins and 5 losses.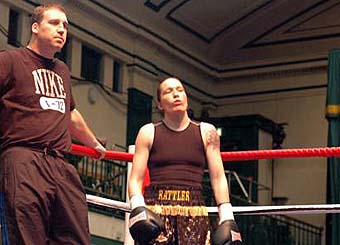 SHERGOLD GETS READY
In the ring's Red Corner, SHERGOLD a muscular 5 ft 6 inch woman with long light auburn hair tied back in a black vest with speckled black and golden satin shorts with her nick name "Rattler" around the front waistband.

In the ring's Blue Corner, MASTRODOUKA also a muscular 5 ft 7 inch woman with short black hair was clad in a black sports bra with long black shorts with "The Master " emblazoned across her bottom.

Master of Ceremonies Mike Goodall announced that the fight was over 6 x 2 minute rounds and that at the Weigh In MASTRODOUKA was 9 stone 3lbs and SHERGOLD was 9 stone 6 lbs. These were two strong women.

Round 1

Referee Jeff Hinds called the women from their corners and they both came out fighting. SHERGOLD started by flicking straight lefts in MASTRODOUKAS face, but they fell short. They danced around and she threw a left hook which also failed to connect. MASTRODOUKA started her response with a straight left to the chest, SHERGOLD simultaneously countering with a straight right. In a quick exchange of punches MASTRODOUKA scored a great left hook to the jaw which momentarily threw SHERGOLDS head back.

The momentum increased.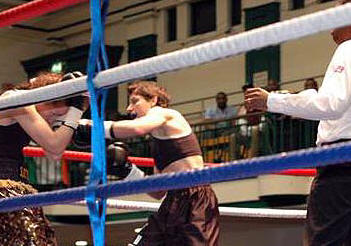 SHERGOLD BLOCKS MASTRODOUKAS LEFT HOOK WITH HER GLOVES
SHERGOLD bravely kept coming forward but MASTRODOUKA continued to pick her off with two handed quick combinations to the head and body.

A lot of heavy blows where thrown by both women, but a lot missed.

MASTRODOUKA quickly showed herself the more accurate puncher of the two.

Round 2

The fight moved into its natural rhythm. SHERGOLD constantly bobby forward to launch her attacks , but being punished by MASRODOUKA who whilst backing away caught her with fast two handed ripostes. SHERGOLD had difficulty making her punches tell against a wily opponent.

Both women fought in the centre of the ring.

Repeatedly these ended in a mauling clinch with SHERGOLD'S head on MASTRODOUKA'S right shoulder with her left arm around her opponent's waist.


or neck whilst she punched her with her right hand. MASRODOUKA retaliated delivering right or left jabs at her opponent's body and face.


SHERGOLD threw a powerful straight left which her opponent ducked.

Both women caught the other with solid punches to the head and stomach. SHERGOLD getting the worse of it.

A mauling ruck.

The round ended with a clinch with MASTRODOUKA hitting SHERGOLD in the body with right and left combinations.

Round 3

MASTRODOUKA started the attack with a fast left hand hook, then after flicking her straight right hand in her opponents face she unleashed a barrage of right and left hook combinations mainly to the body, forcing SHERGOLD briefly into the Red corner. Bobbing and weaving SHERGOLD extricated herself whilst fighting back with her own right and left hooks. She flicked a straight right in MASTRODOUKAS face. MASTRODOUCKA then threw a vicious right hook which mercifully SHERGOLD ducked.

This was close quarters, toe to toe fighting.

Another mauling ruck which the Referee separated. Then another !

The contest developed into a fast moving series of clashes, each woman taking the initiative with violent exchanges of short sharp blows. Whilst SHERGOLD'S strategy was to take the fight to her opponent , MASRODOUKA responded with her own forays and her effective counterpunching which gave SHERGOLD a lot of trouble

The action see sawed across the ring as first SHERGOLD and then MASTRODOUKA attacked and retreated. This was a hard fought round.

As the bell sounded SHERGOLD and MASRODOUKA both threw long straight lefts to her opponent's head which both missed.

Round 4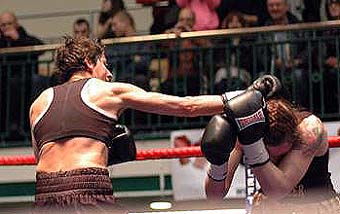 SHERGOLD DUCKS AS MASTRODOUKA LEADS WITH HER RIGHT
SHERGOLD continued her attacks - a rush forward with straight lefts and left hooks followed by right hooks. Again not all reached their intended mark.

MASTODOUKA flicked her right glove into her opponents face. She then ducked down to deliver a left hook inside to the chest, quickly followed by combination hooks to the head. The boxers circled. MASTRODOUKA attacked.

SHERGOLD unleashed a big sweeping downwards thrusting left hand hook which missed.

A brief clinch, MASTRODOUKA repeated her now familiar tac tic of waiving her right glove in her opponents face and then quickly ducking down to deliver telling left hooks inside to the solar plexus..

More brisk exchange of blows. Another clinch.

The two boxers circled and feinted as the bell sounded.

Round 5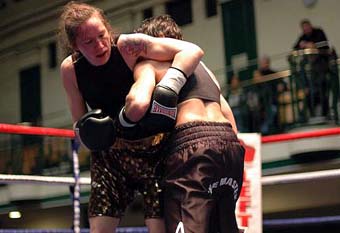 ANOTHER CLINCH FINDS SHERGOLD WITH HER LEFT ARM OVER
MASTRODOUKAS LEFT SHOULDER
SHERGOLD bobbing and swaying attacked. Another tough exchange of blows.

Head down SHERGOLD pushed MASTRODOUKA bodily into the Red Corner.

The Referee stepped in to separate them.

MASTRODOUKA landed a good straight right to SHERGOLDS face.

The pace did not slacked with SHERGOLD keeping up her relentless attacks, but running into stout resistance – her opponent picking up the points This was tough fighting with SHERGOLD covering up before resuming her attacks.

She held her opponent briefly whilst delivering short jabs.

MASTODOUKA crouched down and pushed SHERGOLD towards the ropes. The Referee separated them.

More fast exchanges. SHERGOLD throwing a big right hook to the body at the end of the round, which missed.

Round 6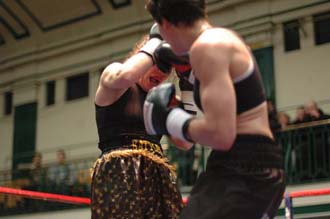 GRIMACES AS ANOTHER OF MASTRODOUKAS PUNCHES LANDS
Both women came out of their corners and touched gloves. MASRODOUKA threw a straight left to the chest. SHERGOLD responded with her left. Her opponent backpedalled, with her in pursuit. She threw a left hook which missed, but received a left hook to the face. A fighting clinch. SHERGOLD laid her head on her opponents left shoulder whilst she delivered short jabs to the body, and a right hook to the back of MASTRODOUKSA head for which she received a warning from Referee Jeff Hinds.

Crouching MASTRODOUKA returned to the attack with a right and left combination of hooks to the body. SHERGOLDS counterpunches missed their marks.

SHERGOLD attacked again and another fighting clinch ensued – which the Referee stepped in to separate.

Then a sprawling ruck – both fighters exchanging a series of two handed blows. Culminating in another clinch which the Referee separated.

MASTODOUKA attacked and another clinch needed the Referee's separation.

SHERGOLD was swung round and caught repeatedly by MASTRODOUKA with an array of good punches to the face and torso in the swift moving action which continued up to the final bell.

The fans clapped and hooted their appreciation of a hard fought skilful contest.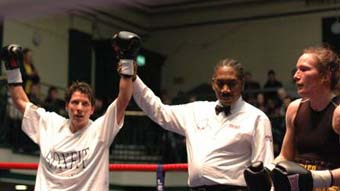 TRAINER ALEC WILKEY LOOKS ON AS THE REFEREE HOLDS UP
MASTRODOUKAS ARM IN VICTORY
As soon as the fight ended the Referee Jeff Hinds unhesitatingly raised MASTRODOUKA'S arm as winner. It being confirmed when the score was announced as 60 points to 55 in her favour.

This was a good fight and a credit to womens' professional boxing. Both women where here to fight, and fought well - giving and receiving good punches. SHERGOLD should not be too disappointed with her loss against such an experienced opponent. She maintained a high work rate and bravely continued to attack right up to the end despite being continually punished for her aggression by the talented Greek. She had difficulty landing telling punches on her slippery advisary. Homogenic MASTRODOUKA fights like a man. She is very fast with both her fists, and moves well, delivering combinations to her opponent's head and body - wherever she sees an opening. Although describing herself as a Southpaw she seemed equally adept at leading with either hand. She continued to work inside with a good variety of punches. Her prefight record speaks for itself !

As a professional boxer MASTRODOUKA advances to 1 win and no losses, and SHERGOLD drops to 4 wins 6 losses

Speaking to your correspondent in her dressing room after the fight MASTRODOUKA in halting English paid tribute to her opponent. " I think it was a good fight. I think Kristine went inside to win and she did her best. She was a good fighter but I was better I was sick for two weeks (during training) ... I think I will be better (next time) Thank you "


SHERGOLD following previous practice refused to be interviewed.
Obviously upset by the decision she quickly left the building for her long journey home.

In the succeeding 7 mens' contests : -

Bout 2
Light middleweight DANIEL MULHERN (Luton) beat OLAFS SIMANIS (Latvia) 40 points to 36 points over 4 rounds

Bout 3
Light welterweight BOBBY GEORGE (Luton) beat IDEH OCKUKO (Bermondsey) 40 points to 36 points over 4 rounds.

Bout 4
Welterweight EDDIE CORCORAN (Wembley) beat DUNCAN COTTIER (Woodford) 40 points to 36 points over 4 rounds

Bout 5
Super Middleweight SCOTT HARTLEY (Stratford) beat MARCO STEPHENSON (Luton) 40 points to 38 points over 4 rounds

Bout 6
Welterweight TYLER GOODJOHN (Haddenham) beat JEGORAS MICHALIOVAS (Lithuania) 40 points to 37 points over 4 rounds

Bout 7
Heavyweight WADI CAMACHO (Canning Town) beat ROLANDAS CESNA (Lithuania) by a TKO (Referee stopped contest) in the Second Round

Bout 8
Cruiserweight BUTCH LESLEY (Islington) beat IGORIS BORUCHA (Lithuania ) 60 points to 56 points over 6 rounds

© John E.G.Wilson