(MAR 23) Last night in an interesting feature on a boxing card at the Korakuen Hall, in Tokyo, Japan, there were three exhibition bouts on the card.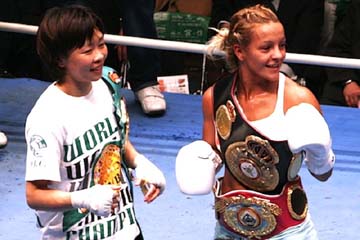 Togashi (right) Bopp (left)
In the exhibition bouts, multi-world champion junior flyweight Yesica Bopp, 19-0-0 (9KO), and WBC Champion, Erica Anabella Farias, 13-0-0 (7KO), both from Buenos Aires, Argentina fought on this card.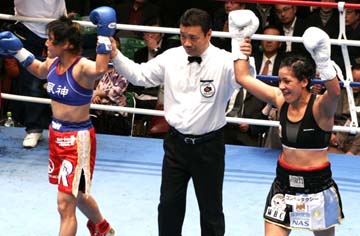 Farias (right) - Raika (left)
Bopp participated in an exhibition in two rounds with WBC flyweight champion Naomi Togashi, and then with WBC atomweight champion Momo Koseki. Farias fought a four-round exhibition with Fujin Raika.

Bopp was pleased by the performance she did with Togashi, and she said after the exhibition: "I will probably be back to Japan to fight, in the near future."
More photos, with large thumbnail photos..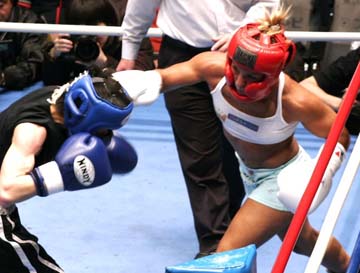 Bopp (right) Koseki (left)