(MAR 29) 2012 seems to becoming quite a defining year for women's Boxing in the UK, not only will it be an Olympic sport for the first time at the London 2012 Olympics and the female pro boxing is beginning to take off here at long last, but there's also a thriving female White Collar scene.

A fair amount has been already been written on the Amateur and Pros, but not that much on the real grass roots scene, so with that in mind I spent a little time with a group of girls training at the legendary TRAD TKO Boxing Gym, in London's East End, for a White Collar event that takes place at the Troxy in Limehouse this coming Friday.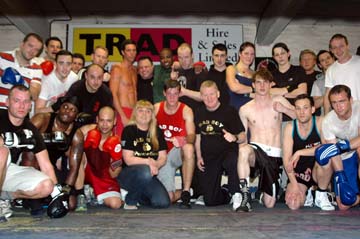 Chrissy Morton with her weekend warriors at the TRAD TKO Boxing Gym
Before we get to the Women, let's backtrack to the beginning of the White Collar Boxing phenomenon , which first saw the light of day in 1988.

The whole sport came about after New York attorney Dr. Richard Novak challenged Dr. David Lawrence to a competitive boxing contest, not for money, but purely to test their newly developed boxing skills.

The contest took place at the World famous Gleason's Gym in Brooklyn, New York, whilst there is no record of who had won, both gentlemen seemed content with the result and promptly went out to dinner to celebrate the birth of a new sport.

Word quickly spread and soon there were regular events taking place in the World financial districts, from London to New York and Sydney to Singapore it seems that every week there was at least one White Collar show taking place somewhere.

Ok, now lets get back to date. This Friday's event, titled is "This Is it", is promoted by the Bad Boy Promotions organisation, which coincidentally is run by female promoter Chrissy Morton.

As if to prove the popularity of White Collar boxing "This is It" is crammed to the gills with fights, twenty three bouts in all, three of which are all female bouts.that's quite impressive when you consider that the biggest of the pro boxing shows feature around fourteen bouts on the card.

Chrissy, who has been spearheading White Collar Boxing in the Capital makes no apologies for her desire to encourage more women to take up the sport.

"Myself being a Woman and my promoting a White Collar show I like to have the girls there as well."

It makes me feel good when the girls can go out and get stuck in as good as the men, that's why I'm so pleased that Marianne (Marston) is now helping us, by training our girls as well as having two of her girls on the show.

Marianne's a pro boxer and trains girls at the TRAD TKO, since she's been helping the girls they have come along in leaps and bounds, I expect the girls fights to be some of the best of the night.

Hopefully one day in the future there will be enough girls boxing so that we can have a show on equal terms, with half the bouts being girls ones."

Chrissy's star female boxer is Tiffany Simons, a postal team leader who has had four fights to date and will be also fighting on the Troxy event..

"I used to do kick boxing when I was younger÷ explained Tiffany, "Then I stopped all kind of exercise and I got a bit fat and lazy.

I then decided I wanted to get into something and I saw the advertisement in the Metro for Bad Boy Promotions andthat's how it all started."

Tiffany then spoke on what it was like to be one of those pioneering females taking part in a White Collar event, "The first fight was a little bit awkward actually, because there was only myself and another girl that were at the club.

Unfortunately she was a lot lighter than me so it was more of an exhibition than a proper fight.

It was good because you got to move around and experience being in a ring in front of a crowd, which was a good starting point."

Being fully aware that both Amateur and Professional female boxers struggle to find opponents here, I wondered if it was the same for White Collar.

"As I said for the first fight it was just the two of us, "Tiffany said before continuing, "The second time there were a lot more girls.

I think because we took part in the first one it kind off promoted girls in boxing and then when we went back to the gym to continue training there was like twelve girls that joined, which was really good and meant that everybody got a fight and there was a lot more girls on the night.

Then it fluctuated, it sort of dropped off, but then we moved here and again we've got more girls as there was already a thriving girls class, and now we have more girls training than at any time previously, it's really good."

Tiffany then explained what it was like when she started training for her first fight.

"I know it's hard for girls to get involved, but for myself it was quite easy because I'm quite determined. I must admit that the first time I went to the gym it was just all boys there, blokes should we say there, which did feel a bit awkward.

I kind of used to put myself in a corner out of the way and do my own thing and kind of keep my head down really, but everybody starts talking and because everybody was doing White Collar you get to realise that for a lot of the blokes it was their first time as well, so they like wanted someone to talk to.

I suppose for them it is unusual to see a girl doing boxing, so it interests them. It was a kind of transition for myself that was easy, everybody was in the same position so you've got a bond there already and I think once they've actually seen you sparring and they've seen you training they realise you not there for fun and you are taking it as seriously as they are.

Chrissy really kind of puts us at the forefront, she really encourages us, which is really good and I think for her she would always love to have more girls. Obviously it's an unusual thing. On my first fight she did a couple of press releases because girl fighting is quite unusual, girls in boxing is quite unusual. As I said each time I've done a show there have been more and more girls doing it and it's kind of generating interest and showing that girls can do it just as well as boys, maybe not as strong but we still take it seriously and we want to do just as well."

Turning her attention to the amateur and pro disciplines Tiffany continued enthusiastically, "I think it's brilliant, absolutely brilliant, that women's boxing is at the Olympics this year, it can only do the sport good especially for us girls involved in the sport as it goes to show that when we put our mind to it we can achieve it.

I think it's excellent, and the fact that more women are accepted into the sport is a good thing. Anything that encourages people to get fit, healthy and motivated is worthwhile.

I mean boxing for me is good for the mind and it's a brilliant way of keeping fit and I don't think it should just be for blokes, it's a sport for everybody.

Whilst I haven't yet been to a female pro fight, I think it's brilliant that there has already been a female fight in London this year. I think that women's boxing isn't as well promoted as male boxing, I think that's the only thing is if people got behind it but I suppose the problem is getting the media interested but men dominate the sport so they take more of an interest, I think that's where things need to change, it should be about boxing not whether it's girls or blokes fighting.

I know there's a lot of women that campaign for women's boxing but again it's still really hard to be accepted, you can tell that just by the fights that they televise, you never see a women's fight and it's never promoted in the same way, you'll never see the equivalent of a big David Haye fight if it was a women's fight.

They say that behind every great man, is a great woman and we'll just bring ourselves to the forefront and show everyone what we can do now.

it's good and if more and more women get involved in boxing it's going to keep it alive, which is good."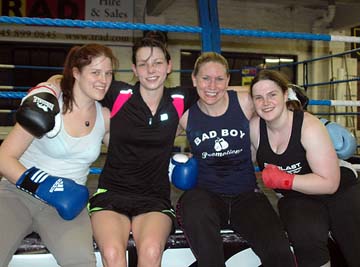 L-R. Elli Tatton-Brown, Kimberly Anley, Tiffany Simon and Eloise Shepherd
The TRAD TKO is a proper old school East End Boxing gym, not exactly the kind of place you would expect to be pioneering women's boxing. This is the gym that has some of the oldest of old school coaches, Johnny Eames and Jimmy Tibbs, and is where World Champions are bred, Graham Earl, Tony Oakey and Kevin Lear are just a few of their old boys and the class of 2012 includes such stars as Colin Lynes, Kevin Mitchell, Billy Joe Saunders and Leon Williams.

However initial impressions are very, very deceptive as the TRAD TKO is also home to not one but two female pro boxers, Marianne "Golden Girl's Marston and Areti "The Master" Mastrodovka.

Marianne, who was the first female boxer to be be signed to the TRAD TKO team by Johnny Eames, is not just a fighter, she also trains female boxers at the gym and created the first women's Boxing Classes series in the UK.

Marianne spent three years being trained in America by some of the biggest names in sport, initially with legendary Heavyweight Champion of the World Smokin' Joe Frazier and his son Marvis.

After the Frazier's landmark North Philadelphia gym closed it's doors in 2008 Marianne moved to Percy 'Buster' Custus' James Shuler Memorial Gym in West Philadelphia, where she was invited to join two time IBF Cruiserweight World Champion Steve 'USS' Cunningham's newly formed professional squad and was coached by Steve, SharĂron Baker and occasionally Steve's fight coach the esteemed Naazim Richardson.

With that kind of pedigree, it seems out of place that Marianne would put so much time in to help complete novices learn to box. Marianne's answer came as a complete surprise.

"I had already started boxing training before I went to America, but it was virtually impossible to get taken seriously here÷ Marianne said before continuing, "When I returned to London in 2009 nothing had changed, in fact it may have got worse. I approached a few London boxing gyms but none accepted women, the one that did, All Stars, said I they only offer Boxercise to Women.

I was so angry, I mean I had a fight contract in America yet here in the UK I couldn't even find somewhere to train, let alone a proper training team."

Things did change for the Norwich born blonde, as she explained, "Eventually I found a gym near London Bridge, the owner signed me but after all his promises I was mainly left to train on my own and the only fight he could get me was on his own show, which I comfortably won.

One good thing came from my time there though, I got to set up the first Boxing Classes specifically for Women, which became very successful and I still run them today at three London gyms, three sessions here at the TRAD TKO, two a the Tokei gym in Southwark and a single class at the Ringtone Gym in Euston.

The biggest boost, to both my career and classes, came after I moved to the TKO, Johnny (Eames) not only took me seriously but also encouraged me to develop a Female Boxing squad, both recruiting boxers as well as developing them through my classes.

I now have a core of around ten girls, with six competition ready, two of them, Kim and Elli, will be fighting on Friday on Chrissy's White Collar show.

They're both very dedicated, and already showing the signs that they are ready for a higher level of competition, but I'm happy for them to start out with a White Collar fight as this will get them used to fighting in front of an audience without the pressures that come from competing in the amateurs.

Saying that both Kim and Elli, as well as Jo, are ready for the amateurs. In fact after this show I will encourage them all to join the newly affiliated TRAD TKO Amateur Boxing Club.

Whilst the amateur head coach will become their official trainer I will be very much involved in their development as well as assist in their training.

Hopefully once other gyms see that we have a female squad they will follow suit, as the only way women's boxing will progress is if more gyms take TRAD TKOĂs lead and actively provide Boxing training for Women.÷

One of Marianne's boxers that will be fighting at the Bad Boy Promotions event is Eloise 'Elli' Shepherd, who like Marianne found that it was virtually impossible to be taken seriously when she first decided to take up boxing.

"Yeah this will be my first fight and I can't wait.

The thing about boxing is that when you first start out it's quite hard as a woman to find someone that will take you seriously and train you to a good standard.

That's the nice thing about Marianne, she's been through it herself so knows what it's like. She doesn't have any expectations and actually takes the time to teach you to box, which is really good.

I was at an amateur gym before going to Marianne's classes at the TRAD TKO Gym, but I was just left to get on with it, you know they would just leave me on my own to get on with it.

A couple of the guys there did spend some time with me but there was such a turnover with trainers than there was no consistency. They didn't take me seriously as I wasn't at a competitive level, none of them took me seriously, that's why I am so pleased to have found Marianne's class.

After my previous experience I was very surprised at the level of attention Marianne gives us. She teaches us all aspects, defensive boxing as well as offensive boxing, which is quite important if you don't want to get your face smashed in. "

Elli then turned her attention to her opponent oand the fight, ˘it's quite funny that the girl I will be fighting also trains here. We get on and everything but I don't know how much of that is Šoh I wonder what she's doing' there's a big height difference, she's a lot taller, which is good for me as it gives me access to the sternum, as well as perfect for me for uppercuts and that.

I've got a few family and friends coming to watch. My dad's coming, he'll probably get rowdy when I fight.

I'm getting a lot of support, my boyfriend's been doing pads with me, and helps out and stuff. it's just my mumthat's a bit cautious about it, she's not coming as she's a bit nervous for me, she says ˘I don't want to see you get hit'.

Now just got my final preparations and then I'm ready to fight. I can't wait, I'm really looking forward to it."

Elli Shepherd's opponent on Friday will be Legal assistant Elli Tatton-Brown, who decided to give boxing a try after watching a friend box on Chrissy's previous event.

"This will be my first fight and I am really looking forward to it.

there's a great atmosphere here at the gym, we all get on really well and help each other, us girls stick together even though some of us are fighting each other. I'll be fighting the other Elli here, so it's me, big Ell, against little Ell.

Training's been great, exhausting, some long hours, it's good and pays off though.

I'll have a lot of friends, family and people from work coming to cheer me on so I want to put on a good fight for them."

Veterinarian Kimberley Anley, Marianne's other boxer taking part in the Bad Boy show on Friday, also didn't face the problem of being taken seriously on her desire to box, as her introduction to the sport was through Marianne's classes at the TRAD TKO gym.

As such Kim, who Marianne has described as a natural, and someone that will progress easily through the amateurs, kept fully focused on her upcoming bout against former Team GB High Jump star Ayamba Akim when she spoke.

"I'm really looking forward to my fight against Ayamba, I can't wait.

There a bit of gym rivalry going on, Marianne trains me and Ayamba is being trained by one of the guy coaches here, which adds to things.

I'm definitely going to make Marianne proud. I knowI've got the best trainer, Marianne spends far more time with us and training has been brilliant.

The more I do the fitter and faster I am, yeah I'm loving it, I'm spending more time here at the gym than I do at home at the moment.

I can't wait for Friday, I'm going to win, definitely."

With such an upsurge in those taking part, thanks mainly to the efforts of people like Chrissy Morton and Marianne Marston, women's Boxing looks like it's here to stay, which can only be good for the sport.

If you are interested in watching first hand how the two Elli's, Kim and Tiffany get on, the Bad Boy Promotions 'This Is It' event takes place at the Troxy in Limehouse, London this Friday, the 30th March 2012.

Tickets for Bad Boy Promotions 'This Is It' have been selling well, as such limited tickets priced, VIP Ringside (SOLD OUT), VIP Silver (SOLD OUT), VIP Bronze (SOLD OUT), Downstairs Seating ˙30, Upper Circle Table ˙25 and Upper Circle ˙20, will be available on the door at the Troxy on the night.

6606 -

6642 -

37 - Marianne Marston in her fightwear.

PHOTO CREDIT
Please feel free to use all photos supplied - photo credit is not required but should you do so, please credit - Gianluca (Rio) Di Caro