(APR 4) Promoter Sampson Lewkowicz is proud to announce he has signed an exclusive promotional agreement Peruvian WBA Super Featherweight Female World Champion, Kina "Dinamita" Malpartida (13-3, 3 KOs).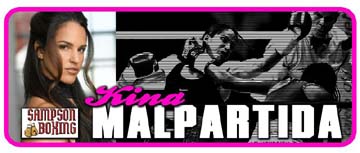 32-year-old Malpartida now resides in Long Beach, California, but was born in Lima, Peru, and enjoys superstar status in her home country.

"Sampson is a great promoter, known worldwide. For me it's a great opportunity to work with him because ever since I've become a world champ I've been fighting in Peru and I've had to do the shows, basically by myself," explained Malpartida. "Signing with Sampson is a blessing because he will handle the production and I can just prepare properly for my fights."

Malpartida and Lewkowicz met at the recent WBA Awards Dinner and both say they were quick to see the potential in each other.

"I am very happy to add another idol to my stable of Champions," said Lewkowicz, "and soon I will announce her next challenger. The fight will take place in May in Peru in conjunction with the WBA KO Drugs campaign."