(APR 7) Last Saturday night on the "Battle at the Boat" card, Promoted by Halquist Productions, took place at the Emerald Queen Casino, in Tacoma, Washington. I decided at the last moment to cover this event after I had found out that there would be a female bout on the card, featuring Sarah Pucek and Lisette Medel on the undercard. I was also pleasantly surprised to find out that Ray Lampkin Jr., son of Ray "Lightening" Lampkin who was a top-noted boxer in the past, and who had fought the likes of Roberto Duran was making his pro debut. To throw a little icing on the cake at the event, Halquist had a special feature with Danny Bonaduce making an appearance as an MC.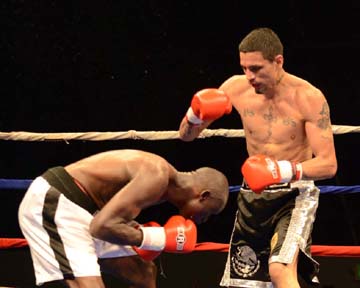 Hernandez vs. Oluoch
In the main event for the evening Jose "Loco" Hernandez, 136, of Fort Worth, Texas, now 13-5-1 (5KO), took another step in moving up in the sport, when he won by a unanimous decision over Peter Oluoch, 137.5, now 11-6-2 (6KO).In their fight Hernandez threw slick combinations and picked his spots firing vicious shots every time he moved his hands. Oluoch had his moments and hung in tough, but Hernandez' hard punches ultimately earned him the victory. Hernandez, of Fort Worth, TX, improves to 13-5-1 with 5 wins by knockout. Oluoch, a Kenya native, is now 11-6-2 (6 KO's).
In a highly anticipated bout between the female boxers, Sarah Pucek, 126, fought Lisette Medel, 130, in a five round bout. It was well-worth taking a trip up to Tacoma, Washington to see these two fight. Both Pucek and Medel displayed excellent skills in the ring, and the fight was very close throughout the five rounds. It was nice to see a female bout added to the Halquist card.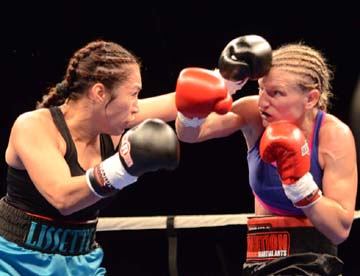 Medel vs. Pucek
In the co-featured bout of the evening, crowd favorite and retired marine Nate Serrano, 145, got back in the winners circle by stopping 6'2 Nick Balestra, 146, in the second round of their welterweight affair.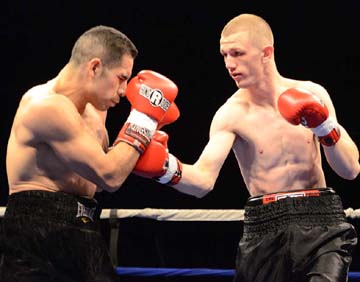 Serrano vs. Balestra
The towering Sacramento, CA native briefly silenced the pro-Serrano crowd by scoring a flash knockdown in the second, but the tides quickly turned. Serrano, who hails from nearby Yakima, WA, popped up immediately and decked Balestra. Balestra made it back to his feet but had no time to recover, meeting the canvas seconds later after being tagged by Serrano. The game visitor attempted to make it back to his feet but fell through the ropes, which forced the referee to stop the bout at 1:54. Serrano raises his professional ledger to 4-1 with 3 knockouts. Balestra slips to 2-2-1 (1 KO).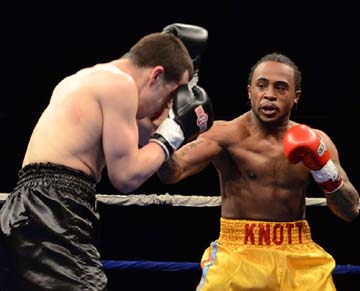 Lampkin vs. Hamilton
In one of the best bouts of the night, Ray Lampkin Jr., 144 1/2, won his pro debut, against Hamilton. Lampkin did not seem to be fazed that this was his first pro debut. Lampkin was fast, throwing lightning combos throughout the bout, and he was very impressive in his pro debut. I am sure we will be seeing more of this "talent" in the ring.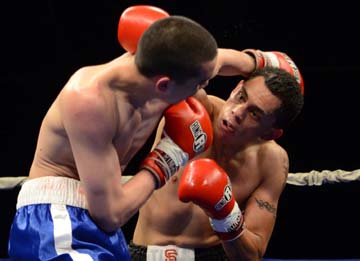 Fernandez vs. Zumudio
In a four rounder, William Fernandez, 140˝, of Kelso, Washington lost to Jonathan Zumudio, 141, of San Francisco, California. Zumudio won by a majority decision of 40-36, 39-37, and a "what were they watching score of "38-38".

Tadio vs. Uhde
In another bout, Isaac Tadeo, 153, of Kent, Washington, and also making his pro debut, had an impressive win against Jesse Uhde, 152 1/2, when he stopped Uhde in the third round by TKO.
In a special treat for boxing fans, just prior to the first fight beginning for the night, Danny Bonaduce was introduced to the audience, with music blaring and an announcer giving a quick overview of Bonaduce as he entered the ring. The crowd roared as Bonaduce made center stage in the ring. Bonaduce was well received by fans as he talked about the fights for the night. Bonaduce then left the ring, and the ring announcer entered the ring to announce the first fight.
In a surprise visit at the casino, I had the opportunity to meet "in person" female boxer Tammy Johnson, who is still actively fighting and "Looking for fights" (hint, hint) to promoters. It was very nice to finally meet JohnsonMarlen Esparza, Tiara Brown and Claressa Shields Win Semifinal Bouts at the 2012 Women's Continental Championships
by Julie Goldsticker
April 7, 2012.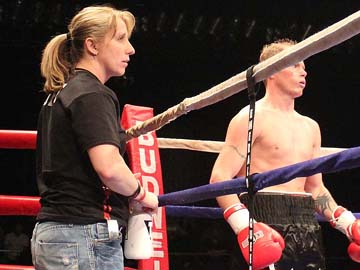 Another unexpected sighting of the evening was when I was sitting ringside, and looked up at the "red" corner to see retired boxer Shelly Burton working the corner.

In a press release, Halquist said, ""This was a very good event. None of the fights were boring, Danny was awesome as the MC and most importantly, the fans had a great time. The next edition of "Battle at the Boat" takes place June 2 at the Emerald Queen. " Flash Photo Slideshow

About Halquist Productions...

During the last 23 years, Halquist Productions built a reputation in the boxing world for their loyalty, honesty and integrity. In 1997, Halquist Productions ran their inaugural "Battle at the Boat" series, which remains successful to this day. Halquist Productions promoted many world title bouts and their fight cards have been seen on ESPN, HBO and Showtime.

Other source/Press Release, Ringside, Photographer Richard Baker, Ringside with WBAN/Sue Fox