(APR 25) After making the long trip from Brooklyn, N.Y., to Linkoping, Sweden, Amanda "The Real Deal" Serrano (14-0-1, 9 KOs) has settled into her living arrangements as she gets acclimated to the cold weather before battling Frida Wallberg (10-0, 2 KOs) for her WBC lightweight world title. The fight takes place this Friday, April 27.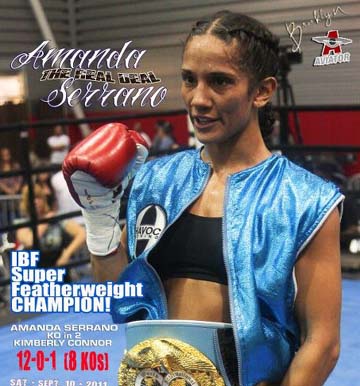 "It's really cold out here and it's supposed to rain all week," Serrano said. "Frida is used to this kind of weather so she will have the advantage in that department. But make no mistake about it, I'm coming to win the WBC world title. Wallberg might be fighting at home, but I'm confident that I will come out victorious. My trainer Jordan Maldonado and I got our game plan down. It's time to get the proper rest and be ready for fight night. I can't wait."
Said promoter Mario Yagobi, "I'm happy that Amanda and her team made it safely to Sweden. This is a big fight for Boxing360 and our company. Serrano has worked very hard to put herself in this position and I know she is going to give it all she's got. I have a good feeling that I'll be promoting a two-time world champion after Friday night."