(MAY 11) WBAN received confirmation today that Denmark's former multi-world champion Anita Christensen will make her return to the ring on May 26, 2012.

Christensen (24-1-1, 8 KOs), is set to re-enter the ring after more than two years out, to fight Isabelle Leonardi (8-9-2, 3 KOs) at Skyline Arena in hometown Randers, Denmark.

Kaliesha West, who fought Christensen in 2010
In Christensen's last bout, in March 2010, she drew with current WBO World Champion Kaliesha West, and has since been on the sidelines while getting her motivation back for another run at a World title. [Related Story by Kaliesha West's experience fighting Christensen in 2010]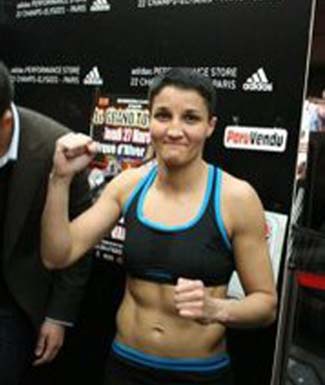 Leonardi, holds the Super Bantamweight French National Title, first winning the vacant title in 2011, and successfully defended her title on April 5, 2012. Boxrec reports that the the fight will be a six-rounder.

Also on the show promoted by Euro Event will be Light Welterweights Kasper Bruun (13-0-1, 3 KOs) and Kim Poulsen (20-1, 6 KOs), as well as rookie Middleweights Abdul Khattab (1-0, 1 KO) and Stephan Alms (1-0, 1 KO), against opponents to be announced.

Completing the evening's action, Denmark's amateur national team will square off against Estonia. Tickets are on sale via billetlugen.dk and by phone (0045) 70 263 267.