(MAY 17) As most who follow WBAN know that one of the utmost important news coverage that we like to provide is keeping up with updates of boxers, whether they are young amateurs, current boxers, or past boxers.

We have just received an update on Canadian amateur boxer, Shalynn Holdsworth, who we first covered on WBAN when she was just a "mere" 10 years old! [First Story on Shalynn in 2009]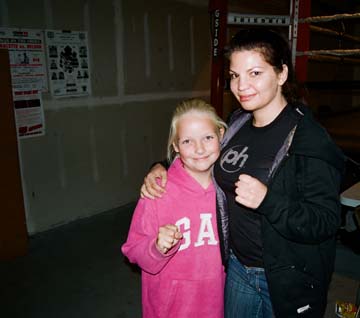 Shalynn poses with Retired World champion-Vaia Zaganas in 2009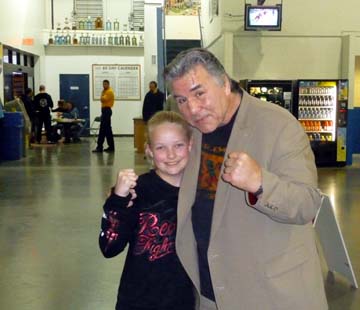 Past photo of Shaynn
Three years forward....Shalynn has now accumulated an 4-0-0 (2 TKO), and two outstanding boxers awards as an amateur boxer.

Shalynn, who is just about to turn 14 years old, has continued her progress in boxing, and in 2011, at age 12, she won the Golden Gloves by a unanimous decision.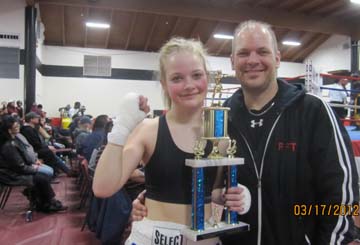 WBAN spoke with her father and coach, Keith Holdsworth, where they train out of Chilliwack Revolution in BC, and he said, "I have had difficulty finding opponents in BC so she didn't have any fights until March of this year but still continued training throughout."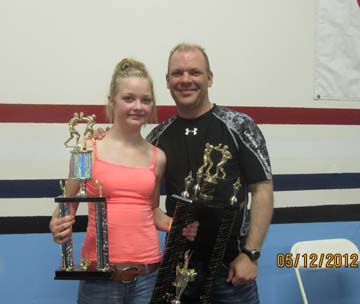 "A bit frustrated locally, I took Shalynn to the states this year. We headed to Lummi, Washington, first in mid March of this year to the Lummi / Damon Invitationals. She won by TKO2 stopping the girl with a straight left to the body that put her down for several minutes. Shalynn also won Most Outstanding Boxer for the entire tournament boys or girls. I then found Shalynn a fight in Langley at the end of March where she won a very decisive unanimous decision. Shalynn again fought May 12th, in Olympia, Washington against Rockie Weston of Thurston County who was 7 lbs. heavier and a year older. Again Shalynn stopped the girl with a straight left to the head winning by TKO in the third round. Shalynn again won the Most Outstanding Boxer Award in the Novice category," added Keith.

Shalynn may fight in Everett in June, and she just keeps moving forward from there.

Contact for her team: k.holdsworth@live.ca