(MAY 19) Friday was semi-finals day at the 7th Women's World Boxing Championships in Qinhuangdao, China , with the spotlight once again on those bouts in the 51kg, 60kg and 75kg divisions, the titles that will be at stake in the 2012 Olympic Games in London.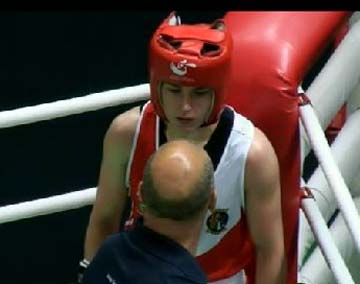 Ireland's three-time AIBA World Champion Katie Taylor is on course to achieve a fourth consecutive world title after coming through her semi-final in style. She now faces the powerful Russian Sofya Ochigava. Taylor won their last meeting 10:5 at the 2011 European Championships in Rotterdam.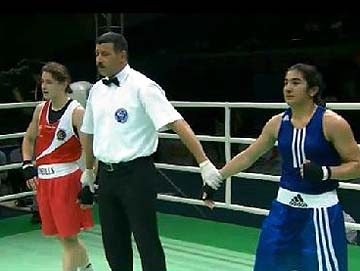 25-year-old Taylor, from Bray, triumphed against the tough 19-year-old Asian Champion Mavzuna Chorieva, who became the fourth Tajik boxer to qualify for the Olympic Games. The Irish legend won the contest in impressive fashion, taking each round to record a 16:6 victory. Now only one win separates her from retaining her title.

Taylor later told Irish broadcaster RTE : "I am just delighted to be in another final. I picked her off with the jab and left hook. My dad (her father Pete in her corner) told me to keep the left hand busy. I didn't need to mix it up with her. I kept it long."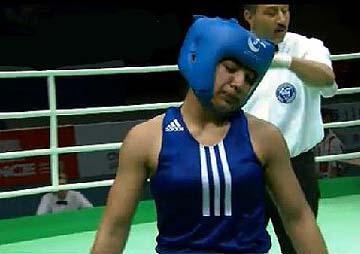 Chorieva tried hard but the difference in experience was too great. When it was suggested that her opponent had attempted to indulge in a little trash talking, Taylor laughed: "I can do that myself ! I wasn't going to get drawn in. I am one step closer to retaining the world title. I have received incredible support and good wishes from everyone back home and I hope to do everyone proud in the Olympics and win a gold medal. Hopefully I will be going there as world champion." Well we will know the destination of the 60kg crown in just a few hours from now.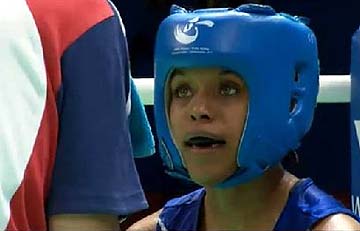 Jonas in corner between rounds...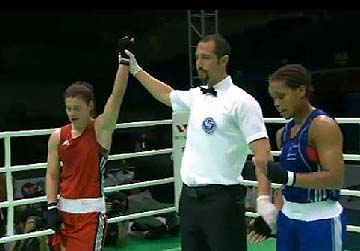 Ochigava Wins over Jonas
Russia's two-time AIBA World Champion, 25-year-old Sofya Ochigava also advanced to the Lightweight final, ensuring the much anticipated showdown with Katie Taylor goes a
head on Saturday in Qinhuangdao. Their head-to-head record now stands at 1:1 following their two previous contests in 2010 and 2011. In her semi-final, the Russian boxer was simply too strong for England's Olympic Test Event winner Natasha Jonas, winning 18-10 and was in impressive form throughout.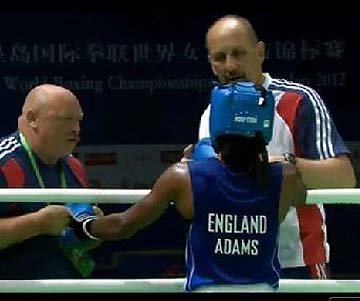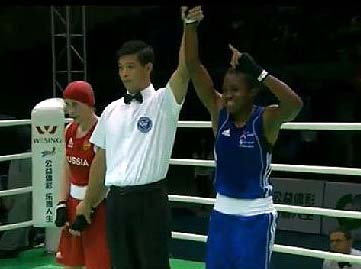 In the Olympic Flyweight class, it was as expected as England's gold medal contender European Champion Nicola Adams defeated Russia's reigning AIBA World Champion Yelena Savelyeva 11:6. The Englishwoman will face China's Ren Cancan in the final. Adams, from Leeds, triumphed over the Chinese fighter at the Strandja Memorial Tournament early this year, which bodes well for her gold medal aspirations. Cancan triumphed 27:18 over Poland's Karolina Michalczuk in the other semi-final. The champion of China was well on top throughout the contest though the Pole fought a gallant fight.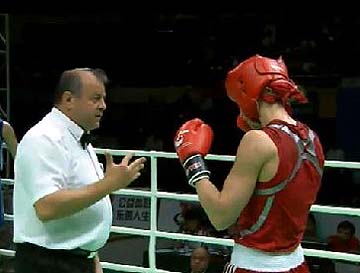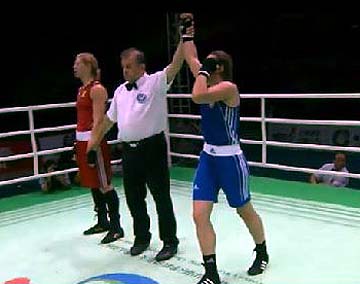 Vystropova raises her hand in victory...
Azerbaijan's former Russian National Champion Yelena Vystropova started brightly in the Middleweight semi-final against her taller rival, Sweden's former AIBA World Champion Anna Laurell. The Azeri boxer led 5:3 after the first round but Laurell's came back fighting and the Swedish veteran clawed back her deficit in the second frame to draw level. Vystropova managed to contain this sterling fight back to gain the upper hand and in the end ensured she was the one to advance to the final, collecting an Olympic quota for herself as well.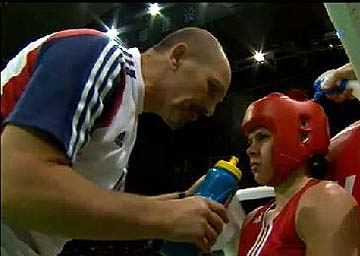 Savannah Marshall in corner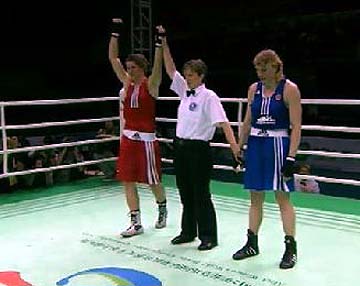 Marshall Wins over Torlpova
England's AIBA World Championships silver medallist Savannah Marshall continued her exquisite form in China by eliminating another top rival, Russia's AIBA World Champion Nadezhda Torlopova. Marshall dominated their Middleweight contest and can now prepare for a second successive final at the AIBA Women's World Boxing Championships.

Current European Champion, Svetlana Gnevanova was the first of nine Russian boxers in action in the semi-finals. Her opponent was Philippines' AIBA World Championships bronze medallist Josie Gabuco, who was quality in Light Flyweight contest. Gabuco prevailed and will now meet China's Xu Shiqi for the gold medal.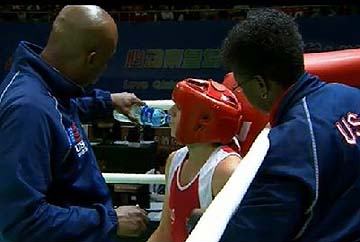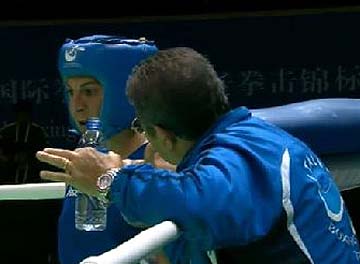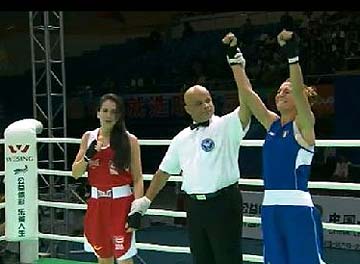 Italy's Terry Gordini defeats USA Christina Cruzefyjy
Italian veteran Terry Gordini put in an incredible performance in Qinhuangdao and advanced to the Bantamweight final after beating the USA's Christina Cruz 11:7 following a sensational second round. Gordini will now meet Russia's AIBA World Championships bronze medallist Aleksandra Kuleshova with a world title on the line.

European Championships silver medallist Lisa Whiteside from England, who joined up with her national squad only last year, had defied the odds to make the last four in China but her fairytale journey was ended by the imposing Polish EU Champion Sandra Kruk. The Polish Featherweight No.1 will now be fighting for the title of World Champion against the USA Panamerican Champion Tiara Brown.

20-year-old Polish former European Youth Champion Magdalena Stelmach was one of the favourites in the Light Welterweight class coming into this tournament. The young Pole confirmed this status as she eliminated Russia's Daria Abramova to advance to the final where she her next opponent will be DPR Korea's former Asian Champion Pak Kyong Ok.

Netherlands' Marichelle De Jong defeated Ukraine's Maria Badulina in the final of the last edition of the European Championships in Rotterdam. In their re-match in Qinhuangdao, Badulina was the one to triumph this time as she overpowered her Dutch rival to progress to the Welterweight final where she will meet American National Champion Raquel Miller.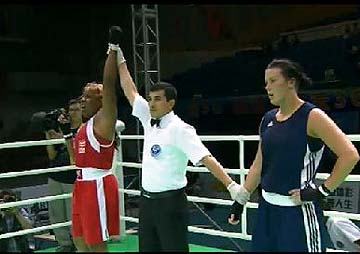 Franchon Crews wins over Nagy
China's Yuan Meiqing was in great shape against Russia's European Champion Svetlana Kosova and showed great footwork to win the battle. Her next opponent, in the Light Heavyweight final, will be multiple US and Panamerican Champion Franchon Crews, who was ruthless in her semi-final against Hungary's Timea Nagy.

AIBA World Championships bronze medallist and current Asian Champion, 21-year-old Li Yunfei has made a real breakthrough in her career on home soil. China's top Heavyweight eliminated Russia's two-time AIBA World Champion veteran Irina Sinetskaya 25:15 to meet Kazakhstan's Yulduz Mamatkulova in the final.

Back to the Olympics and good news too for India's Mary Kom and for Claressa Shields, the 17 years old from Flint, USA. Although they were eliminated from the championships earlier this week they have now qualified for the Olympic Games in London without throwing a further punch.

The Indian legend saw England's Nikki Adams defeat her Russian opponent Yelena Saveleyva and that was enough to 'guarantee' Mary Kom 's place in London though as she told 'The Times of India' it is the first time she returns without a medal : "Olympic slot confirmed finally! I am so happy," the mother-of-two said.

"I saw the bout. I know the Russian was not very good but I am a bit sad as well because I won't have a medal around my neck this time," added the reigning Asian champion.

"Medal is very important for me. I am happy with the qualification but I am very upset not to get a medal."

As for 17 years old Claressa Shields, her good fortune came about as a result of Savannah Marshall's win over Nadezhda Torlopova. In an email dispatch to 'The Flint Journal' , Shields said "I'm happy"! "I mean, I've never been so on edge and scared before in my life. I prayed for Savannah (Marshall) a lot! I'm glad she won, I'm glad I had this learning experience and my dream still alive! I made the wrong mistakes on the right person !" Ms Shields is without doubt looking forward to a 'revenge' return bout with 'The Silent Assassin' (Marshall) at the Excel Centre in August.

Saturday marks the end of the 2012 championships with ten World Champions to be crowned. All fights will again be broadcast LIVE on aibaboxingtv.com