(MAY 26) Born in Greece, her home is in Athens. However Areti has been training since July 2011 under Alex Wilkey in the TKO Gym, London England where she is managed by Johnny Eames

Before this fight she had 1 professional win, plus an impressive amateur boxing record of 28 wins, and 7 losses Twice winning a Silver Medal as Runner Up in the 60 Kilogram's class in the Women's Amateur World Championships in 2002 and 2003.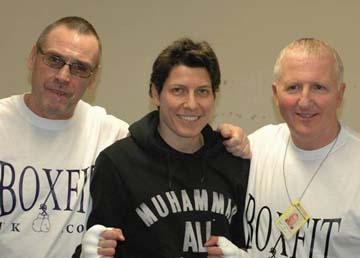 Her record as a Full Contact Kick Boxer was even better, winning the Women's World Championship in the 60 Kilos weight class. Triumphant in 29 of her 30 fights.

Granted an annual licence by the British Boxing Board of Control she is keen to become a Professional Women's World Champion.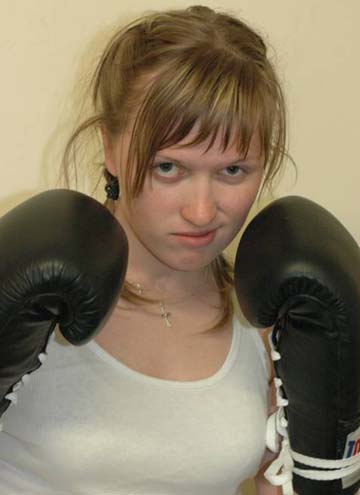 CVETKOVA IN HER DRESSING ROOM BEFORE THE FIGHT.
Her opponent this time was JULIJA CVETKOVA (20) from Jelgava, Latvia, a small pretty Sports Management undergraduate at Riga Sports Academy in Riga, Latvia with a happy attitude to her sport. CVETKOVA started her professional boxing career in Riga on the 8th, October 2010 with a 4 round points loss against another newcomer ALISE PRIEDTE. Since then she has had a further 12 fights of which she won 2 (including a TKO against PRIEDTE in a rematch ) lost 8 and drawn 2.
First Into the ring's Red Corner, CVETKOVA a slim 5 ft 3 inch woman with mid length light auburn hair tied back, in a white vest with light blue shorts under her blue silk dressing gown.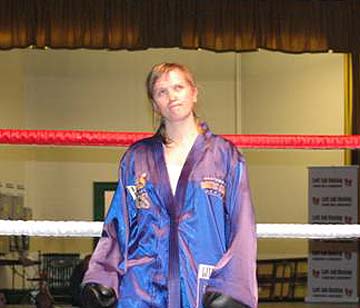 CVETKOVA WAITS PENSIVELY FOR HER OPPONENT
TO ENTER THE RING
Then Into the ring's Blue Corner, MASTRODOUKA a muscular 5 ft 7 inch woman with short black hair was clad in a black sports bra with long blue shorts with "The Master " emblazoned across her waistband.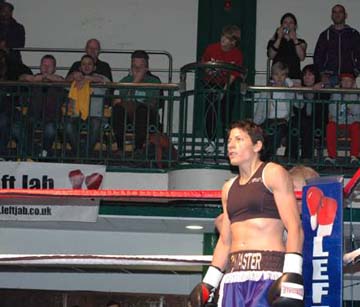 MASTRODOUKA ENTERS RING
Master of Ceremonies Mike Goodall announced that the fight was over 6 x 2 minute rounds and that at the Weigh In CVETKOVA was 8 stone 11 lbs and MASTRODOUKA was 9 stone 2 lbs.

Round 1

Both women started slowly, eyeing up their opponent and throwing feinting punches which did not land.

CVETKOVA ducked down low to try and deliver a straight left to her opponent's solar plexus, but it fell short.

She tried several times again, following it up with a giant right swing to the body which also failed to connect.

The referee gave CVETKOVA a warning for bending down too low when attempting to deliver these blows.

MASTRODOUKA quickly started to assert herself from the centre of the ring.
She forced CVETKOVA to dance defensively backwards around the ring

A brief tussle ended with CVETKOVA'S head under MASTRODOUKA'S right arm.

MASTRODOUKA continued with her attacks, knocking CVETKOVA down against the ropes with a right hand punch. CVETKOVA got up quickly, raising her arms above her head to show that she was O.K. but the referee gave her a standing count of 8 in the adjacent neutral corner before allowing the fight to continue.

The round ended with CVETKOVA pinned in the Blue corner with her head down protected by her two gloved hands whilst MASTRODOUKA rained right and left combinations on her upper torso and head.

After the bell, CVETKOVA strode straight to her corner where a compatriot male boxer gave her animated advice whilst her Second freshened her up.

Round 2

MASTRODOUKA had decided that she was no longer "playing" with her opponent.

She launched a series of her characteristic two handed attacks delivering quick blows to every vulnerable part of her opponent. CVETKOVA grabbed her temporarily around the waist.

With CVETKOVA back against the ropes she delivered a number of short right jabs to the body before knocking her down backwards with a left hook. The referee stepped between them and as CVETKOVA got up straight away he did not give her a count.

MASRODOUKA then drove her into the opposite neutral corner where she delivered a tirade of right and left combination blows, quickly putting CVETCOVA down on her hands with a right hook. CVETKOVA got up quickly but the referee gave her a standing count of 8. He allowed the fight to continue for a few seconds more, with CVETKOVA covering up with her gloves protecting her face from her opponent's many punches, but then stopped the fight to prevent her receiving further punishment.

MASTRODOUKA was declared the winner by a TKO

The audience applauded loudly.

MASTRODOUKA fights like a man. She is very fast with both her fists, and moves well, delivering combinations to her opponent's head and body - wherever she sees an opening. Although describing herself as a Southpaw she seemed equally adept at leading with either hand. She is very focused. She is World Class !

CVETKOVA was outclassed, but fought bravely against a taller and heavier opponent.

As a professional boxer MASTRODOUKA advances to 2 win and no losses, and CVETKOVA drops to 2 wins 10 losses and 2 draws.

Speaking to your correspondent after the fight MASTRODOUKA confirmed that it was an easy fight. She expressed her strong desire to become a World Champion Boxer but needs sponsorship; large or small to help her achieve her ambition. She is hoping to fight abroad in July and to appear again at York Hall, London on MIRANDA CARTER'S next LEFT JAB promotion on Sunday, 23rd September 2012

CVETKOVA declined to comment.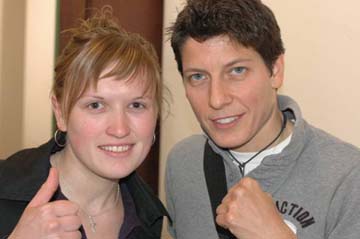 CVETKOVA AND MASTRODOUKA POSE TOGETHER
AFTER THE FIGHT.
The 7 mens' contests were full of action and drama. The contestants seeming to have more fire in their bellies than last time : -


Bout 1
Super middleweight DARREN McKENNA (Hayes) stopped ERIC MOKONZO (London) in the Second Round, after himself being knocked down in the First round of a 4 round contest.

Bout 3
Light weight JACK DISHART ( Bexleyheath) fought SHAUN TRIBBLE (Gosport) to a draw over 4 rounds

Bout 4
Middleweight DALEY OJUEDERIE (Kensington) beat ROBERT STUDZINSKI (Llanelli) 40 points to 36 points over 4 rounds

Bout 5
Cruiserweight WADI CAMACHO ( Canning Town ) beat IGORIS BORUCHA (Lithuania) 39 points to 36 points over 4 rounds

Bout 6
Cruiserweight MENAY "The Emperor " EDWARDS (Crayford ) beat REMIGIJUS ZIAUSYS (Lithuania) 60 points to 55 points over 6 hard fought rounds where each man gave as hard as he got. ZIAUSYS , who bears a strong likeness to the film star RICHARD JAEKEL, continuing to attack his larger opponent despite receiving punishing reposts.

Bout 7
Heavyweight WADI CAMACHO (Canning Town) beat ROLANDAS CESNA (Lithuania) by a TKO (Referee stopped contest) in the Second Round

Bout 8 BRITISH MASTERS TITLE

Welterweight DANNY CONNOR (Mitcham) narrowly beat the local favorite TYLER GOODJOHN (Ely ) on points over 10 rounds. The audience loudly expressing their disapproval when the result was announced.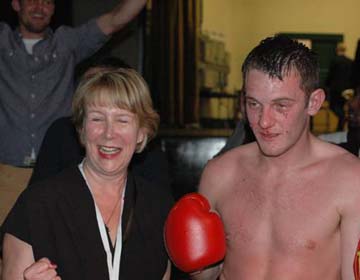 A HAPPY MIRANDA CARTER STANDS NEXT TO NEW "BLOODIED" BRITISH MASTER'S WELTERWEIGHT CHAMPION DANNY CONNOR