(JUNE 2) Tonight at the Coliseo Olimpico de la UG, Guadalajara, Jalisco, Mexico, Irma "Guerita" Sanchez, 110, will face Ibeth "La Roca" Zamora Silva, 110.5, in a 10-rounder for the WBF Flyweight Title.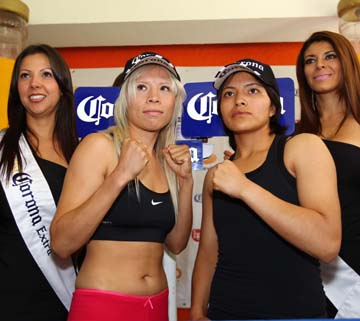 At the scales yesterday---both Sanchez and Silva made weight.
Jesus Lopez Castrejon, of Prensa HG Boxing said about the bout, "Irma and Ibeth are both at their best when exchanging blows, that's why it wouldn't be surprising if they steal the night for themselves, if everyone plays their cards right, it could become a classic of Torres Vs. Nava or Juarez Vs. Muciño, only time will tell."