(JUNE 20) Female fighter Lissette Medel will be back in the ring on Friday, June 29 as she faces TaTina "Little Tyson" Anderson in a much-anticipated rematch taking place at Omega Products International in Corona, California. While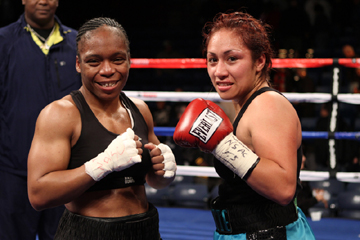 their last fight was held in Anderson's own backyard near Las Vegas, the women will now be meeting on the SoCal turf of local boxer Medel for this second go-round. The female bout is scheduled on the undercard of the Ruslan Provodnikov vs. Jose Reynoso main event airing on ESPN2′s "Friday Night Fights."

Lissette, known as "La Chivita" in the ring, was at the recent Ontario show hosted by Ken Thompson's Thompson Boxing Promotions, the same company who is putting on the June 29 event (co-promoted by Artie Pelullo's Banner Promotions). The petite powerhouse was with fellow fighters and fierce chicas Katarina De La Cruz and Ana Noriega; Kat is a pro boxer while Ana is currently fighting amateur. Medel and Noriega both train alongside their male counterparts at the Maywood Boxing Club.

While women's boxing is usually on the back burner on live shows and practically non-existent on larger promotions or PPV cards, there are many female sluggers that continue to train, hoping for a shot at landing bigger fights in the future.
Liz Medel is an example of one young lady who loves lacing up. She has parlayed a successful amateur run into a burgeoning career as a professional prizefighter. "I did a lot of amateur fighting," she recalls. "I was ranked #2 in the Nationals." Trained by Maywood's Mando Huerta, she's been boxing for 13 years now. With a pro record of 6 wins, 1 loss and 1 draw, the Mexican warrior is hungry for more.
While catching up with the busy mom and boxer today, she shared her excitement about the upcoming rematch with Anderson. Many people are saying this fight could possibly steal the show as all-action "chick fights" often do.

"We've been trying to do this rematch for a while," the pretty puncher tells me.

While her official ledger boasts no knockouts, Liz doesn't plan on being overlooked come June 29.

"I fought her in my first comeback fight after my pregnancy. We fought at Stateline and I got a draw," she says. "I was the underdog…So for me, that was a win."

Anderson's record is 5-1-1 with 4 knockouts.

"Was Tina your toughest opponent so far?" I ask. Medel has fought Holly Lawson and Yolanda Ezell, among others.

"I would say she was," confirms the L.A. fighter. "It's between her and Sarah Pucek, who I fought in March."
And what about the ferocity of Anderson, who is called "Little Tyson" and is clad in the same no-nonsense black attire as Mike Tyson?

"I know," Liz laughs. "She does look like him–she's really buffed and cut!"

Medel is up for the task in this Cali vs. Nevada clash. Looking at her past fights, I ask her about the wide span of weight classes she's fought in. Her previous opponents have come in anywhere from 126 all the way up to 146.

She chuckles. "You wouldn't believe it, Michele," she starts. "I was about 200 pounds when I had my baby! So after that, slowly but surely I dropped the weight. But the 20-pound difference in my fights was because of the baby–plus I really like to challenge myself!"

That baby is now three years old and mama's now back in the gym full time. "Our son turned three on March 17," the proud mom notes. "He's a St. Patrick's Day baby–and my 'Lucky Charm'!" Balancing boxing with motherhood, "Lucky" Liz says husband Danny Andrade has been super supportive with her fighting career. With Team Andrade, the Maywood gym, and family and friends, Lissette Medel will fight her heart out in trying to score the victory in her rematch with "Little Tyson" Anderson.

Firing off in two-minute rounds, expect these two female gladiators to both give it their all.

MAY THE BEST WOMAN WIN.

Banner Promotions and Thompson Boxing Promotions
June 29 ESPN "Friday Night Fights" at Omega
Tickets: 714-935-0900
© 2012 All rights reserved.

*WBAN received permission from Michele Chong to run this article.