(JUNE 23) - Possessing the power and talent to make all fight fans sit up and take notice, Andres Gutierrez has been making some serious noise on the Mexican fight circuit and will face a tough opponent when he faces Onalvi Sierra in a 12-round bout for the vacant IBF International Bantamweight title TONIGHT at Gimnasio Municipal Miguel Hidalgo in Puebla, Mexico in a fight which will be televised in the United States on FOX Deportes.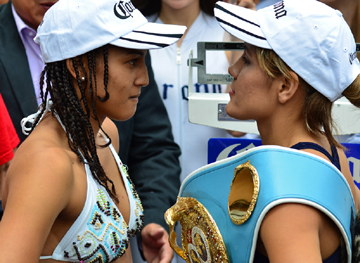 Rivas and Feliciano Face off
Also in a female boxing feature, as the co-main Torreon's Yazmin Rivas defends her IBF Bantamweight title against New York's Nydia Feliciano. Gutierrez vs. Sierra is presented by Golden Boy Promotions and Canelo Promotions. The FOX Deportes broadcast will air at 10:00 p.m. ET/7:00 p.m. PT.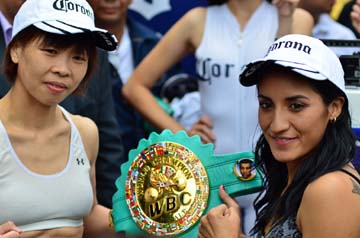 Togashi and Moreno pose together
There is a second female fight on the card. Naomi Togashi will defend her WBC Light Flyweight title against Esmeralda "La Joya" Moreno in a ten-round bout.

About the fighters:

Andres Gutierrez (21-0-1, 18 KO's), has been boxing since he was 15 years old. He is a rare talent that you don't find too often. A blistering puncher who, at only 18, is only getting better with time, Gutierrez has been very impressive already, ending eight of his wins in two rounds or less. Fresh off of three straight wins over veterans Carlos Guzman, Franklin Varela and Devis Perez, Gutierrez is looking forward to adding Sierra to that list on June 23. Onalvi Sierra, 24 years old, (24-5-1, 21 KO's) is anything but a stepping stone for Gutierrez. Rebounding from an 8-4-1 start to his career to win 16 of his last 17 fights, Sierra promises to match his powerful opponent punch-for-punch. Ready for an explosive battle, this may end up being a career defining fight for the ultra-tough Sierra.

Weights: Moreno, 107.1; Togashi, 107.3; Rivas, 117.5, Feliciano, 116.6; Gutierrez, 117.7, Sierra, 117.7, Galicia, 120.8 and Rizo, 121.9.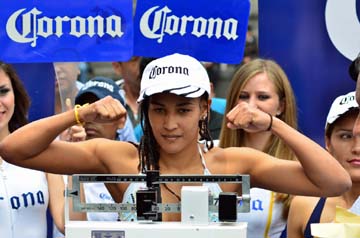 Rivas on the scales...
24-year-old Yazmin Rivas (24-7, 9 KO's) has been perfecting her trade in the ring for nearly 11 years, taking on all comers everywhere from her native Torreon, Coahuila de Zaragoza, Mexico to the United States to North Korea to Germany. In October of last year, Rivas won the IBF title with a decision victory over then 21-0 Susie Ramadan, defending her crown with a win over Edith Matthysse in February in her most recent outing.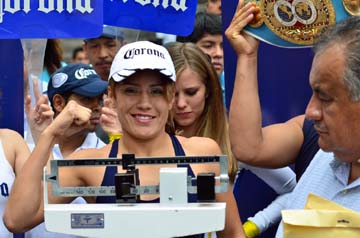 Feliciano at the scales
She will look to make it two successful defenses in a row against 23-year-old Bronx, New York native Nydia Feliciano (5-2-3), who has won three in a row after a 2-2-3 start to her career.