(JUNE 27) On Friday night, June 29th, on the "Takeover" Professional Boxing Show, at the Rhode Island Convention Center, a boxing event featuring eight bouts, with one of them a female bout on the undercard. Kali Reis will be fighting Lyneisha Jefferson in a four rounder. Reis, hometowner, dons a 4-1-1 (2KO) record, her opponent is 0-1, of New Jersey.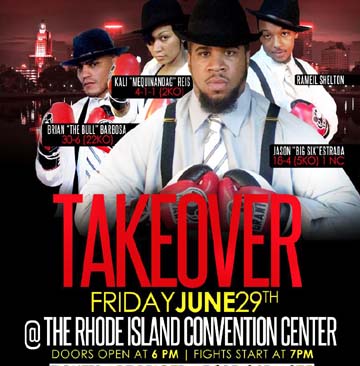 Details of Male bouts:

WHO: Main Event (8 eight) Heavyweights
Jason Estrada vs. Alex Gonzalez

Co-Feature (6 rounds) - Light Heavyweights
Brian Barbosa vs. John Johnson
Welterweights (6 rounds)
Diego Pereira (6-0-1, 2 KOs), Pawtucket, RI
William "Chino" Correa (9-5, 8 KOs), Framingham, MA

Heavyweights (4 rounds)
Jesse Barboza vs. Salmon Beccera

Lightweights (4 rounds)
Toka Kahn-Clary (pro debut) vs. Jonathan Caban

Light Welterweights (4 rounds)
Jair Ramos vs. Joel Alarcon

Junior Welterweights (4 rounds)
Josh Beeman vs. Robert Hunt

Junior Middleweights (4 rounds)
Rameil Shelton vs. Jesus Cintron
(All fights & fighters subject to change)

DOORS OPEN: 6:00 PM/ET FIRST BOUT: 7 PM/ET

TICKETS: $35.00, $45.00 and $75.00 and available to purchase at the Rhode Island Convention Center box office.