(JUNE 30) On June 25, 2012, at Korakuen Hall, in Tokyo, Japan, There were two women's bouts on the card.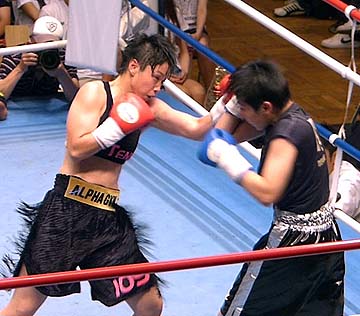 In what was considered a very close fight, in a super bantamweight bout, Kimika Miyoshi, 118¾, 6-5-1 (2KO), of Kawasaki, Kanagawa, Japan, won by a six-round split decision over Tsubasa Tenku, 119½, of Tokyo, Japan. Final judges score ware 58-57, 57-58 and 56-58.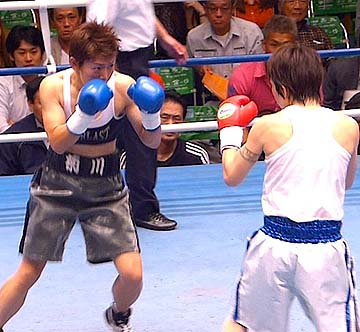 Togo vs. Kikukawa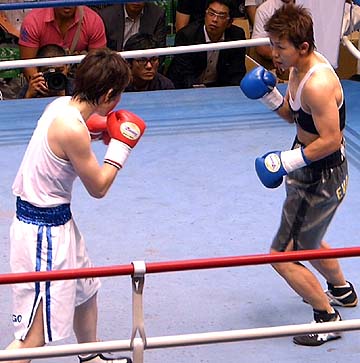 In the second female bout on the card, Riyo Togo, 118¾, of Tokyo, 8-2-1 (8KO) by a (1:50) fourth round TKO of a scheduled six-rounder over Miki Kikukawa, 118½, of Nagoya, Aichi, Japan. Kikukawa controlled most of the fight, but in the fourth round where the fight was stopped, Kikukawa was knocked down by Togo, with a heavy straight right. Kikukawa's record fell to 10-11-0 (1KO).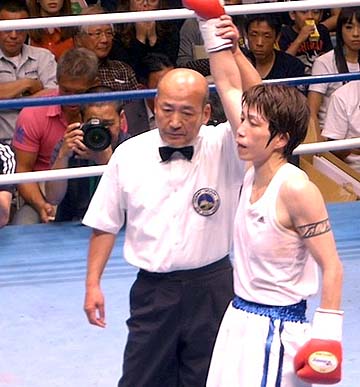 Togo's hand is raised in victory after she TKO's opponent

Miyoshi Wins by a Close Split decision....