(JULY 20) After a great reign in the flyweight division, Mariana "La Barbie" Juarez, shall vacate her WBC title for weight problems. [Full Video of fight]

Last Saturday, in Ontario, California, when Juarez fought Japan's Shindo Go, Juarez felt that one of her main problems were weight issues in that fight. and that she did not fight the greatest in that bout. This bout was Juarez's seventh defense of her WBC Flyweight belt.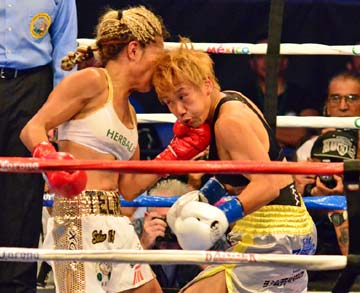 Juarez said in a post fight interview, "This was my last fight in the flyweight division, I will vacate the title to find the super flyweight or the bantamweight. On this occasion I had a hard time making weight, since I faced Toktaulova on February 25 the complications with the scale began."

The bout last weekend was one of the most complicated for Juarez-----she was not the technical or a fast boxer which we [her team] are accustomed to. Her legs did not respond and her weakness was evident.

We must recognize that Go was a magnificent rival, who showed great courage, and did not miss any opportunity to crash her hard blows to the head of "La Barbie". Shindo Go never flinched and this made that the audience at the Citizens Bussines Bank Arena, witness a tremendous battle.

Juarez added: "I am ready to face Jackie Nava for the WBC Diamond belt, they just need to agree with my promoter, Dr. Fausto Daniel Garcia, who told me that I will fight first in Chicago against another opponent."