(AUG 14) Avid boxing fan Esther Reed wants to know if women play a significant role in Arizona boxing; excluding fans and ring girls? Yes; but, boxing remains a difficult and elusive industry for women to enter and succeed. In recent years a number of determined and creative women have made inroads into the male dominated sport by creating a service for promoters who don't have the skill or time to invest in the public relation or advertising end of the game. According to the Arizona State Boxing Commission there is only one female licensed promoter (Alma Canez) and one female head (Kelly Fenn) of any registered boxing organization in Arizona. The state does have one working female ring official (USA Boxing) but she prefers her name to remain anonymous.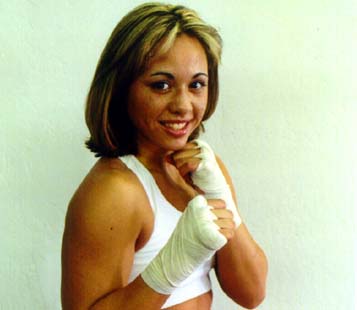 Photo: Courtesy Team Elena Reid
It was almost decade ago when Elena "Baby Doll" Reid and Sunshine "The Chick who KO'd the Guy" Fettkether began to prove that they had every right to fight professionally and both women went on to win championships. Elena now resides and trains in Las Vegas and hopes to boost her MMA record to 4-0 when she fights on October 24.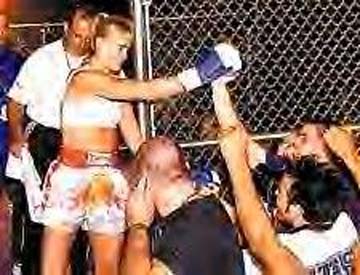 Sunshine Fettkether KO'd Guy - photo: Mike Rynearson
Sunshine remains in Arizona where she trains boxers and kick boxers. Both women deserve to be inducted into Arizona's Boxing Hall of Fame for their pugilistic achievements and courageous roles as boxing pioneers. Unfortunately, It will take motivated and fair minded men to nominate and elect them into the hall.

The following list of "Special" women was collected with the help of the boxing community. Apologies to any woman who deserved acknowledgement but was omitted.

Kelly Fenn: She is considered the first lady of Amateur boxing in Arizona. Kelly is the daughter of Al Fenn and it was her father who taught her the value of boxing as a tool to keep boys and girls out of courts. After his discharge from World War 2, Mr. Fenn (decorated Marine) opened the Phoenix Boys and Girls Center and Kelly has kept the facility open, free of charge, for kids to stay in shape and workout some of their teenage frustrations. The Alumni includes boxers Jesus Gonzales, Rafael Valenzuela, George Garcia Jr. and hundreds of men and women who found success in other careers. In addition to overseeing the Center, Ms. Fenn is the Arizona Golden Gloves CEO and she serves as Director of the annual Copper Gloves Tournament held in October at the Arizona State Fair in Phoenix. Kelly plans to continue her current role in amateur boxing despite a recent "Coup" attempt which was quelled quickly'; leaving egg on the face of at least 2 conspirators .

Sulem Urbina Soto: Winner of two Mexican National Titles (2009-2010) Sulem is a dedicated boxing warrior who has her sights set on representing Mexico the 2016 Olympics. She is an American resident but her opportunity for American Citizenship wont come until after her attempt to become an Olympian. At 22, 112 pound Sulem is quickly becoming Arizona's most recognizable and popular female boxer. On July 10-14, Sulem competed in and won the 11th Annual Desert Showdown World Amateur Championship Tournament at the Fantasy Springs Resort in Indio California. A week later she was scheduled to compete in Albuquerque, New Mexico. Mrs. Soto is trained by her husband and ardent supporter, Andrew Soto at their family downed "Knockout" Gym in Phoenix. Sulem can be contacted through her Face Book page online.

Michelle Rosado: Born in Philadelphia, Pennsylvania , Ms. Rosado moved to Arizona a few years ago and she has quickly established herself as a power broker in Arizona Boxing. Rosado is CEO of Face 2 Face Events, a marketing firm and the point person for the Sonoran Capital Group, a boxing promotion company. At 32, she appears to be at the top of her game and her celebrated marketing skills serve her well. Michelle has graced numerous local magazine covers and been featured on multiple radio and television broadcasts. Despite her commanding presence boxing insiders give her a mixed report card. Her grades range from A's for her intelligence, imagination and energy;however, she received much lower marks from some of her peers for loyalty and truthfulness. It is the latter perceived character flaw that has some boxing insiders (gym owners and trainers) stepping back and looking at her with both eyes wide open. On the other hand, journalists and members of the media tend to like her because she can be colorful and controversial and those attributes create public interest and sell tickets. She also loves and follows boxing.

Emily Pandelakis: A busy mother of two and self described boxing fan who now commands respect as a publicist. Her clients include professional boxers Lateef Kayode, "Sugar Ray" Beltran, Jose Benavidez Jr., Andrew "Hurricane" Hernandez, Jamie Kavanaugh, Michael Medina, Tony Moreno, Wale "Lucky Boy" Omotoso, Gabino Saenz, Jovan Young-Star and to promising amateurs...David Benavidez and Alexis Zazueta. I(n addition to writing and releasing press releases, Emily is working on the release of a 2013 calendar that will feature Arizona Gyms and boxers. The price is tentatively set at $15.00 and proceeds will benefit gyms and amateur boxing. Emily is very giving to the community and she asks her clients to follow her example.

Renene Leinhauser: Renene is 1/2 owner of Iron Gloves Boxing located in Tempe Arizona ..Renene and her husband Joe "fight Train" members age 14 and up.

She has been in the business for almost 20 years and recalls how difficult it was start a boxing gym in Arizona."We were new to Arizona and it was quite awhile before we were accepted". She said seemed harder for women and recalls only 1 female who solely owned and managed a boxing gym in the Phoenix area. She gave closed her gym 3-4 years ago. Until recently, Iron Glove Gym was the training home for highly touted amateur Mario Esparza. Mario was on the verge of signing a letter of intent with the soon to be 18 year old pro prospect ; but, he left the gym and is currently training with Rob Garcia....Garcia also trains 19 year old Luis Oliveras another potential pro prospect. Both young fighters fell short of qualifying for the 2012 USA Olympic team.

The most intriguing question of the week comes from Jose Guerra who wants to know whatever happened to Arizona Boxing Talk Show Host Dale Hausner? Dale now sits on death row in Florence, Arizona awaiting execution. He has written a letter to the Supreme Court asking that his appeal process be waived so his life in prison can be ended. Hausner (39) was sentenced to death six times in 2009 for his role in terrorizing and killing innocent Phoenix residents. For people who would like to write Dale; send your letters to: Dale Hausner ADC # 240702..Arizona State Prison Complex E4uau Browning 3H-53 P.O. Box 3400 Florence, AZ 85132. No guarantee that Dale will respond.

The last question comes from Jesus Fuentes who wants to know why Jesus "El Martillo" Gonzales didn't fight Elvin Ayala on July 21. Simple explanation: Gonzales was placed on indefinite suspension as a result of his knockout loss to Adonis Stevenson in February of this year in Montreal Quebec Canada. For him to fight again. he had to show proof (Clean MRI) that he is healthy enough to resume his career. The Montreal Boxing commission lifted Gonzales suspension on July 20; just hours before the fight. The "OK" MRI was completed weeks before but Montreal didn't respond on time. Ayala won (TKO) against John Mackey at Mohegan Sun Casino in Connecticut. Gonzales has reportedly issued a challenge to Ayala....UNTIL NEXT TIME!