(SEPT 7) The current WBC Youth female light flyweight Champion, Jessica Nery Plata, undefeated thus far, will undoubtedly be one of the next biggest female boxing stars of Mexico.

At just 13 years old, Plata came into a boxing gym for the first time, and within no time she immediately fell in love with this great sport.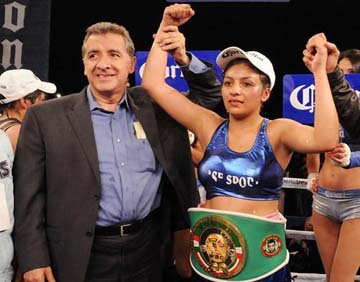 Now at 18, Plata has accumulated a 7-0 record against such opponents as Estrella "Chacalita" Valverde, whom she defeated in her professional debut, on July 9, 2011 in Mexico City, Yasmin Marin, whom she knocked out in the third round, Kandy Sandoval, who beat her to the canvas before a unanimous decision and Viridiana Ramos in Zumpango, Mexico.

And suddenly, with only four professional fights, last April 21, she received an opportunity for fight for the WBC Youth light flyweight crown against the former WBA World Champion Ibeth "La Roca" Zamora. Plata won that bout and the WBC Youth title.

After her first defense against Guadalupe Bautista, last Saturday defeated Karely Lopez in Sinaloa Mexico, in an event that was broadcast on television throughout Mexico and where Mexican fans were able to see, who will no doubt be the new darling of Mexico, because Jessica has quality and charisma to spare.