WBAN Makes another History First in Sweden!
by Sue TL Fox
October 5, 2012

WBAN is very excited to announce that we will be making another "History First" with an upcoming fight that will take place at the Cloetta Center, in Linkoping, Sweden.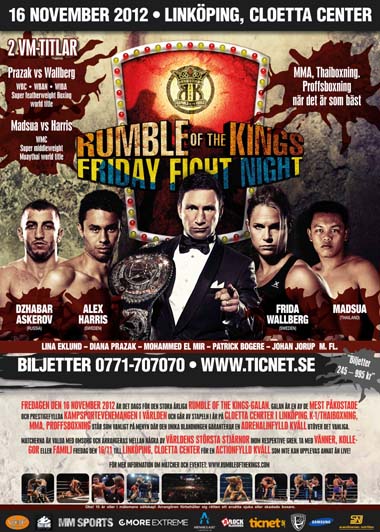 Frida "Golden Girl" Wallberg, 11-0-0 (2KO), of Gothenberg, Sweden, will be fighting Diana Prazak, 11-1-0 (7KO), for the WBAN Super Featherweight World title on November 16, 2012. Frida is currently ranked #1 in our independent world ratings Prazak is rated #3. In addition with the federation belts, Wallberg and Prazak will be fighting for the WBC, IBF and WIBA super featherweight world titles.

About Wallberg: 5'6" Frida Wallberg had a very successful amateur boxing career, compiling a 48-5 record at the national and international levels before turning pro as a lightweight in February 2004. Full Biography of Wallberg

About Prazak: Junior lightweight Diana Prazak was born in Altona, Melbourne, Australia, to parents Zeljko and Louise, who are of Croatian and Maltese descent. Prazak - who owns a successful IT business called DiTec Solutions - joined the BoxingFit Gym in Altona in 2008 as a heavy smoker weighing 196 lbs who was looking to shed some weight through boxing training. The former bodybuilder became hooked on the sport and asked gym owner and coach Mick Hargraves if he would train her to fight. She competed as an amateur and was undefeated in six fights, winning the Victoria junior welterweight title in her third fight and the Australian junior welterweight national title in her fourth.
Full Biography of Prazak

About the WBAN Belts: In 2004, WBAN made a decision to have independent world title belts for only the very top women boxers in our computerized and independent world ratings, created and produced by Dee Williams. Full details of WBAN Belts

We were offered many cards for the WBAN belts from 2004 – 2007, but the offers we had for women to fight for the belts were not approved by our independent WBAN Board, who makes that decision to approve a fight or not.

In June of 2008, on a Pay-Per-View card, we pro debuted the WBAN belts in two world title matches between Holly Holm vs. Mary Jo Sanders (both ranked #1 in catch weight categories), and Chevelle Hallback vs. Jeannine Garside (both ranked #1 in catch weight categories). Holly Holm and Hallback were our history trailblazers for winning the first-ever WBAN Belts. From there we have had many fights with the best, including a first-ever WBAN championship taking place in France between Myriam Lamare vs. Ann Marie Saccurato.