(OCT 9) This weekend the "KO Cancer - Boxing for the Cure" boxing event, promoted by "Sugar" Shane Mosley took place at the Finish Line Sports Grill, in Pomona, California. The Diamond's Love Foundation worked in conjunction with the Susan G. Komen for the Cure to organize the two-day event. [Video Highlights of Fight Night]
| | |
| --- | --- |
| | Friday - October 5th |
On Friday, October 5th, there was an amateur boxing show that included the weigh-in for the following night, featuring Kaliesha "Wild Wild" West vs. Christina Ruiz in the mainliner, in a 10-round world title bout for the vacant IFBA Junior Featherweight Title. On this date, there was not only boxing action but many other activities that took place. [Weigh-in Photos]
Also there was a special treat for boxing fans with Sugar Ray Leonard and Israel Vasquez in attendance. "Sugar" Shane Mosley also made himself easily accessible for the boxing crowd, posing with fans in photos and signing autographs.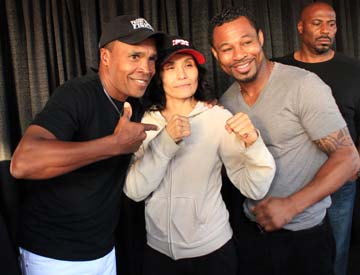 Sugar Ray Leonard, Katarina de la Cruz, Shane Mosley
Photo credit: Sue TL Fox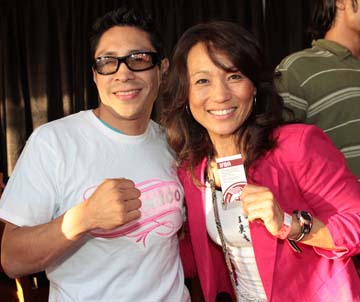 Israel Vasquez (left) Kim "Fireball" Messer
Photo credit: Mary Ann Owen
In addition, the Mayor of Pomona, Elliott Rothman was also in attendance in support for the benefit show. Mayor Rothman met with many of the boxing folks and fans at the event.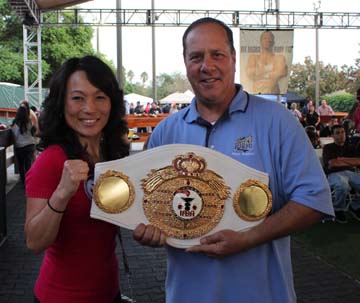 Kim Messer - Mayor Elliott Rothman (city of Pomona)
Photo credit: Sue TL Fox
| | |
| --- | --- |
| | Fight Night - October 6th |
| | |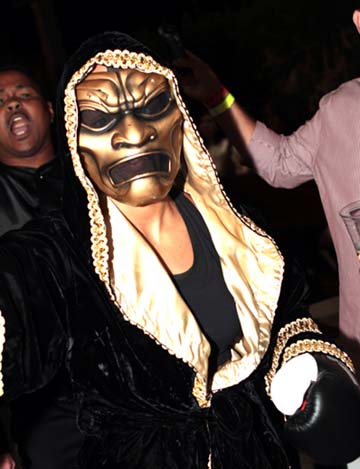 Photo Credit: Mary Ann Owen (all fight photos)
In the main event, which turned out to the "Fight of the Night" Kaliesha "Wild Wild" West, 122, of Moreno Valley, California, won a 10-round unanimous decision over Christina Ruiz, 120.8, of San Antonio, Texas. The fight was an action-packed toe-to-toe battle with Ruiz, being the heavy-handed puncher, and West displaying speed and effectively body punching throughout the fight. Final judges scores were 99-91, 100-90, and 100-90. West improved her record to 16-1-3 (4KO), and Ruiz is now 6-5-2 (4KO). [Retired world champion, Kim "Fireball" Messer, acted as the supervisor for the IFBA over the West-Ruiz championship bout.]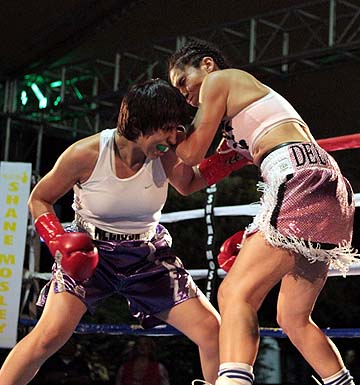 Photo Credit: Mary Ann Owen (all fight photos)
On the undercard in a another female bout, Blanca Raymundo, 111.8, won her first pro fight out of seven losses by a four-round unanimous decision over Katarina de la Cruz, 112. The bout had some exciting moments, with Raymundo at one point, getting a cut on her forehead from an accidental head butt. Final judges scores were 39-37, 39-37, and 40-36.
| | |
| --- | --- |
| | Female boxers at the event |
Trina "Iron Butterfly" Ortegon. retired two-time Middleweight champion; Seniesa Estrada, flyweight out of California, 2-0-0 (0KO); Katrina Hernandez, who is re-entering the sport after fighting as a pro in 1995.
| | |
| --- | --- |
| | Other results: men's boxing |
Xavier Montelongo, 130½, East Los Angeles, California, had a split draw with Carlos Morales, 132. Judges scores (38-38, 40-36, and 39-37.

Michael Ruiz Jr., 118, Fresno, California, won by a six-round unanimous decision over Shawn Nichol, 118. Judges scores, 58-56, 59-55, and 58-56.

Javier Albonica, 154¼, Los Angeles, California, stopped Brian Brooks, 156½, by KO[1:33] in the second round of a four-round bout.
| | |
| --- | --- |
| | Behind the Scenes: photos by Sue TL Fox |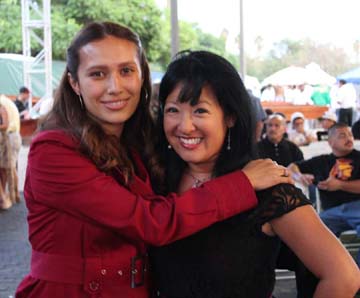 Female boxer, Seniesa Estrada (left) posing with
boxing writer Michele Chong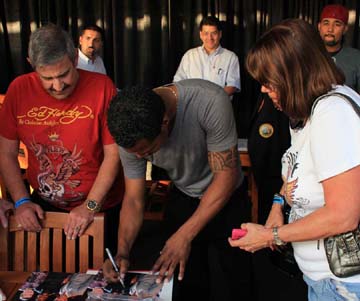 "Sugar" Shane Mosley taking time out to sign
autographs on boxing memorabilia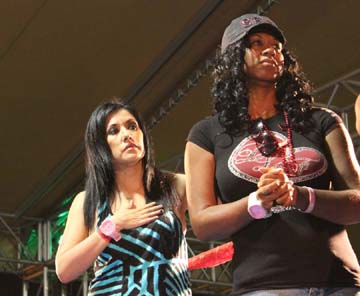 The event held a auction and they were in ringside to auction off a pair of diamond earrings...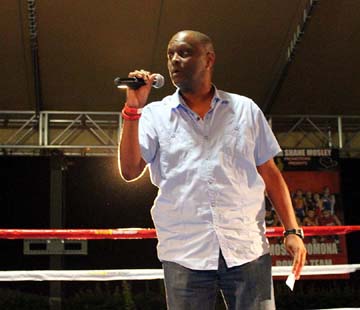 A special speaker talking about his experience with Cancer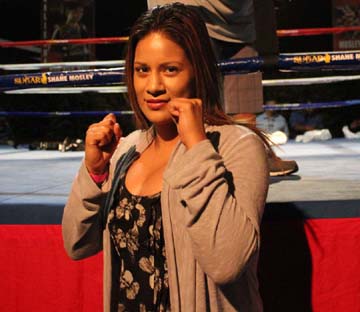 Katrina Hernandez, female boxer coming back into the sport.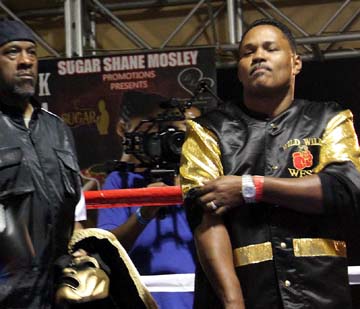 Juan West (Father/Manager of Kaliesha West)
The IFBA Belt - West and Ruiz battling for the Super Featherweight world title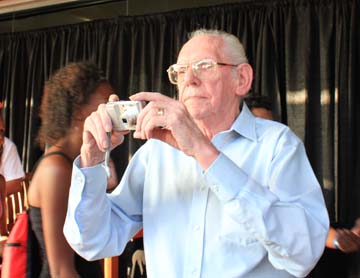 One of WBAN's Favorites - John Hill who strongly supports female boxing and attends many events....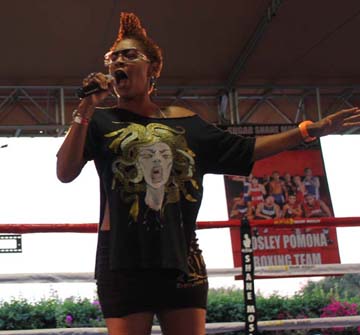 Medusa rapping center ring, and entertaining the crowd
before the boxing event began...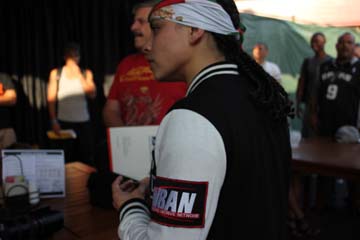 Christina Ruiz, before she weighed in
on October 5th (love the patch Christina!)
Lorin from Maryland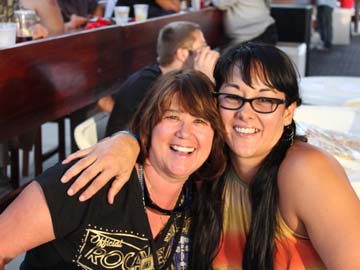 Photographer Mary Ann Owen, posing with bad girl Trina Ortegon, retired two-time world champion