(OCT 28) Update: WBAN was notified by the WIBA today that the belt handed to Amanda Crespin in the ring (see photo by Chris Cozzone) last night DID NOT win the belt when her opponent fell out at the last moment. Crespin was apparently holding the belt in the ring last night (why, we do not know, nor does anyone else apparently) but, Ryan Wissow of the WIBA assures WBAN that she was not awarded the belt.

Last night at the Kiva Auditorium, in Albuquerque, New Mexico and promoted by Chavez-Crespin Promotions, with the attendance of 800 boxing fans there were three female bouts on the card. An excerpt on the female bouts by Chris Cozzone, of New Mexico Boxing reported the following:
Slap-and-slug-fest girl fight

Finally given a fight where she has all the advantages, Albuquerque lightweight Victoria Cisneros (7-13-2, 3 KOs) slapped and slugged it out with Colorado featherweight DJ Morrison (3-16).
Round one was somewhat close, the much smaller Morrison determined to make it a fight, early on at least. Cisneros clinched the opener by a punch or two.
The sloppy slugfest that saw both fighters eating leather but Cisneros landing more of it, had the hometown girl pull ahead in the second. Morrison, still game in spots, wilted with every passing moment and every passing assault.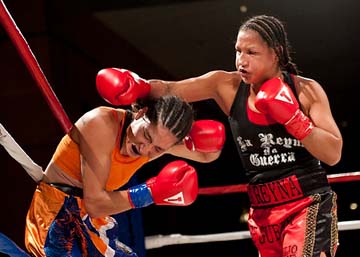 Morrison tried to hold through the third but Cisneros was having none of that. She continued to throw herself at her worn and weathered foe, dominating the fourth, as well.
When a very shaky Morrison stepped forward to continue in the fifth, referee Richard Espinoza needed but one second to stop the impending slaughter.
Official time for Cisneros' TKO win was :01 of round five.

Overweight Montoya wins belt anyway
In a six-round super flyweight bout, Brandi "Babi Doll" Montoya (5-2), though weighing in a pound over the limit, was awarded the WIBA Intercontinental super flyweight belt [WBAN comment: This may have been for the YOUTH title as listed on Boxrec] after outpointing gutsy-but- oversized, 111-pound flyweight Cristina Fuentes (1-2-3), of Laredo, Texas.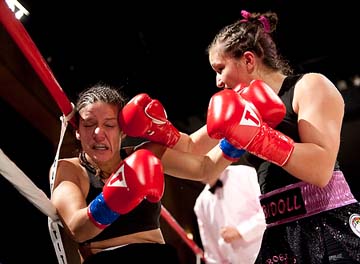 In most so-called "championship" bouts, fighters must make weight to fight for a given belt. Not so with Ryan Wissow's WIBA "sanctioning body." Despite failing to make the 115-pound limit, for the 115-pound belt at stake, she was allowed to fight for the bogus belt.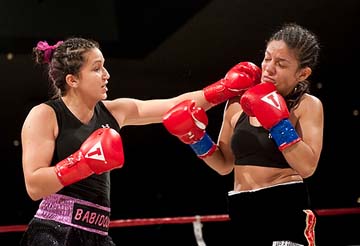 Unfortunately, there was even worse to come from the WIBA and its off-shoot male counterpart, the UBC, before the night was finito.
As far the fight itself went, Montoya-Fuentes was a decent scrap despite the tarnished belt situation.
Fuentes was tougher than expected, not to mention a decent boxer with a slick and speedy counterpunch. But she was too small against the bigger "Babi Doll," who bullied her against the ropes where she battered her caught prey. In the middle of the ring, however, Fuentes was able to sharpshoot Montoya, catching her with cleaner, precise shots.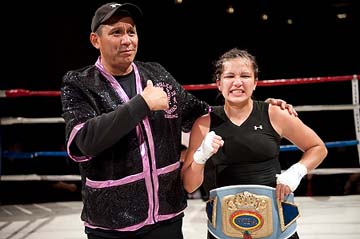 Quantity won out over quality and Montoya, who'd made remarkable progress in the past year, slipped a notch or three in finesse, resorting to slugging wildly to pick up the rounds.
All three judges scored it for Montoya, 59-56 and 58-56 twice.
Update - WIBA notified WBAN to report that Amanda Crespin did not get awarded this belt. Crespin is pictured holding it ringside.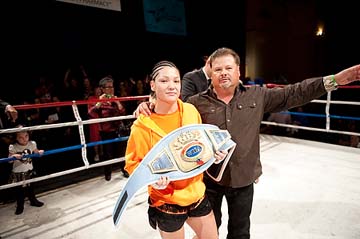 The co-main event had been a scheduled eight-round fight between Las Vegas' Amanda Crespin (6-4-1, 2 KOs) and Colorado's Mercedes Mercury (3-11, 1 KO) for an unnamed WIBA Intercontinental belt at some weight. Again, we assume it was the junior lightweight belt since the opponents weighed between 127 and 128. When one opponent – Mercury, of course – has lost eight straight bouts, does it really matter?
And when one opponent bails out of a fight minutes before having to go on – again, Mercury – does it really matter if the aforementioned belt is awarded to Crespin?
Of course not! Not with the WIBA, and certainly not in a state that goes, for the most part, unnoticed.
Claiming an injured ankle and bailing, virtually last minute, Mercury will, no doubt, end up on someone's suspension list, at least until some other obscure state decides it's okay for her to lose again, maybe even against someone for yet another WIBA title.
Disappointed in losing her chance to beat further retrograde Mercury, Crespin, with her hands still wrapped, accepted her shiny new, blue belt with humor (see photo of her holding the belt).
[WBAN was notified by the WIBA, that she was not awarded this belt---we have no idea why Crespin would be holding it in the ring "like an awarded belt" ...We were also notified by sources that this was awarded to her, and we are going to do a follow-up on this story.

Ringside report by Chris Cozzone
and Gerardo Martinez
Photos by Chris Cozzone