(NOV 22) A nice lady persuaded two nice girls to fight, and the fans were glad! ARETI MASTRODOUKA and LANA COOPER fought for the INTERNATIONAL MASTERS LADIES SUPER FEATHERWEIGHT title belt on LEFT JAB "Matinee Idols" promotion at York Hall, Bethnall Green, London, England Sunday afternoon, 18th September 2012. This belt is sanctioned by the Professional Boxing Promoters Association. Founded in Great Britain in 1997 the Association is composed of 32 promoters and managers; chaired by BRUCE BAKER.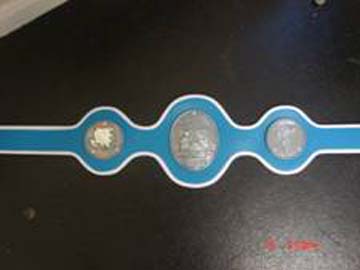 The Queen of British Professional Boxing, MIRANDA CARTER of LEFT JAB PROMOTIONS, ably supported by her family put on another great value card.

The 8 bout tournament featured 7 men's and this women's championship fights.

ARETI MASTRODOUKA v LANA COOPER

This ladies Championship fight was the fourth bout.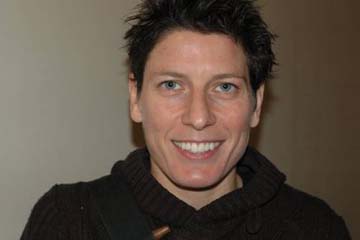 ARETI MASTRODOUKA
After a great professional debut on the 4th March this year, against KRISTINE SHERGOLD - arguably the best fight of the day - MASTRODOUKA'S last two fights were disappointing for both her and her fans as the competition offered by JULIJA CVETKOVA in May , and GABRIELLA VICZE in September was bordering on the pathetic. MASTRODOUKA completely outclassed these opponents.

MASTRODOUKA ( age 36 ) is Greek by birth - her home is in Athens . However she has been training since July 2011 under ALEX WILKEY in the TKO Gym, London England and has a License as a Professional Boxer from the British Boxing Board of Control.

To add to her 3 professional wins, (all at York Hall, London) she had an impressive amateur boxing record of 28 wins, and 7 losses winning a Silver Medal as Runner Up in the 60 Kilogram's class in the Women's Amateur World Championships in 2002 and Bronze in the European Championships in 2003 in Hungary. She has been the Greek National Champion in her weight class in 2002, 2003, 2006, 2007 and 2008.

Her record as a Full Contact Kick Boxer (1999 - 2007) was even better, winning the Women's World Championship in the 60 Kilos weight class in 2004. Triumphant in 29 of her 30 fights.

IN Basketball she played for the Greek National Junior team , and Greek National Women's team between 1990 and 1999.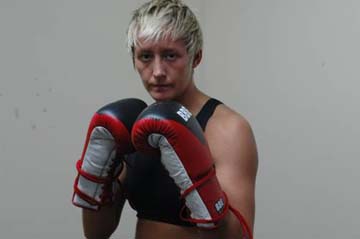 LANA COOPER before the fight
This time she had a more formidable opponent in Welsh girl LANA COOPER who was a late replacement for KRISTINE SHERGOLD who we understand could not make the weight.
COOPER was returning to the ring following the horrific accident which she suffered at York Hall on the 21st, March 2010 when she dislocated her left shoulder (causing the bone to petrude through the skin), whilst throwing a left hook in her fight against LAURA SAPERSTEIN. She was stretchered from the ring to hospital and has spent over 2 years recovering. Now fully fit she faced the biggest fight of her career.
A pretty 25 year old (NOT age 28 as wrongly described in BOXREC) from Bargoed, Wales she started boxing aged 8. She had over 40 amateur fights under the auspices of the Welsh Amateur Boxing Association - most of which she won. When told ( erroneously ) that women would not be able to box in the Olympic Games , she decided to turn professional - making her debut on the 17th October 2008 against KRISTINE SHERGOLD who narrowly beat her 39 points to 37. Since then COOPER has had 5 more fights, including a rematch against SHERGOLD. COOPER has two brothers, the younger following his sister as a professional boxer. When not boxing COOPER is a personal trainer in a local gym.
First Into the ring's Blue Corner, COOPER a slim 5 ft 6 inch tall girl with blonded urchin cut hair and a bronzed tattooed physique in a black sports bra and pale mauve and black satin shorts.
Then Into the ring's Red Corner, MASTRODOUKA a muscular 5 ft 7 inch woman with short black hair was clad in a black sports bra with her familiar long blue/white shorts with "The Master " emblazoned across her waistband.
Mike Goodall, The Master of Ceremonies announced the fight as a Championship over 8 x 2 minute rounds and that at the Weigh In MASTRODOUKA weighed 9 stone 3lbs and COOPER was also 9 stone 3lbs.
Round 1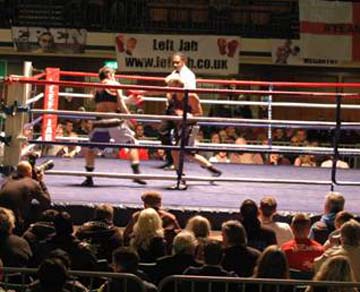 MASTRODOUKA sways back causing COOPER's
straight right to fall short.
Referee Jeff Hinds called the women from their corners and they both came out fighting. COOPER tried taking the fight to her opponent from the centre of the ring, but it quickly became a series of close quarters fighting clinches in which a large number of shots were thrown - not all reaching their intended mark. COOPER shoved MASTRODOUKA back onto the ropes who bounced violently back off the ring ropes like a catapult towards her opponent.
COOPER bravely kept coming forward but MASTRODOUKA continued to pick her off with two handed quick combination hooks to the head and body.
MASTRODOUKA quickly showed herself the more accurate puncher of the two.
MASTRODOUKA charged COOPER with her head down and the resultant scrimmage was separated be the Referee. MASTRODOUKA threw a considerable number of straight right hands but these were blocked by COOPER'S gloves or fell short. COOPER advanced , keeping up her guard to her face and then throwing left and right combinations which mainly fell short. Another scrum. MASTRODOUKA kept flicking straight rights in COOPERS face. Clinch on the ropes as bell sounds.
Crowd applause.
Round 2
The fight moved into its natural rhythm. COOPER constantly bobby forward to launch her attacks , but being punished by MASTRODOUKA who whilst backing away caught her with fast two handed ripostes. COOPER had difficulty making her punches tell against a wily opponent.
MASTRODOUKA is a master technician. She has a very wide arsenal of blows which she rains down upon her unfortunate opponents with speed and intensity. She constantly varies her attack form the body to the head and vice versa. She is moving constantly , bobbing and dipping, swaying her head from side to side. Even when stepping back she still seems to be able to catch an opponent with scoring blows. Her attacks vary from southpaw to orthodox - so it is difficult for her advisories to box her in traditional fashion. COOPER, keeping her gloves well up to protect her head tried hard to box her , but ended up in clinches which resembled wrestling more than boxing. The Referee cautioned them about use of heads. MASTRODOUKA got COOPER in a fighting clinch in the Red Corner.
COOPER bravely kept fighting back, throwing a big right hook which fell short.
Repeatedly these forays ended with them locked together - punching their opponent with any hand that was free. Referee JEFF HINES had continually to break them apart.
MASTRODOUKA - head down pushed COOPER back towards a neutral corner as the bell sounded.
Audience applauded.
Round 3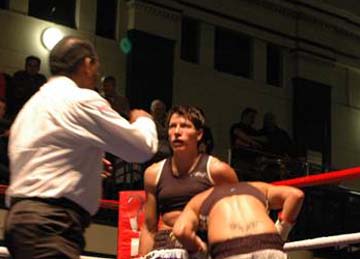 Referee Jeff Hines warns MASTRODOUKA for
holding COOPER's head
The contest developed into a fast moving series of clashes, each woman taking the initiative with violent exchanges of short sharp blows. Whilst COOPER'S strategy was to take the fight to her opponent , MASRODOUKA responded with her own forays and her effective counterpunching which gave COOPER a lot of trouble.
The action see sawed across the ring as first COOPER and then MASTRODOUKA attacked and retreated. This was a hard fought round. COOPER caught MASTRODOUKA with an excellent right hook to the jaw as MASTRODOUKA was advancing. It knocked her head back.
This was close quarters, toe to toe fighting.
The round ended with COOPER doubled up with her back to the ropes whilst MASTRODOUKA pummeled her.
Audience applause
Round 4
Similar pattern of fighting.
COOPER attacked chasing MASTRODOUKA around ring and ending in a clinch which the Referee physically split up. COOPER grabbed MASTRADOUKA around the waist and lifted her bodily off the ground into the Red Corner. The Referee separated them and warned both women MASTRODOUKA forced COOPER back onto the ropes near the Blue Corner where she pummeled her in a one sided exchange of blows - which COOPER countered by clasping MASTRODOUKA to her body as the bell sounded.
The audience clapped.
Round 5
Similar pattern of fighting.
COOPER started the attack which led to a clinch which the Referee split up. Then another fierce exchange resulting in another clinch. Referee Jeff Hines warned COOPER about misuse of her elbows. He later sent COOPER to a neutral corner whilst he warned MASTRODOUKA for hitting COOPER on the back of the neck after MASTRODOUKA had unleashed a violent storm of right and left handed blows of every type on her opponent who she had trapped against the ropes near the Blue Corner. It was obvious that this had been an attempt to "finish off", COOPER who absorbed the blows and bravely came back fighting.
The audience clapped
Round 6
Similar pattern of fighting.
Unperturbed COOPER came out fighting. Then a clinch separated by the Referee. Then another, causing the Referee to wade in and physically prize the women apart. MASDTRODOUKA delivered a straight left to COOPER'S face as the Round ended.
Audience applause.
Round 7
Similar pattern of fighting.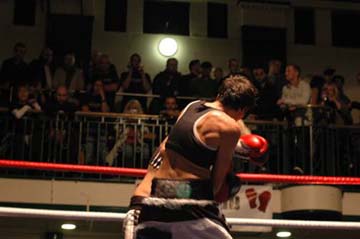 MASTRODOUKA'S muscles glisten in another mauling ruck
Similar start to previous rounds. COOPER advanced, but quickly became enveloped in a clinch which the Referee separated. Then another violent clinch in a neutral corner which the Referee again separated. Then another ruck. The Referee admonished MASTRODOUKA for an infringement,
Then another clinch and the Referee warned MASTROUKA again. COOPER held her ground.
Finally MASTROUKA trapped COOPER in a neutral corner as the round ended and knocked out her black plastic gum shield.
Audience applauded
Round 8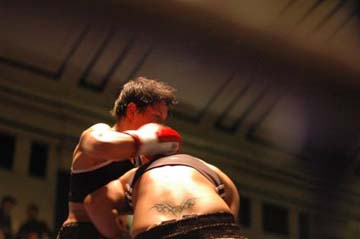 COOPER ducts to avoid a right hook from MASTRODOUKA
The pattern of the fight continued as before. MASTRODOUKA raising her right leg off the canvass leant on COOPER whose back was on the ropes. The Referee had to push them apart from this fighting clinch. He gave COOPER a warning.
Both women at times resorted to holding their opponent.
Despite this being BOTH women's first 8 round contest they kept up the intensity of the contest to the end.
As the fight ended some of the crowd at the ringside rose, and the audience vociferously cheered and clapped the two women in appreciation of their skill and courage and such a good fight.

Referee JEFFREY HINES raises MASTRODOUKA'S
arm in Victory.
MASTRODOUKA was declared the winner on points 80 -72. Promoter MIRANDA CARTER entered the ring and kissed COOPER in consolation and appreciation of her plucky performance.
BRUCE BAKER as Chairman of the Professional Boxing Promoters Association - presented MASTRODOUKA with her Championship belt.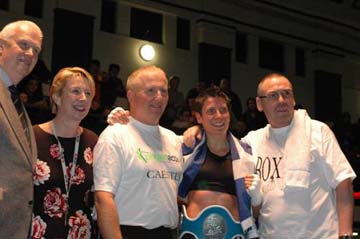 BRUCE BAKER-P.B.P.A, MIRANDA CARTER-PROMOTER,
ALEC WILKEY-TRAINER, MASTRODOUKA-CHAMPION,
JOHNNY EAMES-MANAGER
MASTRODOUKA is now the INTERNATIONAL MASTERS LADIES SUPER FEATHERWEIGHT CHAMPION and moves to 4 wins (2 K.Os) no losses. COOPER drops to 7 losses (0, KO's).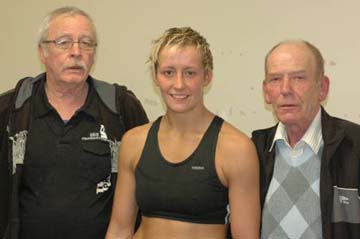 LANA COOPER with her Trainer and Second after the fight.
In an exclusive interview after the fight COOPER said that MASTRODOUKA was not a hard puncher and that she felt that but for her own long absence from the ring, and consequent rustiness, she could have won. Her shoulder had not caused any problem. As the photographs confirm she was unmarked and unfazed by the ferocity of her opponent.. She is anxious to have a return match next year.

Speaking to your correspondent after the fight MASTRODOUKA in her very polite English conceded that she had had to work harder than in her last two fights. She is anxious to win a World Title as quickly as possible and hopes that she will be able to contest the WBF (World Boxing Federation) Ladies Super featherweight title in April 2013 against KRISTINE SHERGOLD, although she says she will fight any suitable opponent.

In conclusion, COOPER fought better than she had in some of her previous professional fights. Although outboxed she held her ground, fighting toe to toe when she could. She seemed more aggressive and did not fight so negatively. She is brave and tough - not letting her opponent physic her, and is still young enough to gain in experience and competence. Her poor official record belies the fact that she has been fighting good opponents - MASTRODOUKA being undoubtedly one of the best professional women boxers in the World today. Her high work rate of accurately delivered punches guaranteed her victory.

The 7 mens' contests kept the enthusiastic crowd of fans engaged. There were no major upsets - the "Home Team" winning all their bouts by knockouts or points victories.

Bout 1
Cruiserweight ROBIN DUPRE (Dagenham, London, England) making his Professional Debut weighing 14 stone 4 lbs beat ROLANDAS CESNA (Lithuania) (won 2 lost 9 ) weighing 14 stone 8 lbs on points, 40 -36, over 4 x 3 minute rounds.

Bout 2
Light Welterweight ERIN ARIF ( Rotherhithe, England,) (won 1- lost 1) weighing 10 stone 3 lbs won on points 39 to 37 over his more experienced opponent ALEKSAS VASERIS (Lithuania) ( 2 wins , 5 losses, 1 draw) weighing 10 stones 5 lbs in their 4 x 3 minute rounds contest.

Bout 3
Light Heavyweight JACK MORRIS ( Margate, England) (won 8, lost 1) weighing 12 stone 10 lbs 12 ozs drew, 58 -58 points each, against DARREN McKENNA (Hayes, London, England) ( won 2, lost 4 ) weighing 12 stone 7 lbs, over 6 x 3 minute rounds.

Bout 5
Middleweight ALAN HIGGINS (Kilburn, London, England) (2 wins, no losses) weighing 11 stone 7lbs 8 ozs beat MATTEO CECCHETTA (Italy) ( won 1, lost 1, drawn 1 ) 11 stone 9 lbs by a knock out after 1 minute and 33 seconds in the Second round of their 4 x 3 minute rounds fight.

Bout 6
Lightweight TOMMY MARTIN (St Neots, England) Making his Professional Debut, weighing 9 stone 12 lbs 8 ozs beat ARTUR SANIUK (Lithuania) ( lost 1, drawn 1 ) weighing 9 stone 11 lbs 8 ozs by a knock out after 1 minute 38 seconds in the Third round of their 4 x 3 minute rounds fight..

Bout 7
Local Welterweight favorite MATT McCARTHY (Tilbury, London, England) ( 2 wins , no losses) weighing 10 stone 10 lbs beat ANDREW PATTERSON (Birmingham, England) (won 5 bouts, lost 35, drawn 3 ) weighing 10 stone 12 lbs 8 ozs, convincingly on points 60 to 54 in their 6 x 2 minute round fight.

Bout 8
Middleweight GARY BOULDEN (Shepperton, England) (won 8, lost 1) weighing 11 stone 4 lbs won on points 59 - 56 over DANNY BROWN (Wickford, England) ( won 9, lost 1) weighing 11stone 7 lbs over 6 x 3 minute rounds.

AS A POSTCRIPT TO THE TOURNAMENT ONE OF THE SENIOR OFFICIALS FROM THE BRITISH BOARD OF CONTROL TOLD YOUR CORRESPONDENT THAT THE WOMEN'S FIGHT HAD BEEN THE BEST ON THE BILL!
# # # # # #

N.U.J. Words = 2485
Copyright John E.G.Wilson
Words and pictures.
Date: 19/20/21/22nd .November 2012
Jegw/st/gwp/MSW2007/lacie/documents/PRESS – BOXING REPORT - ARETI MASTRODOUKA v LANA COOPER - Full Report - MATINEE IDOLS - 18 November. 2012 - version 1.


MEMBER OF THE NATIONAL UNION OF JOURNALISTS