(NOV 30) Carina Moreno is in Germany to fight Susi Kentikian. "Killer Queen" owns all the home ring advantages as the Watsonville former World Champion goes on the road again to prove she's got something left.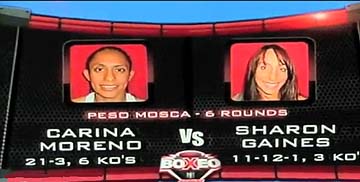 This video was shot in Salinas at Carina Moreno's last victory over Sharon Gaines. Since then, the boxer from Santa Cruz County has lost twice, most recently against Irma Sanchez in Mexico who happened to be the promoter's wife. "La Reina" has lost 4 of her past 5 bouts, fighting in hostile territory in all those defeats.
Now 22-5, Moreno has not been able to find a match at her more suitable 105 pounds, so she accepts what's offered. Not exactly the best formula for success, but better than no fight at all for the former World Champion.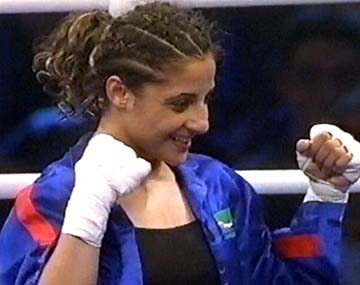 Susi Kentikian of Germany
Tomorrow night (Dec. 1) in Dusseldorf, Germany the odds will again be stacked against her facing "Killer Queen" Susi Kentikian.
Carina arrived in Germany on Monday. While her opponent is staying in a spacious hotel room with all the comforts of home, Moreno has tiny lodging quarters, and has not exactly been welcomed by the promoter.
[According to Hoffman's sources provided about this upcoming fight]

In fact, Felix Sturm has not met the American as yet, while catering to Kentikian's every wish. So goes the story for many U.S. female fighters who can not get matched in the home country and must travel overseas or south of the border in search of paydays. However, couple current Northern California World Champion women have bucked the odds and emerged victorious.
Ava Knight has back to back upset wins in Mexico, and is slated for a rematch December 15th, again in Mexico, against Mariana "La Barbie" Juarez who she dominated in the previous meeting two months ago.
More remarkable was San Mateo's Melissa McMorrow, who traveled to Kentikian's hometown in Germany a few months back scoring a 10 round unanimous decision and handing Susi her first loss after a perfect 29-0 start to her pro career.
Another loss at home for "Killer Queen" against an American seems highly unlikely, but "La Reina" feels she is still Queen of the Ring and has added a psychologist to her training team to bury any doubts.

Head trainer Rick Noble who has directed Moreno's career since her decorated amateur days, knows the German gamesmanship favoring Kentikian has been evident since their arrival and expects more of the same at Friday's weigh-in. Carina is battling a cold in addition to the elements stacked against her, but will enter the ring with a nothing to lose, and everything to gain attitude.