(JULY 10) The International Women's Boxing Hall of Fame (IWBHF) would like to announce that the nominations are open for 2017 until December 31, 2016. You can go to 2017 nomination Form at this link.

About the IWBHF: The IWBHF first formed in 2014, where we celebrated our inaugural class inductees in Ft. Lauderdale, Florida, that included seven inductees, Bonnie Canino, Christy Martin, Lucia Rijker, Barbara Buttrick, JoAnn Hagen, Regina Halmich, Christy Halbert. We held the Inaugural Induction ceremony was in conjunction the 2014 Women's National Golden Gloves Tournament. Link to photos and full story. Link to photos and Full Story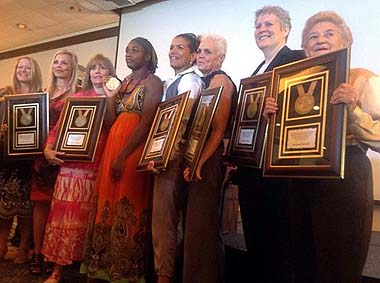 In 2015, where we had the IWBHF Induction Hall of Fame event again in Ft. Lauderdale, Florida, we celebrated our second year inductees that included: Laila Ali, Jeannine Garside, Deirdre Gogarty, Phyllis Kugler, Sparkle Lee, Terry Moss, Laura Serrano, and Ann Wolfe. We also held this in conjunction with the 2015 Women's National Golden Gloves Tournament. Huge Flash Photo Slideshow
Our 2016 Inductees are the following: The group includes seven boxers from both the "modern era" (1990-2010) and the "pioneer" years of the sport (1960-80), and a trailblazing woman who breached the all male ranks of boxing management in the 1980s. Those to be honored include Sumya Anani, Jane Couch, Elena Reid, Ann-Marie Saccurato, Giselle Salandy (posthumous), Lady Tyger Trimiar, Britt Vanbuskirk and Jackie Kallen.

Sumya Anani

Jane Couch

Ann Marie Saccurato

Elena Reid

Giselle Salandy

Lady Tyger Trimiar

Jackie Kallen
2016
IWBHF
Inductees

Britt VanBuskirk (blk)
Bernie McCoy wrote the following about our 2016 Inductees:

Anani was one of the most feared and, as a result, most avoided fighters in the mid 1990s and into the new century. In her twelfth bout she won a decision over Christy Martin who came to the bout with a 36-1 record. Jane Couch, fought outside the ring, with the boxing hierarchy in England for the right to fight professionally and subsequently progressed to establishing a sterling career inside the ring the 1990s in the United States, battling leading fighters of that time including Sumya Anani and Lucia Rijker. Elena Reid compiled a 19-6-6 record against the top fighters in the flyweight division over the entire span of the first decade of the new century. Highlights of her career included a draw and a close decision loss to 2014 IWBHF inductee Regina Halmich.
Anne Marie Saccurato defined the definition of "fighter" during her ten year career in the first decade of 2000 with her "go anywhere, fight anyone" mentality. She had two wins over Jelena Mrdjenovich, fought Holly Holm twice, prompting a "she was as tough as anyone I was in with" accolade from Holm. But it was Saccurato's 2007 tenth round KO over Jessica Rakoczy that will long be remembered whenever great female boxing is discussed.
Lady Tyger Trimiar is definitely recognized as one of the pioneers of the sport of female boxing being one of the first women licensed in New York state in the late 1970s. Although records of her ring activity are scare, reports of her skill inside the ropes abound by those who recall seeing her fight numerous exhibitions.
Britt VanBuskirk is a fighter who truly spanned the decades, debuting with a win in 1979 over Julie Mullen and finishing in 2003 with a loss to Lisa Holewyne. In between, VanBruskirk climbed into the ring with the likes of Chevelle Hallback and Sumya Anani.
Jackie Kallen, as so many of the many past and present IWBHF inductees ventured where there was no path for women and made a name for herself in the male dominant sport of boxing. She guided world class boxer James Toney to a world title, a sojourn depicted in the movie "Against the Ropes," starring Meg Ryan.
Kallen has also long proven to be a readily available source of valuable insight to many nascent female boxers as they begin to progress through their fledgling careers Giselle Salandy, a six time world title holder from Trinidad and Tobago, winner of all seventeen of her professional bouts and who was tragically killed in an auto accident at age 21 will be inducted into the IWBHF posthumously.
Latest news for 2016 - 2017: In 2016, due to some Inductees, invited guests and attendees which would have been at our 2016 Induction Ceremony, we decided to reschedule the event, and ultimately decided to combine the 2016 and 2017 inductees together in an event that we anticipate will be in Los Angeles, California. We will give additional details as they become available.

To vote: Nomination Forms to submit your nominee choice for our 2017 IWBHF Class of Inductees can be found at: You can go to 2017 nomination Form at this link.
#######
In Spanish (Espanol)

(10 de Julio 2016) El Salón de La Fama Internacional de el Boxeo Femenil (IWBHF) les gustaría anunciar que las nominaciones están abiertas para el 2017 hasta el 31 de Diciembre del 2016. Para el Formulario de Nominación puede visitar a este enlace http://www.womenboxing.com/NEWS2016-1/news071016iwbhf-nomination-form.htm

Sobre el IWBHF: La primera ceremonia de el IWBHF fue formado en el 2014, donde celebramos nuestros(as) nuevos miembros de la clase inaugural en Ft. Lauderdale, Florida, que incluyó siete nuevos miembros; Bonnie Canino, Christy Martin, Lucia Rijker, Barbara Buttrick, JoAnn Hagen, Regina Halmich y Christy Halbert.

Llevamos a cabo la ceremonia de inaugural en conjunción con el Torneo Nacional de los Guantes de Oro Femenil 2014. Enlace para ver las fotos y la historia completa dentro del mismo enlace.

En el año 2015, tuvimos una vez más el evento de Inducción al Salón del IWBHF, en Ft. Lauderdale, Florida, donde celebramos nuestros nuevos miembros del segundo año que incluyeron: Laila Ali, Jeannine Garside, Deirdre Gogarty, Phyllis Kugler, Sparkle Lee, Terry Moss, Laura Serrano, y Ann Wolfe.

Este evento tambien fue llevado a cabo en conjunto con el Torneo Nacional de los Guantes de Oro Nacional Femenil 2015. Tenemos un eorme Flash Slideshow de fotos.

Nuestras ingresadas al Salón de La IWBHF para el 2016 son las siguientes: el grupo incluye siete boxeadoras tanto de la "era moderna" (1990-2010) y los "Pioneros" años de este deporte (1960-1980), y una mujer pionera que violó las filas masculinas de todos los gestiónes de el boxeo en la década de los 1980's.

Aquellas que se incluyen honradas; Sumya Anani, Jane Couch, Elena Reid, Ann-Marie Saccurato, Giselle Salandy (póstumo), Lady Tyger Trimiar, Britt Vanbuskirk y Jackie Kallen.


Bernie McCoy escribió lo siguiente acerca de nuestras Nominadas para el 2016:

Anani fue unas de las más temidas y, como resultado, la mayoría de las combatientes a mediados de 1990 y en el nuevo siglo la evitaron. En su duodécima pelea ganó una decisión sobre Christy Martin, que llegó a la pelea con un récord de 36-1.

Jane Couch, combatió fuera del ring, con la jerarquía de el boxeo en Inglaterra por el derecho a pelear profesionalmente y posteriormente progresó a establecer una brillante trayectoria en el interior del anillo de la década de los 1990 en los Estados Unidos, compitiendo contra las principales boxeadoras de la época, incluyendo Sumya Anani y Lucia Rijker.

Elena Reid acumuló un récord de 19-6-6 contra las mejores peleadoras en la división de peso mosca durante todo el lapso de la primera década del nuevo siglo. Aspectos destacados de su carrera incluyen un empate y una derrota por decisión estrecha contra Regina Halmich, quien también fue ingresada al Salón en el año 2014.

Anne Marie Saccurato define la definición de "combatiente" durante su carrera de diez años en la primera década de los 2000 con su mentalidad de "ir a cualquier parte, a combatir contra cualquiera". Tenía dos victorias sobre Jelena Mrdjenovich, y dos combates contra Holly Holm, lo que provocó que Holm diga, "Ella era una boxeadora difícil como cualquier otra boxeadora que he enfrentado" distinción de Holm. Pero era el KO que realizó Saccurato en el décimo asalto sobre Jessica Rakoczy que recordaremos durante mucho tiempo cada vez que se discute gran boxeo femenino.

"Lady Tyger" Trimiar es, sin duda alguna, reconocida como unas de las pioneras del deporte del boxeo femenil. Es una de las primeras mujeres en recibir licencia en el Estado de Nueva York a finales de los 1970. Aunque los registros de su actividad en el ring son escasos, los informes de su habilidad dentro de las cuerdas abundan por los que recuerdo haber visto a luchar contra numerosas exposiciones.

Britt VanBuskirk fue una boxeadora que realmente se extendió por las décadas, que debuta con una victoria en 1979 sobre Julie Mullen , terminando en el 2003 con una pérdida contra Lisa Holewyne. Durante este tiempo, VanBruskirk tamnien subió al ring con Chevelle Hallback y Sumya Anani.

Jackie Kallen, como muchos y muchas de los nuevos miembros pasados ​​y presentes del IWBHF aventuró donde no había camino para las mujeres y se hizo un nombre por sí misma en el deporte dominante masculina de el boxeo. Ella guió a el boxeador de clase mundial James Toney a un título mundial, una estancia representado en la película "Contra las cuerdas", protagonizada por Meg Ryan.

Kallen también ha lo largo ha demostrado ser una fuente disponible de información valiosa para muchas boxeadoras nacientes medida que comienzan a progresar a través de sus carreras incipientes.

Giselle Salandy, de Trinidad y Tobago , titular de seis títulos mundiales , ganadora en sus diecisiete peleas profesionales y que murió trágicamente en un accidente automovilístico a los 21 años se instaló en el IWBHF póstumamente.

Novedades para 2016 - 2017: En el año 2016, debido a algunas ingresadas , invitados y/o asistentes que hubiense estado presentes para nuestra Ceremonia de Ingreso 2016 , decidimos cambiar la fecha del evento, y en última instancia, decidimos combinar los(as) ingresados en el 2016 y el 2017 juntos en un evento que anticipamos será en Los Ángeles, California. Daremos más detalles a medida que estén disponibles.

Para votar: Formulario de nominación que presente su elección nominado para nuestra IWBHF 2017 Clase de Inductees se puede encontrar en: Usted puede ir a 2017 Formulario de nominación en este enlace. 2017 nomination Form at this link.