5'3½" Laura Serrano, born on October 20, 1967 in México City, is a lawyer and a poet and speaks four languages ... Spanish, Italian, English and Portuguese. This complex lady is also México's most successful and best-known female prizefighter, despite initially being forbidden to compete in her own city by an ordinance that was 20 years older than her.
A former soccer player, Laura began boxing at the National Autonomous University in México City to lose weight and get in shape.
Like her counterparts in other countries, she decided to move on to competition, and that is where trouble began for her. Not in the ring, where she soon became highly proficient, but outside it. When Serrano began boxing her father supported her decision but Laura became a boxer only after overcoming her mother's strenuous objections ... according to Serrano, they did not speak to each other for more than a month. None of her four brothers had become a boxer, but despite her mother's objections, Serrano trained as a pro fighter at the Nuevo Jordan gym, a breeding ground for Mexican champions. She was met with disbelief, taunts, and harassment at first, but after showing she was serious and that she would stick to her guns (and constitutional rights) Serrano became one of the gym's success stories. She has sparred with men to prepare for her fights and to prepare them for theirs. Several younger women now train at Nuevo Jordan.
"I had problems with my mom because they didn't want me to study this sport," she said. "I trained in secret. I fought in secret." The men in the gym, including her trainers, were also skeptical about her presence. "It was very difficult because in México the men say this is one of the most vile of all sports," she said. "(The trainers) think that you're looking for a boyfriend," she added. "Only when they begin to see that you're training seriously, with discipline, do they start to respect you."
México City sports writer Ricardo Castillo, who writes for the English-language paper 'The News', has decribed Serrano's early career: "For many years Laura had to virtually train in hiding. She could easily pack in a crowd here in México but it's not allowed. She's also had to overcome our famous machismo. It says ... a lot about her sheer guts and iron determination that she's stuck to her guns through thick and thin, and thinner, and fought her way through all this, and she's still here punching. To my mind, she's absolutely the finest woman boxer we've ever had."
Laura's public boxing career began when she went to Las Vegas to fight Christy Martin on the undercard of a Chavez-Randall title bout at the MGM Grand on May 7, 1994. The result was a controversial six-round draw, in which most observers believed that Serrano was robbed by the judges while Martin moved her record to 21-1-2.
Almost a year later, on the first all-women's boxing card at the Aladdin Hotel and Casino in Las Vegas on April 20, 1995, Laura TKO'd Ireland's Deirdre Gogarty in the seventh round. Gogarty's jabs and patented left hook were pitted against Serrano's devastating body attack in a war that went six and a half rounds before Gogarty's manager threw in the towel. Gogarty was game to continue the struggle, but her corner saw her starting to take tremendous punishment when Serrano began to get the upper hand. In January 2001, Serrano said that this fight with Gogarty was her most difficult bout. Gogarty fell to 10-4-2 with the loss.
On April 22, 1996 in Tijuana, México, Laura won a six-round decision over Maria de las Nieves Garcia, who fell to 1-1.
On March 29, 1997 at the Hilton in Las Vegas, Laura (127 lbs) scored a third-round TKO of Cheryl Nance (140 lbs) of Columbia, South Carolina, who fell to 2-1.
In March 1998, WBC President Jose Sulaiman thought he had persuaded the México City Sports Commission to allow Laura to fight Isra Girgrah on the undercard of a super lightweight bout between Julio Cesar Chavez and Miguel Gonzalez. This match was scuttled a few days before fight night when the México City authorities exhumed a 1947 law forbidding women to fight professionally. (A match between Christy Martin and Daniëlla Somers was also scratched from this same card.) Serrano has still to fight professionally in México City, however. Whistles filled the Plaza México bullring as round-card girls pranced in miniskirts and high heels. On this night of bloodied noses and bruised faces, they were the only women on display. Seated in the third row behind promoter Don King, Laura Serrano, México's best female boxer, could only watch in frustration.
The city officials had ruled that the ban was needed to protect women, specifically their "reproductive organs". Subsequently the Mexican courts agreed with Serrano that the ban violated a 1992 constitutional reform that had proclaimed equality between the sexes. Serrano said the city's law stayed on the books for so long because of outdated attitudes toward women and that the talk of protecting women's health was just an excuse. "I think much of it is because of the macho mentality of the México City boxing authorities," she said, adding "all of this is like a screen to keep women from penetrating this cluster of men."
On May 1, 1998 in Ciudad Juárez, México, she won a four-round decision over Gloria Ramirez of El Paso, Texas, who fell to 3-8-1 with the loss.
Leg surgery then kept Laura out of the ring until 1999, when she moved to Las Vegas to pursue her pro boxing career.
On July 26, 1999 at the Great Western Forum in Inglewood, California, Laura returned to competition and had her hands full while winning a hard-fought four-round split (40-36, 40-36, 38-39) decision over Layla McCarter of Spokane, Washington. McCarter fell to 1-4-1 but gave the Mexican star a perhaps unexpectedly close fight. (McCarter went on to capture the IFBA Featherweight world title in October 2000).
On September 2, 1999 at the Gold Strike Casino in Tunica, Mississippi Laura moved her pro record to 7-0-1 and won the IWBF Intercontinental Lightweight title with a clear ten round unanimous decision over Tracy Byrd of Flint, Michigan who fell to 11-2. Judge Elmo Adolph scored the fight 99-91, judge C.D.Jenkins scored it 98-92, and judge Freddie Steinwinder scored it 97-93 for Serrano. Any doubts about Serrano's comeback that had been left by her performance against Layla McCarter were erased as Serrano controlled the action against the experienced and capable Byrd.
On September 27, 1999 at the Great Western Forum in Inglewood, California, Laura won a six-round unanimous decision over Cynthia Prouder of Los Angeles, dropping Prouder's record to 5-5-1.
On February 11, 2000 at the Gold Strike Casino in Tunica, Mississippi, Laura moved her pro record to 9-0-1 with an eight-round unanimous (79-72, 79-73, 76-74) decision over Alicia Ashley of Westbury, New York, who in 1999 had posted wins over British star Lisa Howarth and former WIBF world champion Bonnie Canino of Florida. Ashley fell to 2-2 with this loss.
On May 24, 2000 at the Treasure Chest Casino in Kenner, Louisiana, Laura (128 lbs) moved her pro record to 10-0-1 with a TKO at 1:45 of the first round over Gina Greenwald (130 lbs) of Belleville, Illinois, who fell to 1-4 as a boxer (but had an 8-1 record as a kickboxer). This was a bad mismatch as Serrano quickly overwhelmed Greenwald with a flurry of punches.
On June 16, 2000 at Mandalay Bay in Las Vegas, Nevada, Laura (128 lbs) won by TKO over previously undefeated Kelsey Jeffries (124½ lbs) from Gilroy, California at 1:59 of the third round. Jeffries was knocked down in the second and third rounds, but told me "It was a great fight and should not have been stopped". Still, Kelsey emphasized that her comments are "not to take anything away from Laura. She is a great fighter ... a strong girl ... and the best fighter I have fought yet." Jeffries fell to 7-1 with the loss.
On August 12, 2000 at Miccosukee Indian Gaming in Miami, Florida, Former IWBF Junior Lightweight champion Melissa (Salamone) Del Valle of Miami and Serrano fought to a 10-round draw for the vacant IBA 130-lb title. This was an exciting fight that ended with scores of 95-93 for Del Valle, 96-92 for Serrano and one card even at 94-94. Laura began aggressively and rocked Melissa several times in the early going. Del Valle went to one knee in the third but began a strong comeback in the seventh and knocked Serrano down with a hard right in the eighth. Both remained undefeated: Del Valle moved to 18-0-1. Serrano was reportedly bitter about the decision while Melissa Del Valle said that Laura was her toughest opponent so far and admitted to Bernie McCoy in a May 2004 WBAN interview that "Serrano beat me ... she deserved that decision and the only reason it was called a draw was that it was in my house (Miami)".

Laura Serrano battles Chevelle Hallback in Las Vegas
© Copyrighted photo taken by Mary Ann Owen
On July 8, 2001 at Texas Station in Las Vegas, Nevada, Laura weighed in at 130 lbs and won an exceptionally hard-fought six-round majority (58-56,59-55,57-57) decision over Chevelle Hallback (5'5", 130 lbs) of Tampa, Florida, who fell to 5-3 (4 KO's). Hallback was the aggressor throughout a well-fought and entertaining bout in wich she started well and came on strong in the final roumd, but Serrano's accuracy and relentless body punching gave her the edge.
Serrano looked much the worse for wear at the end of the fight, with a cut on her forehead (from a clash of heads in the fifth round) and a closed left eye resulting in a trip to the hospital after what was clearly her most physically challenging fight (see photo by Mary Ann Owen at right). Said Serrano after the fight: "She came to the ring and tried to do her fight. I also tried to do my fight and I think I did my fight. A couple of times I thought she was going to the canvas but she didn't. She's a good fighter. In the third round she hit me with a right hand really really hard. I was hurt but I have a big heart and big courage and kept going. Of course I have a lot of respect for her. So many ladies don't want to fight me and so many ladies don't want to fight her. So finally we meet each other. And this night you see who's the best."

On September 23, 2001 at Sunset Station in San Antonio, Texas, Laura weighed in at 125¾ lbs and won a four-round unanimous (40-36,40-36,39-37) decision over late substitute Snodene Blakeney (130 lbs) of Austin, Texas. Blakeney started well and won the first round on one card but Serrano's boxing skills and counterpunching won the second. Serrano pressed her attack in the third and fourth and was able to outpunch Blakeney in the late going. Blakeney fell to 10-7, 2 KO's. Blakeney agreed to fight Serrano at one day's notice when the scheduled six-rounder with Layla McCarter was scratched after McCarter was found to have a badly swollen right hand at the weigh-in.
On November 11, 2001 at Belterra Casino Resort in Belterra, Indiana, Laura (125 lbs) won a six-round unanimous (58-56,58-56,58-56) decision over WIBF Americas Featherweight champion Kelsey Jeffries (126½ lbs) of Gilroy, California. The early rounds were closely fought toe-to-toe action, but Serrano came on stronger in the last two to take the decision. Jeffries fell to 11-5 (1 KO) with the loss.
On March 22, 2002 at the Celebrity Theater in Phoenix, Arizona: Laura (124 lbs) battled to a hard-fought six-round majority (59-55,59-55,57-57) decision over California's JoJo Wyman (124 lbs) in a bout seen on ESPN2. Serrano was the aggressor, looking to land power punches to Wyman's head and body, while Wyman relied on her jab, movement and quickness. The first four rounds were close, with Wyman tagging Serrano as she came forward and Serrano working to the body whenever she got in to close quarters. Serrano's body shots began to take their toll in the fifth and Wyman began to tire. Wyman slipped to 8-4-1 (0 KO) with the loss.

Laura vs. JoJo Wyman
© Copyrighted photo taken by Brian Low
On February 7, 2003 at HP Pavillion in San Jose, California, Laura won by a fifth-round TKO in a rematch with JoJo Wyman. The fight was stopped between rounds by the ring doctor because of damage to Wyman's badly bruised right eye. Wyman asserted that the injury had been caused by a head butt, but the result was a TKO win for Serrano. Serrano had been the aggressor for most of the bout, moving forward in her southpaw stance while Wyman countered with her right. Serrano outworked Wyman at close quarters and appeared to be getting the better of the action in the fifth round before the stoppage. Serrano is now 15-0-2 (5 KO) while Wyman falls to 9-7-1 (0 KO) [Fight report and photos].

Laura's loss to Isra Girgrah (at left) was highly controversial
On April 18, 2003 at Palace Indian Gaming Center in Lemoore, California, inexplicable scoring by at least one judge gave Isra Girgrah (128 lbs) of Hyattsville, Maryland an eight-round split (77-75,78-74,73-79) decision over Laura (124¼ lbs). Serrano was the busier and more aggressive fighter throughout the bout, pushing the action at Girgrah who generally let Serrano come at her while occasionally countering with hard rights to the head. Serrano's speed and movement set the pace for most rounds. She also worked at unsettling Girgrah by briefly switching out of her usual southpaw stance to fight in orthodox style. This tactic had Girgrah confused after taking a flurry of punches at the end of the fourth, but Girgrah did some of her best work early in the fifth, landing a couple of hard rights to Serrano's head. Girgrah looked slower and more tentative in the later rounds, rarely putting enough punches together to slow Serrano down although occasionally connecting solidly to Serrano's head. Serrano continued to be the more mobile and busier fighter to the end of the bout, although Girgrah landed several more good rights at the start of the eighth. The controversial decision was greeted with loud boos from the crowd and total disbelief by Serrano, who left the ring in tears. (ESPN2's scoring had Serrano posting an 80-73 shutout). Girgrah advanced to 24-3-2 (11 KO).
On July 15, 2003 at Playboy Mansion in Los Angeles, California, JoJo Wyman (129½ lbs) of Los Angeles won a six-round unanimous (58-54,58-54,57-55) decision over Laura (129½ lbs), avenging her previous defeat. Wyman came out aggressively and controlled the early rounds, knocking Serrano down in the second. Staring at her second straight loss, Serrano picked up her pace and made a fight of it in the third, fourth and fifth, but Wyman put her on the canvas again in the final round to claim her second "revenge" win in a row. Wyman, who was coming off her first win over long time California rival Kelsey Jeffries, advanced to 11-8-1 (0 KO) while Serrano suffered her second straight loss and fell to 15-2-2 (5 KO).

Laura in action vs. Tracy Byrd in April 2006
© Copyrighted photo taken by Mary Ann Owen
On April 1, 2006 at the Sky Ute Casino in Ignacio, Colorado, Laura returned to the ring at 123½ lbs and won by a TKO over Tracy Byrd (129¾ lbs) of Flint, Michigan when Byrd did not come out for the fifth round. According to ringside reporter Chris Cozzone, "Serrano showed a little ring rust in the first, but was not shy in mixing it up against Byrd. Working off the jab, she took on the role of aggressor, throwing right hooks and left hands but leaving herself open up the middle, which the crafty Byrd took advantage of—she was light on the jabs, but was able to score with her straight right. By the second, the fight was proving to be a real crowd pleaser and the two went at each other in the middle of the ring for the entire round. You could see the rust flakes chip away off of Serrano, as she took the fight to Byrd, who was on the defensive, firing off an occasional jab or straight right until the final moments when she let loose with a volley that momentarily turned the fight around. There was great back and forth action in the third round, with Byrd landing more rights and utilizing that long, effective jab in between Serrano's barrages, making it a close round. In the fourth, however, Serrano had her best round. Although Byrd unleashed enough right hands to keep her in the fight, Serrano was now starting to wear her down." After Byrd did not come out for the fifth, she told Cozzone: "She would've stopped me in the next round. My legs were cramping." Byrd also took the microphone and announced her retirement.

Laura takes a left from Jeannine Garside in November 2006
© Copyrighted photo taken by Mary Ann Owen
On November 4, 2006 at the Shaw Conference Centre in Edmonton, Alberta, Jeannine Garside (126 lbs) of Windsor, Ontario, Canada won a clear (100-87,99-89,98-90) ten-round unanimous decision over Laura (123 lbs) for the vacant WIBA Featherweight title. According to a report by Shawn Roth of FightNews Canada, "Garside thoroughly dominated the fight from the opening bell, punishing Serrano with a relentless left hook that the Mexican fighter could not deal with. Serrano was put to the canvas in the third and tenth round but returned to her feet, a true testament of her toughness. Serrano refused to stay down, shook the cobwebs off and continued to brawl with Garside, which garnered the appreciation of the crowd for her unbelievable ability to take punishment and keep fighting." Jeannine Garside improved to 6-0-1 (2 KOs). After the decision was announced, Laura stated that this fight would be her last.
On September 21, 2007 at Sindicato de Taxistas in Cancun, Quintana Roo, Mexico, Laura Serrano returned to the ring at 125¾ lbs and won a four-round unanimous decision over pro debiter Shanty Ortiz (123½ lbs) of Mexico, who appears not to have fought again.
On November 17, 2007 in Magdeburg, Sachsen-Anhalt, Germany, then-undefeated world champion Ina Menzer (19-0) of Germany retained her WIBF Featherweight belt with a 10-round unanimous (97-93,97-93,98-92) decision over her. According to WBAN correspondent Torben L., "Although Menzer controlled the ring throughout the bout, the smaller and more aggressive Mexican kept her busy all the way, and was able to get through Menzer's defence with more punches than usual for the technically well skilled German. Southpaw Serrano occasionally succeeded in confusing Menzer by changing stance, and occasionally succeeded with telling blows, but most of her punches were lacking in precision to have a serious effect; while Menzer had obviously problems getting through with her usually very reliable left jabs. 40-year old Serrano had proclaimed before the fight, that a defeat would mean the end of her career in the ring, and she confirmed this after the fight. She also expressed her disappointment at the verdict, and was of the opinion that she had won the fight. Under all circumstances, she gave the fans a fight showing all the best of Mexican virtues: relentless aggression, a big fighting heart and giving it all until the last bell." Menzer
improved to 18-0-0 (8 KOs) with the win.
In April 2008, Laura formally announced her retirement from boxing competition, and that she and her husband Oscar were expecting a baby.
The lure of the ring proved too strong for her again in December 2011.

Laura Serrano vs Ela Nunez, December 16 2011
© copyrighted photo by Mary Ann Owen

On December 16, 2011 at the

Mandalay Bay Resort and Casino in Las Vegas, Nevada, the 44-year-old Laura (122½ lbs) fought to a six-round majority (57-57,57-57,59-55 Serrano) draw with 33-year-old Ela Nunez (126 lbs) of Jamestown, New York. The bout was hard fought with Serrano generally the busier of the two although Nunez fought aggressively and scored with good right hands throughout the entertaining match. The fight card marked the conclusion of the WBC's Convention. Serrano moved her record to 17-4-3 (6 KO's) while Nunez moved hers to 10-11-2 (2 KO's).

WBAN recognized Serrano's return to the ring at age 44 against a difficult opponent in Ela Nunez by naming her its Biggest Comeback of the Year for 2011

"Women's boxing has given me the chance to meet great people, view the world, learn new cultures and it has given me the power to dream, I thank God for my family and friends and blessing me with the talent to become a World Champion Woman Boxer", says Serrano. "I just don't understand why, but I simply love boxing with all my heart. It's passion. I love it so much that it's in my blood. Boxing is my whole life."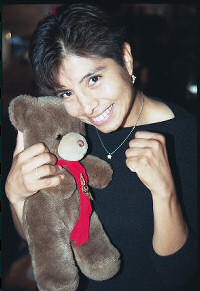 Dr. Elena Aviles, a sports psychologist and a friend of Serrano, says that Laura has two sides to her nature. "Psychologically Laura is both exceptionally strong and very weak, very aggressive but at the same time a very gentle, sensitive and kind person. You could say Laura has a double personality. With four brothers she's obviously assertive and very competitive. That she's managed to overcome the machismo here (in México) says a lot for her strength of character. Although she does not want fame for its own sake, she's shrewd enough to know it will help her professionally in her future".
Laura has always been a world class act in the sport of women's boxing, and we at WBAN wish her well for the future.
Other Laura Serrano Links
To check out fight reports, complete up-to-date boxing records, with huge digital photos you can go to the WBAN Records Member Site
Page last updated: Friday, 06 November 2015