Super bantamweight 32- year old Jamie "The Miracle" Mitchell, as of 2017, who now presently resides in Las Vegas, Nevada, came from the amateurs with 40 fights under her belt, and as an amateur she was ranked with USA as #1 in the nation in 2016.
She was also ranked in 2012 #2 with USA Boxing nationwide. Her dream as an amateur was to be in the 2016 Olympics. Mitchell currently trains at the Mayweather Boxing Gym, with trainer Eddie Mustafa Muhammad and conditioning coach Cromwell Gordon. She is represented by Butch Gottlieb,
Email: boxinginlasvegas@aol.com, Phone: 702-813-6915.


Jamie training at Mayweather gym - Photo credit: Mary Ann Owen
After a long and successful amateur career she stepped into the professional circle, on January 21, 2017, at the Alameda Fairgrounds, in Pleasanton, California, she made an impressive pro debut against another accomplished amateur Dalia Gomez, who also was making her pro debut, winning by a four-round unanimous decision [39-37, 39-37 and 39-37], in the super bantamweight division with both weighing in at 120 lbs.
On June 25, 2017, at the Ford Community Center, in Dearborn, Michigan, she had her second professional bout, winning by a second round TKO over Letrail Solomon, in a scheduled four round bout.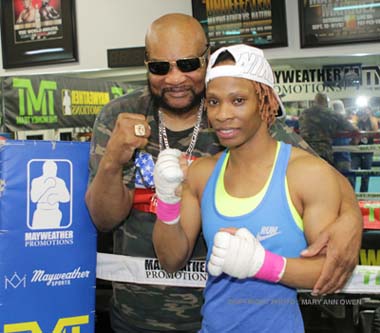 Jamie Mitchell with Trainer: Eddie Mustafa Muhammad
Photo Credit: Mary Ann Owen
In one interview question on Mitchell's website they asked her some time ago: What famous boxers do you admire? Mitchell said, "When asked that question my response is not to say so much who I emulate; rather to try to explain the totality of being a champion boxer: boxing is a life journey, a physical emotional and a heroic human journey. . For each boxer, it is a solitary path, in a sport which has no shoulder to shoulder team, though you rely heavily on those in your corner. With that said I admire Mohammed Ali, Ann Wolfe, Mike Tyson, Roy Jones Jr., Manny Pacquiao, Floyd Mayweather, and Queen Underwood."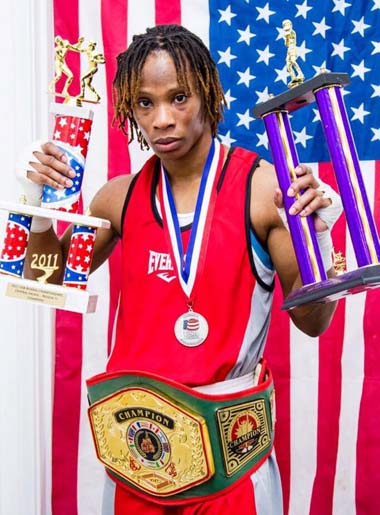 Prestigious Awards/belt as an amateur - Jamie Mitchell
Photo credit: Facebook
"Mike Tyson was the first boxer I remember as a child and he inspired me to appreciate boxing. I admired Tyson's drive and relentless stamina in a fight. I admired Mohammed Ali because he was very outspoken about his views and his talents matched his boxing and public reputation: Ali had great footwork and a fantastic ability to duck and dodge punches. I admire Ann Wolfe because I see her as the greatest female boxer in modern history. I appreciate Queen Underwood, an amateur boxer, because she is so approachable for her fans; and I like her humble demeanor when interacting with the public", added Mitchell.

When asked about what she brings to the world of boxing, she said, "To the boxing world, my fans and partners I can bring the outlook I have developed over the years. The keys to my personal growth, and I believe for most of us, are introspection and awareness. I want to further excel as a boxer, to further nourish with my champion's outlook, talents and skills. I want to hone my personal assets through further training, and to acquire new skills and awareness. By bringing all these elements together, I want to create an exciting and vibrant boxing experience to be enjoyed by everyone."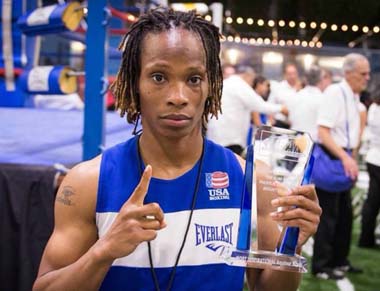 Jamie Mitchell poses with WBAN Award for "Most Inspirational"
September 2, 2013 - Photo credit: Facebook
Prior to Mitchell turning pro, WBAN had the pleasure to see her fight on September 2, 2013. Sue TL Fox, founder and president of WBAN, came as a special guest to the Beautiful Brawler Amateur Show to see the amateurs in action. Fox had three different top WBAN awards to give out to the best that day. After seeing one of the "fights of the night" between Jamie Mitchell and Casey Morton that resulted in a win for Mitchell by a split decision, Mitchell received the "Most Inspirational" award.

Top Photo: Kylie Fulmer (l), Butch Gottlieb (c), and Mitchell (r). Photo credit: Mary Ann Owen

Rep contact info: Butch Gottlieb
Email: boxinginlasvegas@aol.com
Phone: 702-813-6915