Equality for Female Boxers in the Olympics
WBAN PETITION
Home Page
Search WBAN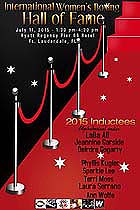 IWBHF Hall of Fame Ceremony, July 11, 2015
For Full Details!
Latest News-Women
Biography- Sue TL Fox
Latest Rankings
Boxer's Profiles
Fight Results
Upcoming Events
Knockouts!
Past/Present Ratings
Fight Photo Gallery
Boxing Trivia
Tiger Tales by Fox
Amateur Scene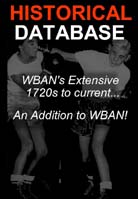 Boxers Websites
Women Cops who Box
Exclusive Interviews
Bust a Fighter!
Mixed Matches
Mismatches
About WBAN
Advertise on WBAN
Other Links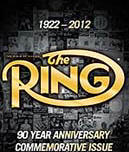 Sue Fox Named in the "Top Ten" Most -Significant Female Boxers of All Time - Ring Magazine - Feb. 2012
HISTORY OF
WOMEN'S BOXING
Historical -All links
Historical Events
History Firsts
Flash from the Past
Past Boxer Profiles
70'S/80'S Past Boxers
Pre-70'S Boxers
Past Amateur Boxers
About Sue TL Fox
Video streaming, over
11, 500 photos, and more!

Matchmaker's Hot List - Exclusive Matchup!

Hot Hot HOT Photo Galleries!Flash Photo Slideshows!

Boxing Records for women boxers..archived records!
FREE WORLDWIDE
CONTACT LISTING!
This is perfect for Promoters, Matchmakers, Managers, Matchmakers, Trainers, Boxers, etc.


To Sign Up!
Having Problems
with the website?
Send an Email
Directly to WBAN!




Asa Sandell Visits With Amy Green
©Photo by Mary Ann
Owen of BILV


(MAR 19) Described as the "Swedish Sensation", super middleweight Asa Sandell (2-0) returns to Nevada for the second fight in the all women's boxing series "A Ring of Their Own", March 26 at Harrah's in Laughlin. After the debut fight of the "Ring of Their Own " series, I described Asa as " cool, calm, tough and tactical" in my post fight "Green Room" column. She can slug, she can box, she has a hell of a jab, and had an answer for everything her opponent Bose Ijoala threw at her, winning a unanimous decision. Asa visited with me briefly before returning to the United States from Sweden, and discussed her next fight. During our visit, I learned a bit more about this highly touted fighter.

AG: your composure and skill in the ring certainly reflects an extensive background. How many amateur fights did you have, and what amateur titles do you hold?

ASA SANDELL: I had 22 amateur fights, and I lost one. I was Swedish champion four or five times, and European Champion in 2000.

AG: Explain this to me correctly--women's pro boxing is banned or forbidden in Sweden?

ASA SANDELL: Pro boxing is forbidden in Sweden, BOTH for men and women. The law stems from the sixties.

AG: tell me something about your education, career and background in addition to women's boxing.

ASA SANDELL: I am a journalist, working as an editor at the culture department at a Swedish newspaper called Helsingborgs Dagblad. I studied for five years at the university, and I have a degree in Literature and Journalism.

Asa spends the majority of her time training in Sweden with her trainer Bert V. Johansson, who she's trained with since starting out in 1995, at the Winning Boxing Club in Malmo, Sweden. When Asa travels to New York to train, Lennox Blackmore is her trainer and also works her corner stateside. Her other plans for 2005 will certainly keep both trainers busy.


ASA SANDELL: The fight coming up in March will be my second fight this year. If possible I would like to have 4-5 fights more this year. And of course, eventually I want to fight Laila Ali. "A Ring of Their Own" promoter Arnie "Tokyo" Rosenthal" echoes the Swedish fighters sentiment: "Asa Sandell is the best pure female fighter I've ever seen for having only 2 pro fights. She's six months away from challenging Ali if she stays on course."

AG: how does it feel to be part of such an exclusive series with "A Ring of Their Own"?

ASA SANDELL: I'm happy about it and I welcome the concept. I think its great that we get
a ring of our own.

On March 26, Asa will face her toughest professional opponent so far in Yolanda Swindell, (3-2), who has fought veterans like Valerie Mahfood. Asa's thoughts on her next fight?

ASA SANDELL: I am looking forward to the fight and to do a great performance in the ring!

So are we! Six rounds between Asa Sandell and Yolanda Swindell will be an action packed fight at Harrah's. If promoter Arnie Rosenthal's predictions should hold true, Asa Sandell could take her place in Swedish and world boxing history alongside former Heavyweight Champ Ingemar Johannson, who won the World Heavyweight title in 1960 over Floyd Patterson, in a fight that earned 1960 the Ring Magazine "Fight of The Year" award.


For boxing fans that are looking forward to seeing this event, call 1-702-298-4600 or for ticket information or get your tickets at Harrah's Laughlin box office.