Did you know that Online Casino Bluebook is the best resource for not only New Jersey online casinos, but also around the world? Check them out if you're planning on casting a sports bet or just want to know the rules and strategies of online casino games.

Public Challenges in Women's Boxing---Not a New Thing!
By Sue TL Fox

Some may think that women boxers putting out "public challenges" to other female boxers may be something that has transpired in the last 10 years or so.....But WBAN has discovered that the first "Public Challenge" as of this date of the research we have in our archives actually took place on September 22, 1890! Hattie Stewart, of Norfolk, Virginia, put out a public challenge in a local newspaper, to fellow boxer Hattie Leslie, of Buffalo, New York. Stewart, who was living in Seattle..Full Story
Women Boxing Outlawed After Male
Boxer Dies
After the death of a male fighter in October of 1997, the Federazioni Pugilistica Italiana outlawed female boxing entirely. They even stopped a televised WIBF flyweight fight that was to be in Milan to enforce this ban. The police were brought in to restore the peace and order.
Woman Boxer Goes on a month long hunger strike against Don King....1987!

Lady Tyger Trimiar, former World lightweight champion, made headlines in April of 1987, when she went on a "hunger strike" for over a month, losing 30 lbs., in protest to how women boxers were treated and paid. Her hunger strike was directed at infamous DON KING. Two other female fighters were also on a hunger strike along with Trimiar, but the other two backed out. TRIMIAR said that if women did not get more recognition, that they would continue to be regarded as a "Novelty" act, and that there would be no future for women boxers. The women picketed the RAY LEONARD-MARVIN HAGLER fight on April 6, 1987 in Las Vegas, protesting promoter ROBERT ARUM'S refusal to work with female boxers.
Laila Ali may not have been able to challenge her Famous Dad in the ring....

Jackie Tonawanda got the opportunity to work out in the gym and spar with MUHAMMAD ALI On September 2, 1976, at his training camp at the Concord Hotel Kiamesha Lake, N.Y. TONAWANDA'S remarks about ALI: "Ali's hands were faster than ever, I'm glad they weren't touching me. His combinations were beautiful--a jet plane would do second to him."
Jackie Tonawanda Spars With Muhammad Ali - September 26, 1976
| | |
| --- | --- |
| | Fredia "The Cheetah" Gibbs Makes Movie |
FREDIA "THE CHEETAH" GIBBS made her debut in a movie that is based on a "Rocky" type story, about a Latino family who loses their young son that is a fighter. The daughter decides to following the boy's footsteps in an effort to fulfill his dream vicariously. GIBBS is the villain in the movie, and the movie is called "Knockout."
Boxing is a Manly Science and Art - January 1995
STEVE ACUNTO, who served on the NEW YORK STATE ATHLETIC COMMISSION for 49 years, proclaimed that BOXING is a manly science and art, who at the time in 1995 was teaching the only accredited boxing course in the country at Westchester Community College. He went on to say that he had women begin to sign up for his class in the last three years, and were entering the ring. ACUNTO who fought as a professional in the 1940ís declared that he DOES NOT THINK women should box
.
Zambia Decides to Introduce Bill to Allow Women to Boxing and Wrestle - November 1994
Zambiaís Sports Minister Patrick Kafumukache took a jab at tradition as he promised to introduce a bill that would allow women to participate in boxing and wrestling. The sports minister felt that it would cause a few cultural and traditional anxieties, but that the country needed to move forward with the rest of the world.
On the day another man dies of injuries suffered in fight-female amateurs win the right to take part in the sport - Nov. 1996
Boxing faced renewed criticism when on the day another male fighter died after fighting, women and girls aged 10 and over would be allowed to fight as amateurs for the first time in Britain. The coincidence of the announcement from the Amateur Boxing Association of England and the death of the Italian Fabrizio De Chiara, a 25 year-old middleweight, after collapsing at the end of a title fight, sparked an angry reaction from campaigners against the sport. But among the voices raised in concern about womenís new rights to fight was a medical expert who has been one of boxingís highest-profile defenders. Dr. Adrian Whiteson, chief medical adviser to the British Boxing Board of Control, said: "Iím terribly concerned about this. I donít think enough is known about the potential risks to women for such a decision to be made. Blows around the breast or chest can induce bruising, and the nodule which is created is difficult to distinguish from cancer.
MAN VS. WOMEN BOUT

WAS IT REALLY SANCTIONED?
OCTOBER 9, 1999
This fight was declared "Internationally" and from the "state of Washington" as the "first-ever sanctioned" bout between a male and a female, Margaret MacGregor vs. Loi Chow. But, few knew that the Association of Boxing Commissions (ABC) instructed Fight Fax, the official boxing record-keeper designated by the ABC under federal law, to list this event as an "exhibition" for both boxers. They were quoted as saying in a press release, "It is the position of the ABC not to recognize the results from the proposed male vs. female match-up scheduled for this weekend in Seattle, Washington. The ABC has informed Fight Fax, the official boxing record-keeper designated by the ABC under federal law, to list this event as an exhibition for both boxers. This action is being taken to express the ABC's strong opposition to any type of male vs. female boxing event that will be recognized by the standard set by this Association." Dated October 6, 1999, three days before the fight! TL Fox
| | |
| --- | --- |
| | Mia "The Knockout" St. John got an Opportunity to be on Pacific Blue - October 10, 1999----But WHO DO YOU THINK she played? |
Pacific Blue featured Mia St. John as herself.... It's was an episode about Mia St. John and all the criticism she was getting as a fighter, and it turns out that another female fighter is so jealous of her that she tried to kill her.
You have seen the mixed match fight--the 0-3 fighters on major boxing cards ---but have you seen "Foxy Boxing?" --It's been tried also- 1979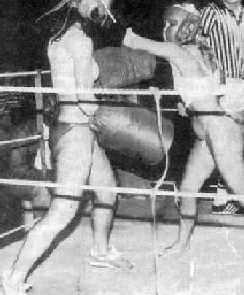 "Foxy Boxing Era" In 1989, These women would set the trend in boxing in skimpy bikinis. Bikini-clad female boxers punched and pounded their way in clubs like the Coconut Club in Southampton. They call themselves the "Foxy Fighting Knockouts." The weekly two-hours shows had created a not to favorable response with the community. Apparently before foxy boxing took hold in Hampton, it had been a rage for a long time in other Long Island and New York area nightspots.`