In Sue Fox's Own Words.....
I found out about female boxing when I watched the news one day on October 24, 1975. They were broadcasting the results of a female bout that had just taken place the night before between boxers, Caroline Svendsen, 34, and Jean Lange, 35, at the Expo Center, in Portland, Oregon. The news revealed that the fight was the first sanctioned female bout in the State of Oregon. When they reported that the women were paid to fight, it immediately hit me that I was actually paying to fight in karate tournaments! I had at that time about 30 plus amateur fights in Martial Arts, competing in many karate tournaments throughout the Northwest.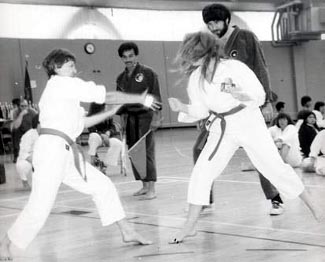 Fox won this Karate bout by points - 1974
The next day, I started calling around to the boxing gyms to find out how a person would go about becoming a boxer. I ended up talking to a guy, Abe T., who supposedly managed fighters. He immediately volunteered to take me under his wing as a manager.

Little did I know, my newly-found manager did not appear to have my interest at heart. Being young and new to the sport I knew that I needed management and a trainer, but I did not know anyone in the business. Abe's enthusiasm and immediate acceptance of me probably should have been a warning sign, but I wanted to fight!
Abe told me that he would get me a fight with a girl by the name of Theresa "Red Star" Kibby. He said that Kibby had never had a fight, had been only boxing casually for two years and was not in very good shape. I had wanted to fight Caroline Svendsen, and/or Jean Lang.

It was quite a publicity gimmick--female black belt against female boxer. The news media went into a frenzy about the match and did several feature stories about the upcoming fight. There was quite a bit of hype over the whole ordeal. My newly-found "manager" never even bothered to get me a boxing trainer. He let me continue to train at my karate school with my karate instructor, no boxing ring, no proper boxing equipment—nothing. The fight was set to go on February 12, 1976, so with about 10 weeks of boxing training in a karate school, I was faced to fight Kibby.
Two days before my fight, I began to read newspaper articles in the local papers about my opponent's background. I quickly found out that Kibby had not been boxing for two years---she had been boxing for close to thirteen years with her two brothers, who were also professional boxers. In fact, one of the brothers was listed on the same boxing card as Kibby and me.
After I got over the shock of the unexpected information, I immediately called my manager to find out why he had not told me the truth. He tried to calm my fears. He then "sprung" another new piece of information on me. He told me that the fight would be four three-minute rounds, not two-minute rounds as originally agreed upon. I quickly figured out that "he was definitely the best man on their team." It was not only sad to have a person, my supposed manager, have my best interest at heart, and if this deception man had that, he never would have put me in this match until I had been boxing for at least two years.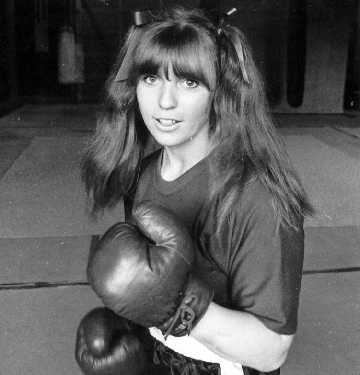 Needless to say, this was no "Rocky" story, and the bout was a disaster. The referee stopped the fight in the third round, after I was too stubborn to fall down. What was unfortunate for me and for other martial artists was that everybody thought that I would win because of being a black belt. They did not realize that I had been duped, and by taking away my powerful leg kicks, I was just a "bad boxer."
(With research done on this particular bout, WBAN found out that this fight was actually not sanctioned by the Oregon Athletic Boxing Commission, and results were never given to FightFax, it ends up being no more than an exhibition). Both the commission and FightFax, the official record keeper of the fight, stated that there was no record of this fight being sanctioned.

I did recoup from my "not-so-great" start in professional boxing. I moved down to California to get into a boxing gym with a competent boxing trainer and manager. I found a gym in Westminster, California, that World Welterweight Champion, Carlos Palomino trained at. The first day I walked in, I approached one of the trainers, and asked him if I could use the gym to train. He reluctantly said that I could. I told him that I would start the following day.
The next day, I took my equipment to the gym and started warming up. All of the male fighters completely ignored me. They walked to the shower area in their underwear, acting like I did not exist. After about a half hour or so, one of the trainers approached me and asked me if I wanted to go four rounds with one of their fighters. I was eager to do that because I thought, "all right" they are going to accept me in the gym. I put my headgear and gloves on, my sparring partner got his equipment on, and we proceeded to spar four three-minute rounds. This little fighter who was much lighter than me, probably a bantamweight, proceeded to kick the wholly daylights out of me, even with a head gear on. I got body punched, hooked, and who knows what else during those four rounds.
At the end of the fourth round, my body felt like someone had just put me through a meat grinder. I was exhausted, and shocked at what a beating I just took. Even though I was hurting, I went to my sparring partner and shook his hands while still gloved up. I thanked him for sparring with me, and told him that I would like to spar with him the following day. Little did he know that, THAT was the last thing I wanted to do!
The next day before going to the gym, I dreaded having to face him again in the ring. I knew that if I failed to show up at the gym that I would never save face in the gym. I decided then that if I had to take a "beating" everyday from those fighters, I would. I loved boxing that much.
The following day, I walked in the gym, ready to take my punishment. To my amazement, the guy that beat me up the previous day was not there. I cannot even begin to tell you how relieved I was, and I didn't care to ask why he was not in the gym. After about a week of not seeing him though, my curiosity got the better of me and I asked one of the trainers what happened to him. He proceeded to tell me that my "sparring partner" was instructed to KNOCK ME OUT, and that when he was unable to do that, he was too humiliated to return to the gym. I never saw that fighter again.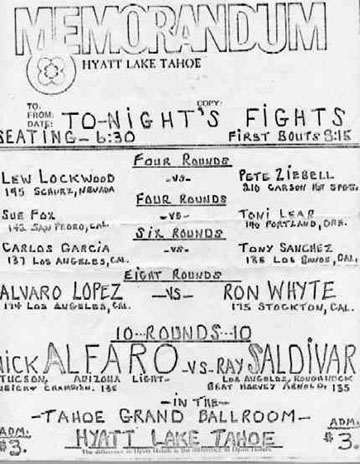 Documentation of Fox, 142 lbs. vs. Toni Lear, 140 lbs, - Fox won by a
Four - Round WIN - Unanimous decision -
Hyatt Lake Tahoe, Lake Tahoe, NV -April 1977
I trained for about 9-12 months in Carlos Palomino's gym, and during that entire time, I did not have one conversation with Carlos other than, "Hi and bye." His trainer did finally break down and say one thing to me. I was thrilled when he called me over to the side of the ring while I was sparring with someone. I immediately went to where he was standing and he then proceeded to tell me that he wanted to give me a word of advice. He said to me that if I could not "at least" jog five miles a day, to quit boxing. Palomino's trainer woke me up with that startling statement. I was running about three miles a day, but it was obvious to him that it was not nearly enough. From that day forward, I added another three miles on the road at night.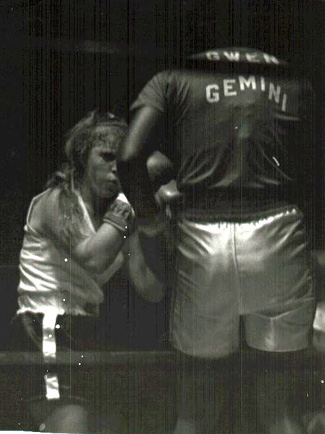 A fighter that Fox deeply admire and fought in 1977- Gwen Gemini - Fox considered Gemini one of the best female boxers in the sport, and always felt that Gemini was a a much better boxer then herself...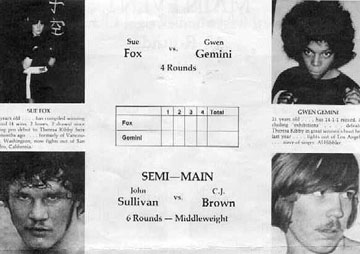 Documentation of Sue Fox vs. Gwen Gemini
Tale of Tape: Gemini, Pro record: 14-1-1, - Fox, 4-2-2
documented program, Portland, OR - 1977
fight ended in a four-round draw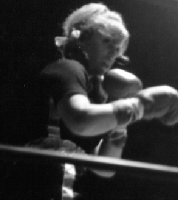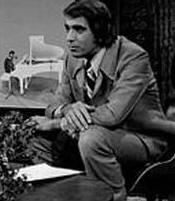 NBC's Tomorrow Show with Tom Snyder
Gwen Gemini and Sue Fox did a quick
Exhibition bout, where they had a ring set up in the Television studio, and then they were interviewed by Synder, along with boxing Manager Dee Knuckles -July 7, 1977

Even though I did receive a little notoriety as a boxer, there were many setbacks in the 1970's, during my boxing career. One of the major setbacks for me and other female boxers was when Top Rank made an offer to me and other top contenders. (Letter of offered to Kibby, I was offered the same deal) They wanted to sign us for a one-year contract, guaranteeing us three national fights, paying us $15,000, whether we fought or not. I was told that the reason they later withdrew their offer was the negative feedback from the public after the airing of the (Sports Spectacular) televised nationally a Welterweight Championship fight between Teresa Kibby and Lavonne Ludian at the Aladdin Hotel in Las Vegas, Nevada on April 16, 1977. What they didn't know was that even though Ludian had the flu and was very ill, that she fought anyway.
Another setback for my career, was when I was offered a fight with Lavonne Ludian, and her manager would not accept a rematch with me at the Caesar's Palace in Las Vegas in 1977. I had fought Ludian on May 1, 1977, previously at the Sahara Tahoe, in Lake Tahoe, Nevada. [Fight Report] This was a venue that was a hometown for Ludian. The fight ended in a four-round controversial draw. I had almost knocked her out in the first round according to the Nevada State Journal, who wrote that Ludian admitted to seeing the lights of Vegas. This fight was also named "Fight of the Month" according to Dee Knuckles and Bill Dickson. I was later offered to fight her on a big card that was headlining Ernie Shavers at the Caesar's Palace, in Las Vegas, Nevada. Mr. T Promotions offered Ludian $5,000, and I was offered $2,500. Ludian turned down the fight according to promoter Bill Dickson.
I decided to hang up the gloves after it became obvious that female boxing was beginning to die out. I went back to college to pursue my dream of becoming a police officer. I worked different jobs, until I finally was hired in March of 1990 as a police officer.
My personal thoughts about boxing....In total I had about 12 plus fights with some of those fights being just exhibitions. Before I boxed professionally, I had about 30 amateur light-contact, and full-contact Karate competitions. There were no opportunities for female boxers in the amateur arena, so in the past all of us had to step immediately into the ring as a pro in order to gain any experience. When I turned pro, I did not have a real boxing trainer, no ring to train in, no wraps ever put on my hands, absolutely clueless about what boxing was about, only training 3-4 months before my first fight.
I was a perfect victim at the first part of my boxing career for unscrupulous people in the sport to take advantage of someone who did not know what was going on.....I did not learn the "ropes" of boxing, until I let loose of my Karate Instructor, relocated to Los Angeles, California, began training in the Westminster Gym, that housed world champion Carlos Palomino, and I was truly exposed to real boxing, training in a real boxing ring and equipment, with genuine boxing trainers. This is one of the top reasons for the continuing driving force that I have personally strived for, in regards to other female boxers who are talked into mismatches, over-matches, etc.-----mainly, I know what it feels like, because I lived it firsthand in the past. [Miscellaneous fight report]
After boxing, Fox also pursued other ambitions, playing music professionally since 1981 until 2011, singing, playing alto sax, bass guitar, and keyboards in various rock & roll, Top 40, and variety bands. She also fulfilled her goal to become a police officer - retired as of 2008.
Additional background: Fox was an undefeated Full-Contact fighter 6-0, earning two Northwest Championships, 1977-1978; three years amateur competition in Karate tournaments, with about 30+ fights in tournaments, before boxing professionally. Earned black belt in 1975; 1976-First woman in the State of Washington to obtain a boxing license; 1977-First woman licensed in State of Utah; first woman licensed in the State of Montana, 1976. Ranked #1 in the world by the WBB and WBBA as a welterweight (Champion spot was vacant); Ranked #2 Welterweight 1978; Ranked #3 in 1977, ranked #3 in 1980, middleweight (WBB). In 1977, two fights were named "Fighter of the month". Charlene Anthony vs. Sue Fox, Silver Slipper, in Las Vegas, Nevada. Also, Lavonne Ludian vs. Sue Fox, Sahara's Tahoe Resort, Lake Tahoe, Nevada. Appeared on the Tomorrow Show with Tom Snyder, July 1977, and featured on other television news stations and features in the Northwest.
# # # # # # # # # #

After Sue Fox boxed in the past...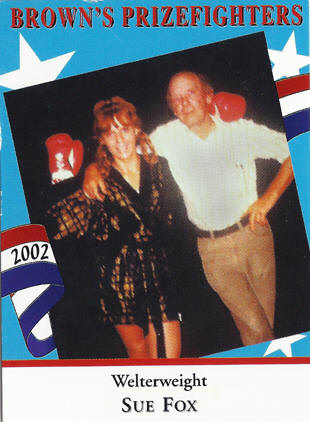 In the year 2002, Fox was honored by being featured in the 2002 Brown Prizefighters Collection male and female boxers that included Alex "The Bronx Bomber" Ramos, Oquendo, Paz, Brian Viloria, Ricky Hatton, Jermain Taylor, Christy Martin, Sumya Anani, and many more.
Fox's personal goal for WBAN was to make
its own history...
On June 13, 2008, at the Isleta Casino & Resort, in Albuquerque, New Mexico, and televised on Pay-Per-View, the boxing event "FINALLY" debuted the first-ever independent world title WBAN belts for females. WBAN "Finally" made its own history in the sport! It coincided with WBAN's tenth anniversary on the net. What better way to celebrate those ten years then to honor the top female boxers in the world with a prestigious independent world title belt for being the "best of the best" in the sport.
On this night, WBAN awarded two women boxers in its "history first". One WBAN belt was awarded to Holly Holm, after she defeated Mary Jo Sanders in a 10-round unanimous decision. In a second bout, WBAN awarded the best of the best, between Chevelle Hallback vs. Jeannine Garside. Hallback received the belt after winning a 10-round unanimous decision over Garside--leaving no doubt that this was the "Fight of the Night."
On October 9, 2009, in a history-first in Europe, in Marseilles, France, Myriam Lamare of France, faced Ann Marie Saccurato. Lamare not only won the WBF Junior Welterweight World title, but also the FIRST WBAN Junior Welterweight Independent belt that had been awarded out of the United States. Lamare and Saccurato made history for WBAN by fighting for the first WBAN Independent belt in Europe.
On December 3, 2010, WBAN again made its own history when Holly Holm fought Ann Marie Saccurato for the WBAN junior welterweight title, as it was the first time that WBAN had two boxers fighting a "second time" for our belt. Holly Holm was already the WBAN Junior Middleweight belt when she had fought Mary Jo Sanders in June of 2008. Saccurato had fought for the junior welterweight title over a year prior, fighting Myriam Lamare, who [Lamare] ultimately won. On this date of December 3rd, Holm defeated Saccurato by a eighth round TKO, and she became the first female boxer in history to win two WBAN Belts!
In yet another history-first with the WBAN belt, Holly Holm fought a third time for a WBAN belt, and it would be ultimately for the WBAN Welterweight world title. Holm fought Anne Sophie Mathis on December 3, 2011, and lost that fight by being stopped by Mathis by KO. Mathis from France is currently our WBAN Welterweight champion. On June 15, 2012, in New Mexico, Holly Holm rematched with Mathis, winning the WBAN World Welterweight title.
Fox Named in the "Top Ten" as Most Influential in the sport of all time - Ring Magazine - February 2012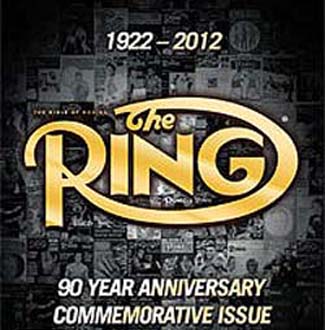 Sue Fox Named in the "Top Ten" Most -Significant Female Boxers of
All Time - Ring Magazine - Feb. 2012
In February of 2012, Fox was named as one of the top ten female boxers of all time as one of the Most-Influential in the sport, by Ring Magazine, 90-year anniversary commemorative Issue, February 2012. Other women in the top ten, Christy Martin, Laila Ali, Grace Cassilas, Lady Tyger Trimiar, and more... [Link]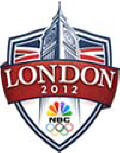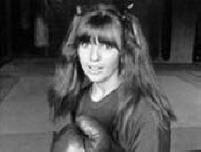 On July 10, 2012, NBC Olympics published an interview article with Fox, "Pioneering Pugilists: Sue Fox" , in anticipation of their upcoming coverage of the finest amateur female boxers in the world who will make history for the first time being included in the 2012 Olympics in London. [NBC Article]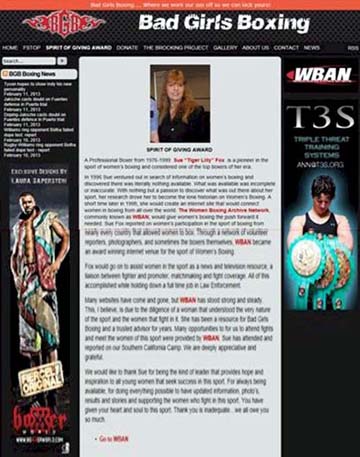 In February of 2013, Lori Steinhorst of Bad Girls Boxing Organization awarded Fox with the "Spirit of Giving" Award, for the efforts of Fox of developing the sport through WBAN. Link
On June 14, 2013, WBAN made another history first in SWEDEN when Frida Wallberg fought Diana Prazak for the WBAN Super Featherweight world title belt. Prazak won the fight by a TKO in the eighth round. Unfortunately it was a "bittersweet" win, when Wallberg suffered a severe brain hemorrhage and was taken away on a stretcher to a hospital where she underwent surgery.
In the Ring Magazine, August 2013 issue, Fox was featured in the magazine, titled "Sue Fox - Standard Bearer". It centered on Fox's contribution to the sport of women's boxing after she stopped boxing.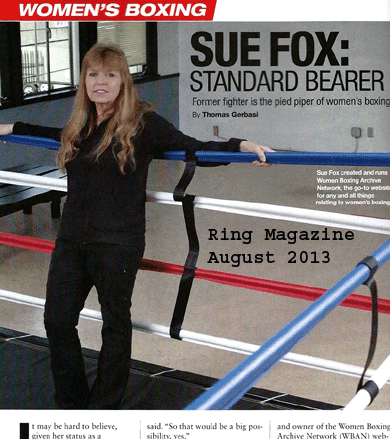 On September 20, 2013, Sue TL Fox was honored by the WBC Cares Colorado members, Stephen Blea and Raylene Carbone for her contribution to the sport. Letter sent to WBAN.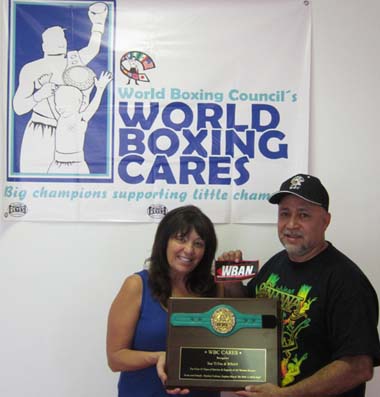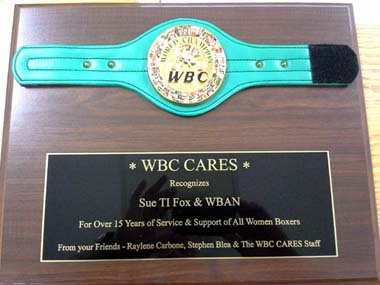 On November 9, 2013, the Golden State Boxers Association honored eight females both Boxers and females outside the ring with California connections to the sport, who have made a significant impact in the world of boxing. Sue TL Fox, Layla McCarter, Lucia Rijker, Jacqui Richardson, Gwen Adair, Michele Chong, Carol Steindler received an induction Hall of Fame Award from this organization. Press Release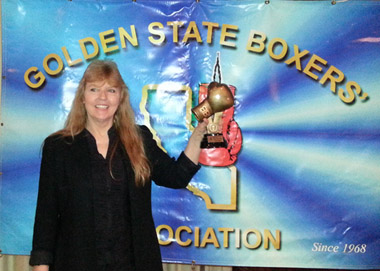 Hall of Fame Award along with a Award Certificate from the City of Los Angeles, California
In October 2017, Fox was asked to join Thomas Gerbasi, the current women's boxing columnist for The Ring magazine, to be a part of the voting committee for the history-first Boxing Writers Association of America [BWAA] Award to be awarded to the top fighter of the year. Along with Gerbasi, David Avila, a respected journalist and longtime supporter of the sport became a committee member. Full Story
ESPN: Featured Story on History of Women's Boxing Link
WBAN Makes Its Own History - 2008 Link)
WBAN Makes History in Europe-2009 Link
WBAN celebrates 11 years on the Net! Link to story
WBAN celebrates 12 years on the Net! Link to Story
WBAN celebrates 13 years on the Net! Link to Story
WBAN Celebrates 14 years on the Net! Link to Story
WBAN Celebrates 15 years on the Net! Link to Story
Review of WBAN: Link to story - May 11, 2011
In conclusion....Boxing in the 1970's......(Fox had a shaky start in pro boxing as there were no amateur programs in existence at the time and very few women who boxed in the 70's. Many of the female boxers had to jump right into fighting as a pro to gain any amateur experience....WBAN uncovered by extensive research with the Official Record Keeper for the sport FIGHT FAX, and other sources, i.e., boxing commissions, that many of these past fights that happened in the 70's were not sanctioned bouts, and are in fact either "unsanctioned" or in many cases "exhibitions."