Equality for Female Boxers in the Olympics
WBAN PETITION
Home Page
Search WBAN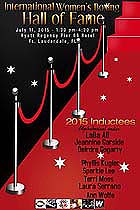 IWBHF Hall of Fame Ceremony, July 11, 2015
For Full Details!
Latest News-Women
Biography- Sue TL Fox
Latest Rankings
Boxer's Profiles
Fight Results
Upcoming Events
Knockouts!
Past/Present Ratings
Fight Photo Gallery
Boxing Trivia
Tiger Tales by Fox
Amateur Scene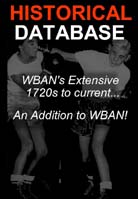 Boxers Websites
Women Cops who Box
Exclusive Interviews
Bust a Fighter!
Mixed Matches
Mismatches
About WBAN
Advertise on WBAN
Other Links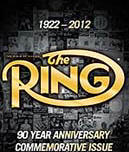 Sue Fox Named in the "Top Ten" Most -Significant Female Boxers of All Time - Ring Magazine - Feb. 2012
HISTORY OF
WOMEN'S BOXING
Historical -All links
Historical Events
History Firsts
Flash from the Past
Past Boxer Profiles
70'S/80'S Past Boxers
Pre-70'S Boxers
Past Amateur Boxers
About Sue TL Fox
Video streaming, over
11, 500 photos, and more!

Matchmaker's Hot List - Exclusive Matchup!

Hot Hot HOT Photo Galleries!Flash Photo Slideshows!

Boxing Records for women boxers..archived records!
FREE WORLDWIDE
CONTACT LISTING!
This is perfect for Promoters, Matchmakers, Managers, Matchmakers, Trainers, Boxers, etc.


To Sign Up!
Having Problems
with the website?
Send an Email
Directly to WBAN!
Halmich's Interview on WBAN!
By Rick McLean of
Toronto, Canada
April 7, 2005

Regina Halmich (Germany) (WIBF World Flyweight Champion) 46-1-1 (15 KO's) vs. Hollie Dunaway (U.S.A.) (WIBA Minimumweight World Champion) 13-3 (8 KO's) 10 Rounds for Regina's WIBF Flyweight Title

On April 16, 2005, at Boerdelandhalle in Magdeburg, Germany WIBF World Flyweight champion Regina Halmich will face Hollie Dunaway in a 10 round match for Halmich's title. I got an opportunity to go one on one with Halmich.

Rick: Hollie Dunaway is the W.I.B.A. Minimumweight champion. How much do you know about her? Why did you decide to box her? What is your game plan heading
into this match?

Regina: "There's not much I know about her, she has not sent any tapes yet. I know many young American opponents are hungry and skilled female boxers waiting for their chance. I did not choose her, but I have to face everybody they present me. I been a champion for
ten years now, I guess everybody knows my style, I am apparently easy to box, there are no secrets about the way I behave inside the ring. That makes it easy for Hollie, but I have more power than my opponents expect and if they come to box – wonderful. My last fight was very good, because Marylin Hernandez came to take away my title. In the end it was a clear decision for me and I out boxed her. However, I do have a lot of respect for the younger generation of fighters."

Rick: What got you into boxing? Why do you compete in boxing?

Regina: "I always liked fighting, kickboxing, etc from the beginning of my teen years. I chose boxing because I had a very good trainer: Jürgen Lutz in Karlsruhe."

Rick: After this fight, what are your short and long term goals for this year?

Regina: "I always said I want to have a rematch with Elena Reid, I promised it to fans in my hometown Karlsruhe. However, I do not look past the Dunaway fight. Boxing is so fast, everything can change quickly."

Rick: How is your training going? Are you doing anything in particular to train for her?
Regina: "I had sparring with Alesia Graf who is bigger and heavier than me. She will be world champion one day. I trained in Berlin, Riesa and Karlsruhe (because my trainer Torsten Schmitz lives in Berlin and had to accompany a boxer to an event in Riesa). One week before the fight I will travel to Magdeburg."

Rick: What is your prediction on this match?

Regina: "I hope to outbox her. Every time I fight I always hope that the match will be good and that my opponent and I will match in terms of style and movements."

Rick: What would you like too see happen for the future of women's boxing? Do you have any concerns about it?

Regina: "Every female boxer hopes that women will be paid as well as men. I had many problems during the early years of my career to get respect, nowadays in Germany it is easier for female boxers. I would love the public to see behind the sport and have a better understanding of how hard the work for a championship fight can be."

I would like to thank Regina for taking the time to be interviewed for WBAN.

Rick McLean - riggs196@hotmail.com