(APR 28) Yes, folks...you will need to endure again. According to Team Wolfe, Ann "Brown Sugar" Wolfe will be taking on a male in the boxing ring. Just this week Team Wolfe has sent WBAN two press releases about updates on Ann that include details of Ann getting ready to step into the ring with a male boxer. [update: this fight never took place 2013]

Team Wolfe said in their first release (Posted on WBAN-April 26) earlier this week, and sent to WBAN on about April 23, 2005, said the following: "In the meantime, many boxing fans are probably wondering if Wolfe is still planning to fight a man. The answer is "Yes". The fight will be moved to either late Summer or early Fall. According to the promoter PPV has already been locked in, so now it is just a matter of finding the right venue. The Wolfe camp continues to receive positive feedback about the fight, and appreciates the support. Wolfe, who was recently featured on ESPN2's Timeless, said that she is looking forward to fighting a man who has equal skill to her own."

In today's press release they sent, two days later after WBAN published the first press release, Team Wolfe gives us states, "The 7-time World Champion, who is expected to fight a man in late Summer or early Fall......" Both Press Release)

Well, they must have resources that WBAN must not know about this "positive" feedback from boxing fans---because WBAN has yet to receive ONE positive email and/or interest expressed to us about Ann Wolfe fighting a male.


But Folks....This is NOT the Way...


Ann Wolfe fought on this card in 1999

Mixed matches have been going on for a VERY LONG time, In fact Ann Wolfe was on a card in October of 1999, when she fought Dakota Stone in Seattle, Washington, and the main event ON THAT CARD was between female boxer Margaret McGregor vs. male boxer Loi Chow, a mixed match that was supposedly a "FIRST" sanctioned match and was eventually REDUCED to an exhibition....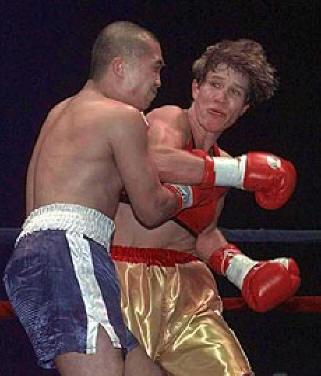 AND How could it NOT be an exhibition?---where do you rank a man-woman bout when one wins? In the women's ranking system, in the Men's? Do they fight two minute rounds like the women, or three minute rounds like the males. Does the male have to wear a breast protector, or does the female NOT wear one because she fights a male?

So before we begin to get ALL the hype that this is a REAL boxing Match with a REAL male Boxer, and A REAL female boxer, let me give you some FIRSTS that have already taken place between women and men.
NOT THE FIRST...Probably NOT the last....Check these out!
(1999) Christy Foster lands a punch to the face of Chris Byman in her split-decision victory at the Devil Duke-Out 1 at Fort Riley's Craig Fitness Center on Thursday evening. ©Kansas City News
Sunshine Fettkether gives a guy a fighting lesson in a bar.
Lucia Rijker gets KO'd by male kickboxer (1990's)
JoAnn Haegen (Jo-ann Verhaegen) defeats Norm Jones in a boxing match four-round bout - 1952

This female fighter takes a beating from a male fighter - 1970's
Jackie Tonawanda Stopped this kickboxer, boxing him in 1975 at Madison Square Garden - New York

Yep, even in Japan, they have had some mixed matches - 1970's...

Even in 1916, there were those historical moment's of male-female encounters recorded in history....

EVERY THING is a first...The first this, the first that.....

Marion Bermudez stops male boxer in the first round in a sanctions Golden Gloves tournament in 1973

In her second match in this tournament, she was stopped.

Marion Bermudez fighting another male in the 1970's....

Jolene Blackshear against a male fighter....1990's

Yvonne Chavez vs. Parra...


Margaret McGregor fights Loi Chow in the supposed "History First" sanctioned boxing match, even though Chow fought by "Women's rules" in bout, when they went two -minute rounds....October 1999