(MAR 6) On Saturday night, March 3, 2012, at the Carlos P. Garcia Sports Complex in Tagbilaran City, Bohol, Philippines, in the main event, a scam of a fight took place in men's boxing when featherweight Filipino boxer Rey "Boom Boom" Bautista, was duped into fighting another "Genaro 'Panterita' Garcia" and not the intended opponent, "Genaro 'Poblanito' Garcia", in a non-title ten rounder on the card.
Whether this was a men's bout, or a female bout, it hurts boxing in general, as if we do not have enough problems in the sport.

The bogus matchup between Bautista, and the wrong "Garcia" bout lasted two rounds, with Garcia going down twice in the second round before getting stopped at 1:24 by KO.
What should have been a real test for Rey Bautista---ended up being nothing more than a mere joke of a fight, and inadvertently disgrace to the world of boxing.
Prior to the fight taking place, boxing writer Ronnie Nathanielsz wrote the following: "ALA Promotions patron Tony Aldeguer and his son Michael Aldeguer discovered after the weigh-in when Garcia was four pounds over the 128 pound limit that he was not the fighter with a record of 37-8 with 21 knockouts who had fought eight world champions and whom they had contracted to fight because they wanted Bautista to fight a quality opponent and had made it clear in their communications with the Mexican matchmaker/agent they had dealt with in the past."

Nathanielsz added in his report that the fight would go on as scheduled, but that the respected promotional outfit regarded as No.1 in the Philippines is certain to demand drastic action by the Mexican Boxing Commission against Correa for swindling ALA Promotions by switching fighters.

When the "fake" was confronted about not being the same fighter as the one displayed on the fight poster and other promotional materials, "fake" told the media (according to news reports) that he was not the same boxer. Apparently he embellished his record a tad bit to 28-8, not 10-11 as reported on Boxrec.

WBC to investigate this scam….

WBC sent out a press release earlier today stating the following: "The World Boxing Council was informed by Philippines boxing authorities about an alleged fraud that took place during the bout between local Rey "Boom Boom" Bautista and Mexican Genaro "Poblanito" Garcia who was defeated by KO in the second round. The issue was that "Poblanito" Garcia was not the fighter who faced Bautista, but another boxer named Genaro Gutierrez Garcia. Hugo Correa has been called to have a hearing to clarify all this matter; he was the promoter who made the deal with the Philippines and which will be investigated till last consequences."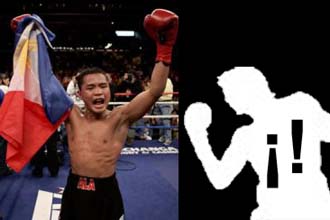 Photo credit: WBC Press Release
It has also been reported that ALA Promotions were being honorable in the fact that they refunded all "sold" tickets to everyone who was in attendance this night. The promoter decided to make the fight free after they discovered that the Mexican Agents sent the wrong Genaro Garcia to the match. The real opponent "Poblanito" had a 38-8 (22KO) record. The "Imposter" boxer "Panterita" was in fact 10-11. After the fight, the paid ticket holders couldn't get to the counter quick enough to get a refund.

ALA Promotions said that it was a big loss for them, but "Learned Lessons."
Sources: Bautista Victim of Switch Scandal in Genaro Garcia Bout -By Ronnie Nathanielsz; WBC Press Release; Article on Phil Star.com link