(LONDON, ENGLAND) Ė The day womenís boxing advocates have been awaiting for years finally arrived on Sunday, but it ended differently than American lightweight Queen Underwood (Seattle, Wash.) had hoped. Underwood became the first American female boxer ever to compete in the Olympic Games in afternoon action at the ExCel Centre, but she dropped her Olympic debut to Great Britainís Natasha Jonas.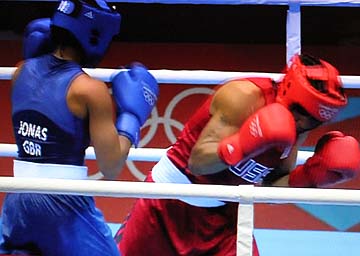 All three womenís weight classes opened Olympic Games action on Sunday with four preliminary bouts in each weight division. Underwood faced Jonas in the first lightweight contest of the day in front of a full house at the ExCel Centre. Jonas entered the ring to a loud and raucous crowd that roared with each punch she threw. Underwood opened the bout well, managing to block out the crowd and press the British boxer. Her efforts were successful in the first two minutes, and she took a 4-3 lead after one round.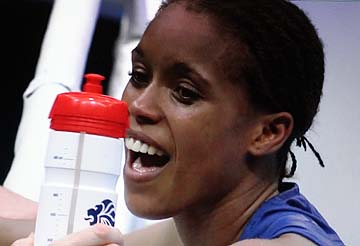 Yet, Jonas managed to steal the lead in the second round to the delight of her hometown supporters. Underwood fell further behind in the second round as the longer and rangier Jonas built her advantage to a 13-9 margin with two minutes of action remaining. The American boxer came out swinging in the fourth round, trying to make up four-point deficit but she couldnít overcome it and Jonas won a 21-13 final decision.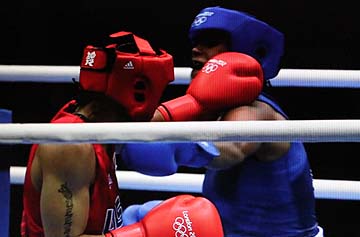 ďI got comfortable in the first round, I was going to her and she was a little bit flat. I was winning on points after the first round but it changed a little in the second round. She kind of sat back and boxed me and I had to come forward,Ē Underwood said. ďI was down one point after the second round and I kind of felt that it wasnít working going forward the way I was so I just wanted to go for her after that.Ē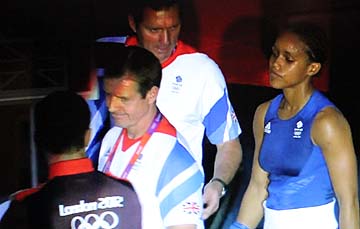 The remaining two U.S. female boxers will open their tournament action on Monday following first round byes. Flyweight Marlen Esparza (Houston, Texas) will face Venezuelaís Karlha Magliocco while middleweight Claressa Shields (Flint, Mich.) battles Anna Laurell of Sweden. Male welterweight Errol Spence (Desoto, Texas) will return to the ring on Tuesday in quarterfinal action.

U.S. Result
132 lbs/60 kg: Natasha Jonas, GBR, dec. Queen Underwood, Seattle, Wash./USA, 21-13

Queen Underwood Quotes

ďI filled a spot that somebody could have had but I gave away half my life for this and it just doesnít feel like the reward of being here is enough. I just wish and hope that the fans and people who have been there and my family can believe the journey was enough and Iím a champion regardless of the decision. Thatís where it ends with me is being a champion and pushing for it since I didnít get the gold medal here.Ē

ďI really feel that I didnít have any chance being down and against the home crowd. If I would have sat back and tried to play games and chess match this, it would have looked like I wasnít aggressive enough and I didnít want that. It would probably have been a lower scoring fight because it would have been a slower pace but I wanted to show everybody that Iím going to do all I can do in there. I donít like being down and I guess it kind of bothered me a little bit, being down after being up.Ē

ďI didnít feel like they were clean shots in there. I felt hooks behind the head, like more of a push than a scoring blow. As you could see I was little off balance. I just didnít let the score to affect my work ethic in the ring so thatís why I just went forward.Ē

I didnít have a choice (on starting to box young). When I picked up the sport, I was already older. I canít take back the years, you just get older and older. If the Olympics were in 2008, I would have been a little younger. I think its good that a lot of younger women are picking up the sport at a younger age but I picked it up a little later and stuck around just to have this chance and I didnít want to throw it away. I wanted to get to the highest level. I guess this is the end of my journey in the amateurs, being here.Ē

ďIíll support Katie Taylor in my weight class because Iím not in it anymore. I was looking forward to that rematch. I wanted to get in there with her. That was really my motivation for this fight. It wasnít the gold yet, it was to get to that rematch with Katie Taylor but now I get to cheer her on, I know sheís gonna bring home the gold.Ē

ďIím going to keep fighting but I got here to the Olympics this time. ďI donít think itís in me to stick around for four years. I did what I had to do, I waited around for four years for it to be an Olympic sport. I think its time for me to move on to a new chapter in my life. Now, its time to focus on something else.Ē

ďI can beat anybody. I believe that I didnít have the mindset going into this fight that I was going to lose. I always tell myself that I can do anything that I set my mind to for this tactic, this opponent and this bout. You just have to be in that moment. Itís a bit harder with a home crowd and you canít let that get to you. They said I was ahead and once I was down that point, I felt that it was working against me, what I was doing. When I tried otherwise, it kept drawing me further and further apart. Sometimes you saw me in there throwing that big haymaker, I wanted to say that I tried. I wanted that to land it because that would have been awesome.Ē

I hope a lot of young boxers coming up are watching this. They can pick and choose who their role model is but for the sport of boxing, itís not about looking at and saying I wanted to do that. Itís about actually doing it and sticking to it. There are a lot of people that can play a game and be on and off with it but boxingís full time.

If you slack off, that can set you back for a year. That was the key to me moving forward. I never let myself take a break, I never let myself rest and now I think Iím due for a bit of a break. Iím tired, this has been one hell of a journey. Ever since winning a championship in 2007, I just stuck with boxing and made this my first priority over friends, family and a normal life. Iím ready just to rest and cheer on the upcoming women and focus on a future for myself.Ē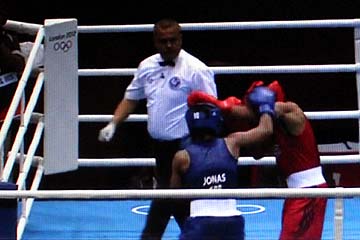 ďHistory doesnít mean anything to me. The gold medal meant more. This is history for Queen Underwood and amateur boxing. Itís a big moment for up and coming boxers, but for me to set high goals for myself, I donít think just getting here was enough for me. Being a part of history wasnít enough for me. I donít look at just being an Olympian as great. I think bringing home a medal would be great. I know a lot of people look and me and say, Ďhey, you did good.í Iím going to take this home and later on, say I did good. I will always say I could have done more because thatís just how it is.