(APR 7) On Friday night in front of a sold-out crowd, at the Four Points by Sheraton Hotel, San Diego, California, and promoted by Bobby D Presents, the five-card night of professional boxing at the Boxing at its Best San Diego Fights did not disappoint. There were two female bouts on the card, and three men's.
In the mainliner Kenia Enriquez, 107.5, of Tijuana, Mexico, faced long-time veteran Jolene Blackshear, 107, in an eight-round bout for the vacant NABF Junior Flyweight title. In what was nothing short of a war between these two throughout the fight, the bout ended in the seventh round by [1: 26] TKO, with Enriquez maintaining her undefeated record, now 11-0 (6KO), and gaining her first title belt in the sport. Blackshear had a significant cut over her right eye and required stitches after the fight.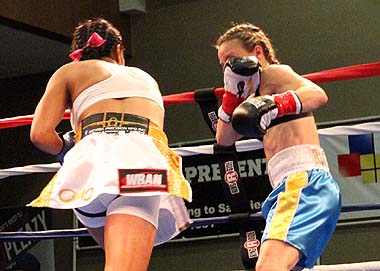 WBAN spoke with Jolene Blackshear in her dressing room shortly after she had her upper lid of her right eye stitched up by the doctor:

Blackshear said the following: "Since I started training with my new team at Cital Boxing in 2012, my 5 opponents' combined record has been 34-1-1. I've won 3 of those 5 fights and only 2 opponents were truly my size, as most have been much bigger. I've never dodged a tough fight, even when the odds are considerably against me, because to me, that is one part of being a warrior and a champion. Friday night's fight was no exception and I knew two things going into this bout: this would likely be my last (or second to last) fight and I would be facing the toughest and most talented opponent of my career."

"This fight was special because it was offered to me 2 hours after a dear loved one passed away, so I knew it had a special approval and meaning. Although I didn't get the win, what I did get was my first and only opportunity to fight in my hometown where I was lifted by overwhelming support from local friends, fans and family. We had fun with a couple of news segments and I could close out my 20-year boxing career with a tremendous and respectable war."
Kenia Enriquez having the utmost respect for the much more experienced Blackshear said before the fight: "I know Jolene is a tough competitor, very strong and experienced, I am expecting the most difficult fight of my career. I know that I am going to learn a lot from this fight, the experience I am going to gain can only help me in the future."

Enriquez did learn something after this fight---she found out that she can compete with the best of them, and at the young age of 20, she certainly has a bright future ahead of her in women's boxing.
Kenia told WBAN in a post fight interview, "This was the toughest fight of my career because it was against an opponent with a lot of experience, an ex-world champ, with a good punch and with a style that pushed me. She always looked to get on the inside, looking to get by my defense and win. I tip my hat to Jolene and I thank her for the opportunity."
In another female bout, Amaris "Diamond Girl" Quintana, 108, of San Diego, California, now 7-2-2 (1KO), won a six-round unanimous decision over New York's Susan Reno, 108, now 1-2-1 (0KO). The two wasted little time beginning to throw barrage of combinations throughout the six rounds. Final judges scores were 60-54 on all cards.
Three men's bouts on the card: In a battle of the light middleweights in the men's division, Jarrod Tennant, 151, of Los Angeles, California, remained undefeated, when he won by a four-round unanimous decision over Mario Angeles,146, San Diego, CA. Tennant improved his record to 3-0, whereas Angeles fell to 1-5-1. Final judges scores were 40-35 on all cards. In another bout, Adrian Vargas remained undefeated with now a 8-0-0 (6KO), when he stopped Luis Cervantes by a TKO in the third round of a scheduled four-round bout; and light middleweight David Barragan won a four-round unanimous decision over Eddie Cordova. Final judges scores were 39-37, 40-36, and 40-36.

Not to forget the Ringcard girls for the night...
In a nice addition to this night's events, during the break before the co-main event, many popular athletes were called up center ring and introduced to the boxing fans
Included in this segment was multi-world champion Kelsey Jeffries, Chris Arreola, Josesito Lopez, Carlos Molina, Oscar Molina, Antonio Orozco, Chris Martin...and many more!
Follow Us