Fredia Gibbs
vs.
Hannah Fox

at the Orleans in Las Vegas on January 15, 1999

Fight review by Dee Williams and Julie Morgan
SET UP
Fredia "The Cheetah" Gibbs (5'7", 139½ lbs, 35) of North Hollywood, California was in hostile territory facing popular undefeated Hannah "The Vegas" Fox (5'7", 139 lbs, 29) in Hannah's home town of Las Vegas.

Hannah Fox came into this fight at 9-0 with 3 KO's and was seen as a rising star in the junior welterweight division with recent six-round wins over former WIBF world champion Diana Dutra, Dawne George and Glenda Watkins.

Fox had a martial arts (judo and karate) and kickboxing background before starting to train as a boxer in July, 1997. She has a classic boxing style with an accurate jab opening the way for a strong right; the scoop on her has been that she did just one thing (work off the jab) but did it very well.

Fox's style is simple but had been effective against most of her previous opponents. She hadn't faced anyone with Gibbs's strength or flash.

Fredia Gibbs came in with a 5-1 record as a pro boxer, her one loss coming in a 10-round tilt for the IFBA title against another classic boxer, Leah Mellinger, in March 1998.

Fredia's most feared weapon is a ferocious overhand right but she also brought eight years of experience as a 16-0 (15 KO) kickboxer and a reach advantage. Gibbs also brought a killer attitude, knowing that this Vegas crowd would be solidly behind her opponent.

The Women's Boxing Page pre-fight poll favored Fox by 46% to 42% overall, with 33% of respondents expecting a points win for Fox, and 29% a kayo by Gibbs; 12% said it was too close to call. We slightly favored Fredia Gibbs, ranking her #8 and Hannah Fox #9 before the fight in a highly competitive weight class that includes Lucia Rijker, Christy Martin, Sumya Anani and Leah Mellinger.


Fredia came into the ring wearing a cheetah face mask and bursting with attitude.

The stare-down (at right) was classic none-to-nose ... both looking to intimidate ... and they touched gloves with emphasis to spare!
Clearly a real fight was in the works, even before the opening bell.


THE FIGHT
Round 1... The pattern was set quickly. An aggressive and confident-looking Gibbs moved laterally, using the ring and her reach advantage well as Fox tried to move straight in behind her jab. Hannah landed some good jabs but not as solidly as we had seen her do in other fights. Gibbs was distancing herself well and knew how to move to negate the jab. Fredia seemed to be daring Hannah to find her at times. Towards the end of the round its complexion changed totally when Gibbs landed a solid left then three booming overhand rights. Each one snapped Fox's head back and she was driven into the ropes. Gibbs tried to set up shop there and for a moment it looked like she might put Fox away quickly. Hannah dodged the bullet but the round was definitely 10-9 for Gibbs according to our WBP scorecard.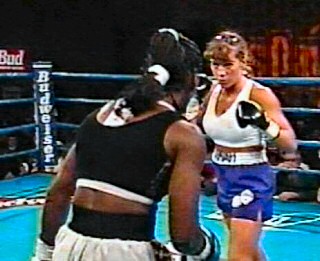 Round 2... Gibbs was less aggressive but also began using her left to hold Fox behind the neck when they were at close quarters. This was one way to set up her overhand right. Fox continued to use her jab, and was effective at times but she wasn't following it with the right. Gibbs was clearly frustrating her both at a distance and close in but Fox landed the better shots to square it at 19-19 on our card.


Fredia Gibbs taking it to Hannah Fox
© Copyrighted photo taken by Mary Ann Owen
Round 3... An exciting round as both stepped up the pace. Fox began to get rattled as Gibbs worked her own jab well, and followed through with several booming overhand rights. Hannah was being beaten with her own best weapons as Gibbs showed better speed, power and ring movement. Tempers flared as they tangled when Gibbs threw a looping right that caught Fox hard on the back of the neck. As referee Carlos Padilla was breaking them up Fox went past him to take a swing at Gibbs. The Cheetah blew a fuse and tried to climb over Padilla's back to retaliate!

Padilla finally extracted himself and them from the melee and sent them both to neutral corners, where he lectured them in turn about obeying the rules of boxing. This wasn't the finest moment for either fighter and they were both protesting as Padilla admonished them. All hell could have broken loose if they'd been able to go right back at each other, but the bell sounded before another punch was thrown. It was now 29-28 for Gibbs on our scorecard.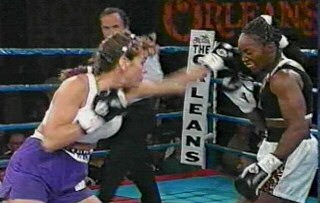 Round 4...They came out brawling, and Gibbs continued to land solidly to Fox's head. Fox kept her cool but she simply could not find the range with her jab against the wily Gibbs and couldn't adjust her style to compensate. It was now 39-37 for Gibbs on our scorecard.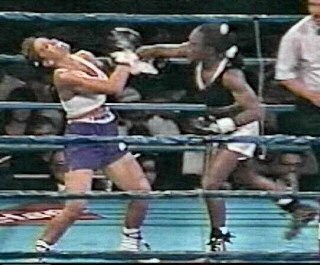 Round 5... Hannah Fox came on stronger in the fifth as Fredia Gibbs finally began to look a little tired. Fredia's punches were starting to take their toll on Hannah Fox's face but it was Fox's best round as she finally started to find Gibbs with her punches. We gave a slight edge to Hannah so it was 48-47 overall for Gibbs on our unofficial scorecard.

Fox's corner told her in no uncertain terms that she was losing the fight and had to go for it. Gibbs had been slowing down a little but she was unmarked while Fox was now battered around the eyes and appeared to be bleeding slightly from her nose.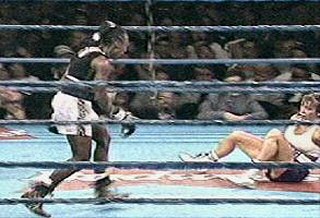 Fredia Gibbs knocks Hannah Fox down in Round 6
Round 6... Fox came out looking to mix it up, and Gibbs was happy to oblige. Fox was now living dangerously ... Gibbs has the power and the attitude to do real damage. Fredia landed a good sequence in toe to toe action and tagged Hannah with a hard straight right over her jab ... Fox was knocked backwards and went to the canvas for a six count. She wasn't dazed or visibly hurt, but she must now have known that the fight was out of reach. Fredia's best weapon ... her booming right ... had trumped Hannah's ... the jab ... when the chips were finally down! Fredia controlled the action the rest of the way with her own jab, and it ended up 58-55 on our scorecard.


THE JUDGES DECIDE
The real judges' scorecards had Bill Valleja calling it 57-56 for Gibbs, Dick Houk agreed with us at 58-55 and Paul Smith had it 59-54 for Gibbs.

Gibbs had shown better ring sense, speed and power than Fox and had handed her an all-round boxing lesson. Fredia was apparently unmarked at the end while Hannah was much the worse for wear. A visitor to the Women's Boxing Forum commented that Fox was "a mess" the next day.

In a longer fight The Cheetah might well have knocked the Vegas Fox out. This fight was seen live on ESPN2's Friday Night Fights, which had been shying away from female action since showing one all-women's card in 1998. We hope it attracted some new fans to women's boxing as it featured two well-matched and athletic fighters. Fox showed plenty of heart as she was getting tagged by Fredia but kept trying to come forward. Her fight plan was too one dimensional and she couldn't pick up the pace enough to land the combinations she needed to back up Gibbs. Fredia showed that she's a total package ... able to fight inside or outside, and able to get inside her opponent's head to rattle her, as well to dish it out the hard way with that big right. This was a learning experience for Hannah Fox all round.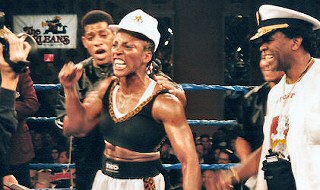 Victorious over Hannah Fox
© Copyrighted photo taken by Mary Ann Owen
It was also a great night for women's boxing on regular cable TV apart from the end of the third round when tempers flared. Fredia told us that she felt she should apologize to her fans for the incident in the third round. But it took both of them to make that fracas. Fredia, who was more aggressive in this bout in every way, reacted much more violently and it was unusual to see so much open animosity between two female fighters. But the "rabbit punch" that started it was mild stuff compared to antics we've seen from male boxers (and less dangerous than some of Fredia's holding behind the neck at close range).

Overall, this was an exciting, edgy fight and a good one to break the ESPN2 ice again. We hope the Friday Night Fights team got the message that quality female fights can add pizzazz to their show and will now come back for more!

There wasn't a word about the fight on ESPN's web site or in the media outside Las Vegas, though...
Other Fredia Gibbs and Hannah Fox Links
<![if !vml]>
<![endif]>