5'2½" 118-lb southpaw Lisa "Bad News" Brown was born on 17 Jan 1971 in Port of Spain, Trinidad and now lives in Brampton, Ontario, Canada. The only girl in a family of four, she emigrated to Canada in 1988 at age 17.
She began boxing as an amateur at age 26, encouraged by her pro boxer husband Errol Brown. Like many women who entered the boxing ring in the late 1990's, Lisa says she was also motivated by seeing Christy Martin fight Dierdre Gogarty in 1996 on a Mike Tyson Pay-Per-View card.
Lisa won two bantamweight championships in her home province of Ontario, and she competed in the Canadian national amateur championships in 1998 and 1999.
At the 1998 Canadian nationals in Edmonton, Alberta, Lisa took the silver medal at 54 kg when she dropped a tough 3-2 decision to Patricia Picotin of Quebec in the title match on January 17. Canadian amateur boxer Misty Shearer told me "this was a really close fight. Lisa was a bit more aggressive but Patricia was able to counter really well. Lisa had good power and went to the body well but Patricia was quick to counter and was able to get off the ropes and move out of Lisa's way."
On July 10, 1998 at the Lackawanna County Stadium, in Scranton, Pennsylvania, Lisa represented Canada in the 119-lb division of the first-ever dual meet between the USA and Canadian national women's amateur boxing teams. She lost by a razor-thin 11-10 decision to Elizabeth Aguilera of West Covina, California.
On January 24, 1999, in the finals of the 1999 Canadian nationals in Sudbury, Ontario, Lisa won the 54-kg division by a walkover.
On March 27, 1999 in a 54-kg bout the second leg of the Canada-Sweden Dual at the Atlas Boxing Club in Toronto, Lisa was edged out by Sweden's Frida Emanuelsson by a hard fought 7-6 decision.

Errol taping Lisa's hands
Lisa turned pro with a 26-6 amateur record behind her, but she then had a hard time finding opponents who were willing to fight her.
She finally secured a debut fight on May 5, 2000 at the Convention Center in Tucson, Arizona, by stepping into the ring against Tucson's own Leilani Salazar as a late substitute for Valory Troike of Las Vegas. Lisa took this fight on just a few days' notice, telling Arizona Daily Star reporter Bruce Pascoe afterwards: "I know my abilities ... I know as long as I went out there and fight the way I know I can, there was no way I'd lose."
Lisa spoiled Salazar's first professional fight in Tucson by TKO'ing her at 0:49 of the fourth and final round. The late substitution may even have worked in Lisa's favor, because Salazar didn't seem ready for Lisa's aggressive southpaw style. Brown won the first round easily but Salazar made a comeback, urged on by her hometown fans, until the fight was stopped at 49 seconds into a wild final round. Brown landed several good combinations early in the round, then had Salazar pinned against the ropes when the fight was called. It turned out that Brown had good reason to go for the KO and not take her chances on a decision on Salazar's turf ... one judge had the fight even going into the fourth, one had it 29-28 for Salazar and the other 29-28 for Brown. Leilani's disappointment showed as she said "she didn't wear me down; it was just a bunch of wrestling" but her trainer Hank McCadden had praise for Lisa, saying "I don't want to take anything away from (her), she's a good fighter." Salazar fell to 3-5 with the loss and hasn't fought professionally again.
On June 27, 2000 in Orangeville, Ontario, Lisa (122 lbs) moved her pro record to 2-0 in a much easier match, scoring a first-round TKO over debut fighter Jeanette Sanabria (121 lbs) of Cleveland, Ohio, who hasn't fought since.
On September 23, 2000 before 3000 fans at Casino Rama in Orillia, Ontario, Canada, Lisa (120 lbs) mounted a non-stop attack to TKO Shondell Alfred (123¼ lbs) of Georgetown, Guyana at 1:06 in the second round. Brown stunned Alfred with a left hook that had her pitching and stumbling forward, prompting the referee to stop the bout. Alfred, who fell to 4-2 with the loss, had lasted over three and a half rounds against another former Canadian national champion, Doris Hackl, that June. Unlike Lisa's previous opponents, she's kept on fighting after her loss to the "Bad News" girl!)
On November 11, 2000 at Skylon Towers in Niagara Falls, Ontario, Canada, Lisa moved to 4-0 with a four-round unanimous (40-36, 40-36, 39-37) decision over Donna Parsons of Drexel Hill, Pennsylvania. Parsons hasn't fought since.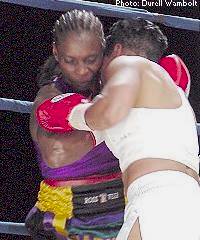 Lisa's fifth pro bout represented a significant step up in competition. She took on an experienced pro warrior in a six round war on a card aptly billed as the "Border Explosion" on April 27, 2001 at the Convention Center in Niagara Falls, New York. A crowd announced as 4500 saw an entertaining battle as Lisa won a six-round unanimous (57-55, 57-56, 57-56) decision over the scrappy IFBA Junior Featherweight champion "Downtown" Leona Brown of Pawling, New York. Leona took a series of big punches from Lisa in the first round and went down hard from a right uppercut. Leona then came back to floor Lisa with a quick counter right over a lazy left later in the same round. Lisa decked Leona twice more with right uppercuts in the second but Leona pressed the action after Lisa began to tire in the third. Leona outhustled Lisa in the second half of the fight and had Lisa "on the verge of a knockout" at the final bell, according to according to FightNews reporter Andre Courtemanche who was at ringside. Leona Brown fell to 8-7 (2 KO's), while Lisa advanced to 5-0 (3 KO's).
On August 31, 2001 at Cedar Bridge Academy in Bermuda City, Bermuda, Lisa (116½ lbs) won the vacant IWBF Bantamweight title with a ten-round decision over Leona Brown (117 lbs) who fell to 9-8 (3 KOs). There were no knockdowns in this hard-fought rematch of their April cross-border war in Niagara Falls.
On December 21, 2002 at War Memorial Auditorium in Fort Lauderdale, Florida, Lisa (121½ lbs) won a six-round unanimous (60-54) decision over Karen Martin (121 lbs), now living in the U.K. Martin fell to 6-4-0 (5 KO).
On April 26, 2003 at Hamilton Place Theater in Hamilton, Ontario, Canada, Lisa won a convincing four-round unanimous (40-36) decision over fellow Ontarian Olga Heron of Mississauga. Brown remained undefeated at 8-0-0 (3 KO) while Heron slipped to 3-1-0 (1 KO). Brown stepped in to fight Heron at short notice on a card that had to be reorganized due to restrictions on medical testing in Ontario caused by the SARS outbreak in Toronto. Brown surprised a game but overmatched Heron with a very aggressive start in this fight.
On July 11, 2003 at Memorial Civic Center in Canton, Ohio, 5'9" Kelli Cofer of Shelby, Ohio and Lisa both stayed undefeated as they battled each other to a six-round draw (58-56,56-58,57-57) in a junior featherweight contest. The much taller Cofer, who left the ring visibly shaken by the decision, progressed to 10-0-2 (4 KO) . (WBAN's Brian Ackley scored this fight 58-56 for Cofer.)
While she's been the IWBF Bantamweight champion, Lisa has had difficulty persuading opponents to agree to face her, so she has started taking fights as a junior featherweight just to stay active.
On October 30, 2003 at Seminole Coconut Creek Casino in Hollywood, Florida, Ada Velez (5'3", 118 lbs) of Hollywood and Lisa (116½ lbs) fought to a ten-round majority draw in a hard and closely-fought bout for Velez's WIBA Bantamweight world title. After a feeling-out round, the two southpaws traded punches toe to toe with Brown's back to the ropes in the second. Brown used the ring better in the third and her footwork and defensive skills negated Velez's aggression and earned her points on the scorecards in the middle rounds. The crowd was solidly behind the Puerto Rican and local resident Velez but Brown's quickness and boxing skills held her in check. Velez pushed the pace harder in the late going and wobbled Brown once near the end of the final round, but Brown had done enough to earn the decision on one judge's card. The scorecards were 96-94 for Brown, and two even at 95-95, so Velez kept her title belt. Brown remained undefeated at 8-0-2 (3 KO) while Velez, the IBA and WIBA champion progressed to 14-1-2 (6 KO). [Fight report and photos]
Lisa told reporters that she thought she had won the fight but was still pleased with getting a majority draw on Velez's home turf, saying that she had made fans and gained respect with the bout. She offered Velez a rematch in Canada or the USA and said she would put her IWBF belt on the line if Velez accepts the return engagement.
On May 26, 2004 at the Ameristar Casino in Kansas City, Missouri, Lisa (122 lbs) won a six-round unanimous (59-54,59-54,60-53) decision over Jeri Sitzes (122 lbs) of Springfield, Missouri. Lisa controlled the first round by beating Jeri to the punch and knocked Jeri down near the end of the stanza. Sitzes felt it was a slip but the ref gave her an eight count anyway. Lisa controlled the start and end of an action-packed second round but they raded hard when Jeri pinned her in the corner midway through it. Round three was evenly fought with less action, but Lisa returned to beating Jerri to the punch in the fourth. Lisa controlled most of the fifth but Jeri finished it with a good flurry, while the sixth was close. Sitzes fell to 5-3-1.
On December 10, 2004 at Southport Sharks in Southport, Queensland, Australia, Sharon Anyos of Australia won a ten-round majority (96-96,96-95,100-91) decision over Lisa defending her WBF Women's Featherweight Title. According to WBAN correspondent Mike Altamura, "While the 34-year-old Anyos constantly charged forward, the southpaw Brown looked to effectively counterpunch with swift straight left hands. Anyos established a decent pace in the opening stanza, constantly pressing the attack and despite landing few punchers, with Brown content to just throw the occasional counter, won the round on work-rate alone. A scrappy sort of round ensued in the second, with again few scoring punchers, although Brown was able to get home with a couple rights hooks late to clinch the round. The Australian was the busier fighter in the third, but the 5'2 ½" Brown was clearly the more effective, making Anyos pay with precise left hands each time she either leaned in, or missed with the jab. Anyos made a slight adjustment in the fourth, trapping the Canadian on the ropes and firing to her well-cut midsection on a few occasions. It was enough to snare the round, but Brown came back in the fifth, twisting and rolling out of the incoming traffic, and scoring with the left hand. Rounds six and seven were close, Anyos again throwing more leather, but Brown a lot more prudent with her shots. Hard scoring rounds, maybe leaning towards the defending champion due to sheer aggression. There was little that landed of note in the eighth, although Brown did counter brilliantly in one exchange with her back to the ropes, which probably shaded it in her direction. In the final two stanzas, Anyos continued to walk forward, but Brown, picking her spots, seemed to offset her opponent's offence, using her ring smarts to walk her into her crisp left counters. A close, well-contested, and high-octane encounter. I preferred the challenger's effective counters over Anyos' work rate, and had Brown winning 97-94, although there was little separating these two gutsy combatants in at least four of the rounds." Anyos is now 8-3 (1 KO). Brown suffered her first loss and is 9-1-2 (3 KO).

Anyos praised Brown after the fight, saying "Lisa Brown came here and put up a great fight. I think she showed what a true champion she is, and it was a very, very close fight. I'm happy we got the decision. To Lisa and her husband who came over here, again at short notice, you'se are great people, I hope you enjoyed Australia, we loved having you here, and we welcome you back any time." Lisa said "It was tough. I think I did enough to win, but hey, I'm in Australia, I'm in her hometown, and I guess the judging went her way. But next time ..."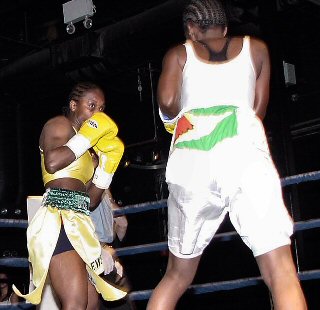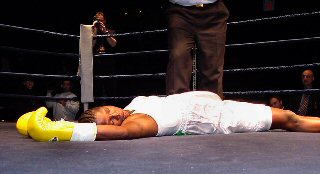 Lisa (at left in upper photo) KO'd Stephaney George in Feb 2005
© Copyrighted photos taken by Durell Wambolt
On February 18, 2005 at the Docks Nightclub in Toronto, Canada, Lisa (123½ lbs) knocked out Stephaney George (120 lbs) of Guyana at 1:18 in the second round of a scheduled six-rounder. After a quiet first round, Lisa came out much more aggressively in the second and landed solid straight lefts and rights that snapped George's head back. Midway through the round Lisa followed a sharp right hook to the side of George's head with a left uppercut that caught George flush on the chin and snapped her head back violently, knocking her out cold. George was on the canvas for several minutes, while Lisa Brown held her hand; she was shaking when carried out of the ring by paramedics, but her trainers said later that she was not seriously hurt. Brown improved to 10-1-2 (4 KOs) while George fell to 5-4.
On June 18, 2005 at Shaw Convention Center in Edmonton, Alberta, Lisa won a clear (59-51,60-53,59-54) six-round unanimous decision over 5'9" Kelli Cofer of Willard, Ohio in the co-main event of Canada's first all-female pro boxing card. The shorter but stronger Brown rattled Cofer in the fifth and had the lanky American dangling on the edge the rest of the way. She kept up the pummeling in the sixth and final round, landing a barrage of straight lefts and hard uppercuts. Cofer went to the canvas from an overhand left with five seconds left in the fight. "I looked at the tape (of our previous fight) and saw that if I continued to use the jab, it would help me set up my punches and take her out. I usually like to throw the combinations so using the jab and come with the right hook, they are not expecting the right hook coming, so I tried to use that as much as possible. I was surprised that she could keep taking the punches, but there was no way she could sustain herself against that kind of pressure," said Brown. "The business is taking your opponent out. ''I smelled blood and I wanted to take her out and go home." Cofer fell to 10-3-4 (4 KOs).
On September 23, 2005 at Jean Pierre Sport Complex in Port of Spain, Trinidad and Tobago, Lisa (121¾ lbs) used a relentless body attack to pound out a clear ten-round unanimous (98-92,100-90,100-90) decision over IFBA Bantamweight champion Jackie Chavez (120 lbs) of Albuquerque, New Mexico for the WIBC and WIBA Junior Featherweight titles. According to local reports, Lisa peppered Chavez with left hooks to run up a big lead before Chavez tried to make a comeback in the late going. Lisa, fighting in her birthplace for the first time as a pro boxer, improved to 12-1-2 (4 KOs) while Chavez suffered her first pro loss and fell to 9-1-0 (3 KOs). A dispute between the WIBC and the promoters over the organization and supervision of the card later caused the WIBC to withdraw its sanctioning from the event, so the fight will not count as a WIBC title bout.

Lisa Brown battles Jeannine Garside for the WIBA title
© Copyrighted photo taken by Mary Ann Owen
On November 18, 2005 at the Shaw Conference Centre in Edmonton, Alberta, Canada, former four-time Canadian national 57-kg amateur champion Jeannine Garside (121¾ lbs) of Windsor, Ontario won the WIBA Junior Featherweight title with a ten round unanimous (99-90,99-90,98-91) decision over Lisa (120¾ lbs). Jeannine dropped Lisa for an eight count in the third round en route to dominating the rest of the fight with a steady barrage of solid punches. Lisa fell to 12-2-2 (4 KOs) with her most decisive pro loss to date while Jeannine Garside improved to 4-0 (1 KO). (For more of Mary Ann Owen's photos of this fight card, see MPEG/Photo Gallery #306 on the WBAN Records Member Site).
On June 23, 2006 at the Shaw Conference Center in Edmonton, Alberta, Canada, Jeannine Garside (121 lbs) and Lisa (121 lbs) fought to a 10-round majority draw in a defense of Garside's WIBA title Final judges' scores were 95-95, 95-95, and 96-94 for Brown. Brown came out strong in the early rounds in an attempt to reclaim her title, winning the first three by setting the pace with effective aggression, getting off first and landing harder and more frequently. Garside made adjustments in the fourth and closed the bout well, trading toe to toe with Brown. "I thought I was pacing myself," Garside told reporter Doug Rowe. "I thought I was taking the rounds. I had her back to the ropes and I had her hurt three times in the fight. I am confused. What they want is to see me fight her again and that's fine. There will not be any question the next time I fight her. It has nothing to do with revenge, it just has to do with who is the champ, and I am the champ!" Lisa was equally adamant that she had won the bout, telling Rowe: "It was robbery. I came out to fight, I did what I had to do ... I come and give the fight of my life and they call it a draw. I can't believe it. The first time I fought her, I wasn't in shape, I had so much going on I wasn't mentally in shape, mentally and physically. This time I actually got my game together and I was hungry. So I came out to put on the best fight of my life." Negotiations are reportedly under way for a third match between the two Ontario rivals. Jeannine moved her pro record to 5-0-1 (2 KOs).

Lisa battles Melissa Hernandez in November 2006
© Copyrighted photo taken by Mary Ann Owen
On November 4, 2006 at the Shaw Conference Centre in Edmonton, Alberta, Lisa (121 lbs) lost a ten-round unanimous (96-94,96-94,98-92) decision to Melissa Hernandez (5'3", 119 lbs) of New York for the WIBA Junior Featherweight title, which Jeannine Garside had vacated to fight on the same card for the WIBA Featherweight belt. According to a report by Shawn Roth of FightNews Canada, "Both fighters looked fresh and willing to brawl as the fight opened but the youth of Hernandez quickly took over. Brown seemed unable to catch the much more agile Hernandez with any real significant punches in the early going. Hernandez used her elusiveness to duck out of Brown's punches and counter with a nice right hand that she used effectively through the match. Brown caught Hernandez with a good left jab and right hook combo in the third, but Hernandez seemed able to absorb the shots well and keep on moving. Hernandez continued to frustrate Brown in the middle rounds, pinning the older fighter on the ropes and teeing off on her. When Brown was able to muster an attack, Hernandez was able to quickly move from trouble, but Brown did manage to catch the American with a left jab before she could maneuver away from Brown late in the seventh. The final rounds saw Brown come out looking sharper than the previous rounds as the two exchanged some hard blows while on the ropes. Brown connected a quality left jab on Hernandez in the ninth, but once again, the younger Hernandez responded with a hard right jab. In the end, Hernandez proved too quick and conditioned for Brown to handle." Lisa fell to 12-3-3 (4 KOs) with the loss, while Hernandez improved to 6-0-1 (2 KO's).

Lisa vs. Jackie Chavez in March 2007
© Copyrighted photograph by Mary Ann Owen

On March 22, 2007 at the Isleta Casino near Albuquerque, New Mexico

, Lisa (122 lbs) won the IFBA Junior Featherweight title with a 10-round unanimous (99-91,97-93,97-94

) decision over Jackie Chavez (122 lbs) of nearby Los Lunas, New Mexico. Lisa's power and ring experience controlled most of the bout while Chavez's best round was in the fifth, when she came alive with the home crowd chanting her name throwing a barrage of sharp combos with Brown pinned near the ropes in the closing moments.

Lisa Brown improved to

13-3-3 (4 KOs)

while Chavez fell to 9-3-0 (3 KOs)

. (For coverage of the weigh-in, and more fight photos by Mary Ann Owen and Patricia Butaud, see MPEG/Photo Galleries #419 and #420 on the WBAN Member Site).

On February 7, 2008 at the Pechanga Resort and Casino in Temecula, California, Lisa took on scrappy Jeri Sitzes of Springfield, Missouri defending her IFBA Junior Featherweight title. Lisa literally took her lumps in this fight, ending it visibly battered but still the winner on the scorecards by a unanimous (97-92,98-91,98-93)

point decision. According to WBAN correspondent Bill Ortega, "For most of the fight Sitzes seemed to regularly find a home for her right hand counter that throttled Brown repeatedly. Left hooks left an imprint under Brown's left eye in the form of a large bump. In the ninth round Brown scored a knockdown that seemed more a slip. Sitzes remained in her attacking mode and might have even won that round. The final round saw Sitzes land a stunning one-two combination that buckled Brown's legs and forced the Canadian to hold on tight. It didn't look good for Brown but she made it to the final bell." The decision in favor of the Canadian champion was unpopular with the fans, many of whom booed the result. Lisa advanced to

14-3-3 (4 KOs) while Sitzes fell to 14-7-1 (6 KOs), ending a nine-fight unbeaten streak.

On June 12, 2008 at the Mohegan Sun Casino, in Uncasville, Connecticut. and televised live on Fox Sports Net, in the main event Lisa (121¾) retained her IFBA World Junior Featherweight title with a controversial ten-round split (97-93,97-93,94-96) decision over Alicia Ashley (121¾ lbs) of New York. Ashley chose to fight from the outside for the most part and used her speed and quickness to counter and frustrate Brown, who kept moving forward but was unable to connect solidly very often. As Brown took a couple of tumbles to the canvas late in the fight, the scoring was surprising, rewarding Brown's conventional (but only occasionally effective) aggression over Ashley's movement and quickness.

Ashley fell to 13-8-1 (1 KO)

.

On March 7, 2009 at Jean Pierre Sports Complex in Port of Spain, Trinidad and Tobago, Lisa Brown TKO'd Maribel Santana of La Romana, Dominican Republic at 1:39 in the third round of a scheduled 10 rounder for the WIBA Junior Featherweight title. According to John Young writing in the Trinidad Express: "Brown was more watchful and patient in the first half of the opening round but gradually warmed to the task, unleashing mixed combinations, to the head and body, of her opponent. Santana tried to mix it up with her clearly more skilled adversary in the second round and did succeed in getting Brown to the canvas, but it was ruled a push. Brown's southpaw style also looked to create a challenge to Santana, who, it became quite clear entering the third round, was beginning to wilt under sustained pressure. Referee Ian Jardine called a halt to the fight 1:45 into the round, stating that the challenger from the Dominican Republic was exhibiting signs indicating to him that she had had enough." Brown said she "was just happy to do it. I thought I could do it in the first round but I did it in the third". Santana fell to to 10-7-1 (3 KOs).

On October 15, 2009, Lisa traveled to Incheon City, South Korea in her quest for a fifth world title by moving up to the featherweight division. Brown (125¾ lbs) lost a disputed decision to local fighter, Hyo-Min Kim (125¾ lbs). Team Brown states that they were "advised by Judy Kulis, president of the IFBA immediately after the fight that it was scored as a "split draw". However, the bout was released as a unanimous decision. Given, in the words of IFBA. president Judy Kulis, the "grievous" nature of the decision, the sanctioning body filed a protest with the Korean Boxing Commission." The KBC later announced that the decision would stand but agreed with the IFBA that a rematch is needed. The IFBA then issued a press release indicating that the rematch would be mandatory and was to take place in early 2010. Brown's management team Cloverlay Management Corporation, through Mike Schmidt, commented as follows: "I think the actions of the IFBA speak volumes in regard to what a terrible decision this was. Lisa beat up Hyo-Min Kim for ten rounds and I don't use the term "beat up" lightly. Under usual circumstances a mandatory rematch would be ordered within two months. Preliminary reports are that Ms Kim will be unavailable for approximately five months as she is or will be undergoing an eye operation as a result of injuries suffered during the fight." Team Brown informs WBAN that they have yet to be informed about a rematch.

Lisa vs Ana Julaton in March 2010
© Copyrighted photo taken by Durell Wambolt
courtesy of Team Lisa Brown
On March 27, 2010, at Casino Rama in Rama, Ontario, Lisa (122 lbs) entered the ring against Ana Julaton (120¾ lbs) of Daly City, California for the WBA Super Bantamweight Championship. Julaton, with just eight pro fights, was going into her third world title match in a row after winning the IBA and WBO titles. Julaton had been an amateur standout winning the San Francisco Golden Gloves, the California State Championships and a Diamond Belt champion as well as the silver medal at the US Amateur Championships, and was the recipient of the vast majority of media coverage leading up to the fight, it was Brown who dominated inside the ropes for a 99-91, 99-92, 100-90 unanimous decision. As Ronnie Nathanielsz reported for BoxingScene.com, "Ana Julaton ... lost a lopsided ten round decision to the far more talented Lisa "Bad News" Brown in a WBA Super Bantamweight title fight ... Brown entered with little fanfare but was clearly the more polished fighter who used a sound game plan which centered around a stinging left and solid right hooks to the body which earned her an easy unanimous decision. She also inflicted two cuts around Julaton's eyes. With the win Brown gained the recognition she deserved in capturing the WBA crown after winning far less prestigious titles in the past. For Julaton, whom Morgan Campbell correctly pointed out is a polished product outside the ring, the fight provided a lesson in the subtle skills of the sweet science." Julaton fell to 6-2-1 (1 KO).
On April 2, 2011 at Arena Roberto Duran in Panama City, Shantal Martinez (122 lbs) of Panama City won a hotly-contested ten-round unanimous (97-93,95-94,95-94) decision over Lisa (122 lbs) for the WBA Junior Featherweight title. The boxers exchanged solid blows throughout the bout but Martinez appeared to tire in the late rounds and was lnocked down in the eighth. "I give thanks to God, to my coaches who did the job and I am happy to be world champion," Martinez said after her victory, which dropped Brown's record to 18-5-3 (5 KO's) as Martinez improved hers to 13-4-0 (5 KO's).

On November 19, 2011 in Port of Spain, Trinidad and Tobago, Lisa (121¼ lbs) won a ten-round unanimous decision over Angela Marciales (132 lbs) of Bogota, Colombia for the WIBA Junior Featherweight title. Marciales fell to 6-6-3 (5 KO's).

On August 18, 2012 at La Cetto Vineyard, Valle de Guadalupe, Baja California, Mexico, Jackie Nava (122 lbs) of Tijuana, Mexico won by a TKO at 1:42 in the third round over Lisa (122 lbs) for the WBA Junior Featherweight title. Nava improved to 28-4-3 (12 KO's) while Brown slipped to 19-5-3 (6 KO's).

Lisa "Bad News" Brown is trained at the Cabbagetown Boxing Club in Toronto, Canada by her husband Errol Brown. She can be reached by email at lisa.badnews@bell.net or by calling 1-416-409-8070. Her web site is www.badnewsboxing,com.

To check out fight reports, complete up-to-date boxing records, with huge digital photos you can go to the WBAN Records Member Site.
Other Lisa Brown Links
Page last updated:Friday, 06 November 2015