Equality for Female Boxers in the Olympics
WBAN PETITION
Home Page
Search WBAN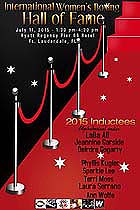 IWBHF Hall of Fame Ceremony, July 11, 2015
For Full Details!
Latest News-Women
Biography- Sue TL Fox
Latest Rankings
Boxer's Profiles
Fight Results
Upcoming Events
Knockouts!
Past/Present Ratings
Fight Photo Gallery
Boxing Trivia
Tiger Tales by Fox
Amateur Scene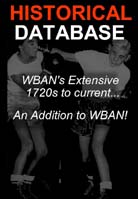 Boxers Websites
Women Cops who Box
Exclusive Interviews
Bust a Fighter!
Mixed Matches
Mismatches
About WBAN
Advertise on WBAN
Other Links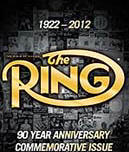 Sue Fox Named in the "Top Ten" Most -Significant Female Boxers of All Time - Ring Magazine - Feb. 2012
HISTORY OF
WOMEN'S BOXING
Historical -All links
Historical Events
History Firsts
Flash from the Past
Past Boxer Profiles
70'S/80'S Past Boxers
Pre-70'S Boxers
Past Amateur Boxers
About Sue TL Fox
Video streaming, over
11, 500 photos, and more!

Matchmaker's Hot List - Exclusive Matchup!

Hot Hot HOT Photo Galleries!Flash Photo Slideshows!

Boxing Records for women boxers..archived records!
FREE WORLDWIDE
CONTACT LISTING!
This is perfect for Promoters, Matchmakers, Managers, Matchmakers, Trainers, Boxers, etc.


To Sign Up!
Having Problems
with the website?
Send an Email
Directly to WBAN!
Associations of Boxing Commissions
Updated 02/15/2011 off of ABC Website

CHAMPIONSHIP RULES
Female Boxing Guidelines

Association of Boxing Commissions
Uniformity – Professionalism – Consistency
CHAMPIONSHIP RULE

Female Boxing Guidelines

1) All bouts shall be scheduled for no more than ten (10) rounds with each round may last up to three (3) minutes. One (1) minute between rounds.

2) Female boxers shall use NO facial cosmetics and have their hair secured with soft and non-abrasive materials.

3) The weight classes shall be the same as use by male boxers.

4) Female boxers shall wear breast protectors and groin protectors that are both properly fitted and a mouthpiece is also required.

5) Glove size: Females boxers up to and including 147 lbs., shall use 8 oz., gloves and female boxers over 147 lbs., shall use 10 oz., gloves properly fitted.

6) All female boxers must provide a negative pregnancy test prior to each bout.