Copyrighted Photographs taken by Sue Fox. All rights reserved. 10/08/99 Media Weigh-in Seattle, Washington, just prior to weighing in with Loi Chow, the "exhibition" mixmatch at the Mercer Arena, in Seattle, Washington.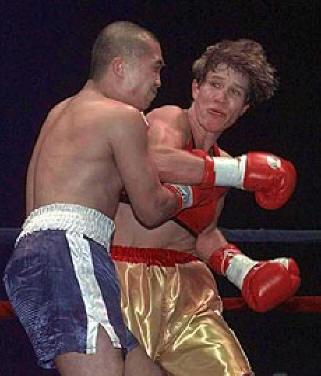 Margaret Macgregor may not truly be the first exhibition mixed match in the U.S., but she is certainly the most controversial. Macgregor, 36, 128 lbs, caused quite a stir, when she took on Loi Chow, a mediocre described at best, male boxer, that bounced around the ring, much more than punched. The fight gained international attention, and the press flocked to cover the fight on October 9, 1999, at the Mercer Arena, in Seattle, Washington.
Two days later, Macgregor was offered a sponsorship through TKO boxing equipment and it appears her boxing career may have had a jumpstart from such an outrageous beginning.
Macgregor is now set to fight on Fox Sports, in Portland, Oregon on November 14, 1999, and will meet Cheryl Nance, a police officer and boxer, in the ring for a six-rounder.
Editorial by Sue TL Fox - September 4, 1999
At the beginning of September, we discovered from a Bremerton Newspaper in the State of Washington, that there was going to be a "History's First" with the first sanctioned bout between a man and a woman.
The woman, 36-year old, Margaret "Tiger" McGregor of Bremerton, Washington was due to fight Hector Morales, a fighter from Vancouver, Canada. The news spread quickly, about this mixed match that was scheduled to occur on October 9th, at the Mercer Arena in Seattle.
I decided to contact the promoters and people involved in making this "First" happen.
I spoke to Bob Jarvis, a trainer for Martin O'Malley,and is the main event on this upcoming card. Jarvis said that it was actually "Margaret" who got the ball rolling on this mixed match.
Apparently Margaret was getting frustrated about the lack of opponents and suggested to Jarvis that he get her a fight with a male fighter by the name of Lloyd Chow, a fighter from Vancouver, Canada. He said that in a conversation that took place three weeks ago, Margaret said to him, "I can't get any fights!"
Jarvis said that he contacted Chow, but Chow did not want to do it. Jarvis said that Chow said that he may be able to find a male opponent for Margaret, which is how Hector Morales was given the opportunity.
Jarvis said that last Thursday, September 2, he drove up to Vancouver, Canada, to check out Morales, and make sure the fighter really "existed."
Apparently Morales, who is from Mexico, and is a security guard in Canada, told Jarvis in regards to fighting Margaret, "Hey, why, not I'm going to knock her out".. Jarvis, said that Morales went on to say that Morales, predicted that he would knock her out in the third round.I asked Jarvis what he thought about Morales boxing skills, as he watched him in the gym train. Jarvis said, "he's okay, but no killer." I asked when they would find out from the Boxing Commission if the fight would be sanctioned. Jarvis said that he should know by next Tuesday.
Jarvis said that he could not believe the reaction that they have received from this event, and that they have been receiving several calls.
Jarvis said that if the commission does not approve the mixed match bout, McGregor will still be fighting, but it will be with a female opponent.
More Tidbits.........
According to McGregor's team, Margaret fought Kim Messer, in 1992, first defeating Messer, and then having a controversial draw with her in kickboxing.
McGregor has had three professional bouts. Two with Layla McCarter and her last fight was against Shelley Lay. She won all three matches and is undefeated with 3-0.
Also on the undercard will be a U.S. National Amateur Champion Dakota Stone, a 29-year old, 156 lb. fighter. Stone will be making her pro debut
An Associated Press article after the fight - October 12, 1999
IT WAS a lightweight fight which carried disturbing heavyweight undertones. Margaret MacGregor, a 36-year-old professional boxer and landscaper, made history in the early hours of yesterday when she beat Loi Chow, a man, over four rounds at the Mercer Arena in Seattle. This was the first sanctioned mixed-gender contest. It should also be the last.
The eight minutes of boxing - four two-minute rounds - should now be consigned to the dustbin, with governments, sanctioning bodies and boxing commissions insisting that such contests be outlawed. The Washington State Licensing Department had sanctioned the fight, citing state law which did not consider gender difference as an issue.
Nor did McGregor, who received $1,500 (£940) for her night's work against an opponent who was intent on defending himself for four rounds. "I'll fight anyone who my promoter puts in front of me," McGregor said after the contest.
Only in America, you might say. However, time was when the same was said of the Jerry Springer Show, which has been successfully exported to Britain, and where self-humiliation aired in front of a national audience is seen as mainstream entertainment.
On Saturday night, in front of a capacity audience of 3,000 - around a third of them women - McGregor, who has overcome personal battles such as a 51-month jail sentence for drug-dealing, drug addiction and brawling on the streets and in bars, fought like a raging bull. Her opponent, a part-time jockey, could not bring himself to jump his biggest hurdle yet: hitting a woman in a legitimised environment in front of a worldwide audience including television cameras and journalists from around 15 countries.
For the record, McGregor won all four rounds. But it was a bizarre, almost surreal spectacle, and made a mockery of a sport which hardly needs such sideshows to promote its naturally primeval qualities. This was just revealing life's darkest underbelly.
Such contests can be described only as freak shows, and should not be thrust upon us. Man beating woman, woman beating up man, both are distasteful.
The British Boxing Board of Control insist they would not even consider sanctioning such a contest, with British promoters, such as Frank Warren, labelling the event "a diabolical disgrace".
Stateside, promoter Bob Jarvis, of O'Malley Productions, the company who promoted the event, said yesterday they had not expected such worldwide interest. McGregor's original opponent, Hector Morales, pulled out after the pressure on him. Chow and McGregor had even been offered large amounts of money by another promoter to withdraw from the contest.
The growth of women in boxing has had perhaps its biggest month yet, in terms of publicity. Mia St John, a licensed fighter and mother of two, is seen cupping her bare breast with a pair of gloves on the cover of Playboy. Laila Ali, daughter of Muhammad Ali, made her ring debut in New York state on Friday and dispatched her opponent to the canvas in 31 seconds, leaving her set for a lucrative career in the sport. Her father turned up to see her, too, having long been a critic of women's boxing. Finally, we
witnessed McGregor prepared to fight all-comers after winning the first mixed-gender contest. Something has to give.
In the 1970s, pitching Billie Jean King against a man, Bobby Riggs, was a novelty within tennis. But it did not involve blows to the head or violent intent. However, the 'mixed singles' match between McGregor and Chow was a farce, and set a dangerous precedent. Fight fans at the venue admitted that more women than usual had attended and, moreover, the consensus among the paying public was that they had been entertained.
Thankfully, the sport's major power brokers, the television companies, are against such contests. "This is a freak show and there's no call for it. I would never set something like this up," said Bruce Trampler, a matchmaker for Top Rank Inc, who promote Mia St John and Oscar De La Hoya.
"It's pure exploitation, and we will never air mixed-gender fighting," said Lou Di Bella, the senior vice-president of Home Box Office's sports division. "That, however, may change with the emergence of Laila Ali, who is clearly a box-office fighter.
But there remain good reasons to shun mixed contests, and many women will have been sleepless in Seattle simply contemplating the endorsing of a man hitting a woman. Statistics indicate that every nine seconds, a woman is battered in America. In Seattle alone, 16,000 women seek help each year through emergency shelters.
McGregor knows this only too well. She was abused 10 years ago in her first marriage by her then-husband. After a heated argument, her husband battered her face beyond recognition.
Women's boxing is a fledgling sport, and a minority of women will always want to box. We now have the great Archie Moore's daughter fighting, Ali's daughter beginning her career, and Joe Frazier's niece, Diane Clark, is a licensed professional. Down the line, the prospect of Ali's daughter fighting Frazier's niece - two legitimate female pugilists - will clearly generate interest, but the world should never have to witness a man and a woman fighting each other again. Licensed or otherwise.
Press Release from the Washington State Department of Licensing
OLYMPIA The Washington State Department of Licensing (DOL) has determined that planning may continue for the first professional female vs. male boxing match in Washington State, scheduled to take place on the evening of October 9, at the Seattle Mercer Arena. To this point, DOL has reviewed the fight records and license applications received, followed the law and has determined that planning may continue with the Margaret McGregor vs. Hector Morales fight. Upon review, DOL notified the promoter, O'Malley Productions, to continue planning for the fight (subject to change if any of the remaining application components do not meet licensing requirements.) The remaining requirements will continue to be submitted to DOL up to 24 hours prior to the fight, and any information received may alter this decision. The fight contract matches Margaret McGregor, Bremerton, Pro Boxing fighter, 3-0, 130 lbs., vs. Hector Morales, Vancouver, B.C., Pro Boxing debut, 130 lbs. DOL is charged with the responsibility of reviewing bout applications to ensure the health and safety of the fighters. The application was reviewed according to the state Professional Athletics Act, which does not include gender as a fight-matching factor. Applications are reviewed by DOL for the five determining factors mandated by law: weight, skill level, physical health test, vision exam, communicable disease blood test, and controlled substances urinary test (WAC 36.12.240). Promoter and fighters are required to submit all necessary application components no later than 72 hours before the fight. Final approval is dependent on all parties complying with application and safety requirements contained in statute or rule.
Macgregor retired from boxing as of February 2000 due to health problems....