(DEC 1) Alesia Graf's last appearance in the ring was on 15th September in Rostock against Zulina Munoz of Mexico. Friday night in Karlsruhe, GBU champion Graf faced another Mexican, Esmeralda Moreno (8-2-0), in a 10 round title fight. Graf vs. Munoz was fast and action packed, and those who hoped for the same top quality entertainment in Karlsruhe were certainly not disappointed.

Esmeralda Moreno's disadvantage in height and reach was compensated by speed, a good and repertoire of punches and the courage to take Graf's punches to get in close.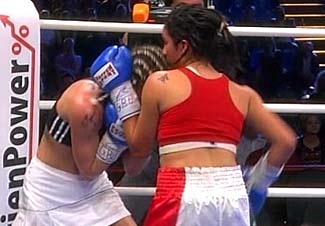 The first round went clearly to the Mexican, who caught Graf with a couple of very powerful right hands, and had her backed up in the corner twice and used the opportunity to work her over with some very good combinations to the body and head.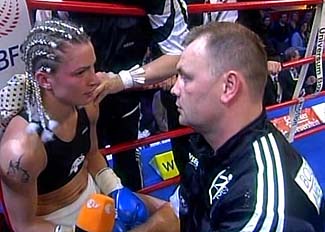 When Graf sat down after the first round, she had that "Oh no, not one of those days" expression on her face. The second round began pretty much as the first ended, with Moreno cornering Graf and punishing her with some very good body punches. Graf looked slightly better in this round, but Moreno stayed focused and kept marching forwards, which ought to have won her the round.

In the following rounds, Graf was able to get through with more punches, although Moreno made an immediate payback in most of the time. Graf's corner kept telling to keep her distance, and when began following the advice, she was able to score with her counter punching, and did not get caught on the ropes as often as she did in the early rounds. In the later rounds Moreno lost some of her precision, and began missing more punches, but she still kept coming forward until the final bell.
The fans gave both boxers loud and well deserved applause for an action packed and well fought bout, but the announcement of the scores, 97-93, 97-94 & 98-92 was received with widespread booing by the Karlsruher crowd. Many had no doubt seen the gutsy Mexican as the winner of this fight.
More Photos of fight: