To Bust a fighter, send the photo with short
description to [EMAIL TL FOX]
Mia..Mia Mia...Haven't you learned by now, to NEVER trust WBAN when we have a photographer on scene! Lori Steinhorst caught this shot when Mia was "Busted" eating fried ice cream at Los Pepes Mexican Grill in Palm Desert, California!
No, No,....NO...this is NOT Cat Woman hissing at her opponent! This is Mary Jo "KO" Sanders who is just about to take on her next foe!
©Photo by Kevin Kanahan
So you WONDER what Sue "TL" Fox's "TL" stands for? Check this old photo out, as many boxing fans ask what in the world do those initials mean! (Photo taken in February of 1976 in Fox's pro debut!)
A Special Happy 31st Birthday to Ann "Brown Sugar" Wolfe

who just got "Busted" by WBAN after getting caught on camera with a BIG piece of crump-delicious birthday cake in her mouth! hmmm... wonder what her trainer would think after viewing this picture!Lupe Thomas baked this cake for Ann, which is the same day as Muhammad Ali's birthday. Lupe said, " I baked her German chocolate cake with a boxing ring and a heart inside the ring, because it takes a lot of heart to be a true champ that she is."

Ah... HAPPY BIRTHDAY, BY THE
WAY, ANN!
MOMMA-MIA! WOULD MIA BE TICKED
AT WBAN FOR POSTING THIS PHOTO OR WHAT?!! (THE SHOT WAS TAKEN BY A VERY QUESTIONABLE PHOTOGRAPHER...
AH...EM....TL FOX!)

NO FOLKS...BELINDA LARACUENTE WAS NOT GETTING HER THROAT EXAMINED... SHE WAS STICKING HER TONGUE OUT AT CHRISTY MARTIN!

LUCIA RIJKER TRIES TO
PICK UP ON WISSOW!


Wissow was at the Gina Guidi / Britt VanBuskirk for the WIBA Championship on July 14, 2001. Lucia Rijker was a special guest at the event... Little did we know that Rijker was going to try and "pick up" on Wissow!
ABORO AND SJAUW TRAINING FOR
THEIR NEXT FIGHT!
Wow... Look at this training regime... WBAN busted Michelle Aboro and Marischa Sjauw in Germany, who were "apparently" training together, shortly before their fights that were at different venues...... Geez....Would you like a double-cheese burger with that order
DAISY LANG PLAYING FOOTSIES
WITH ACTOR VAN DAMME! IS HE HANDCUFFED?
A FIGHT EVEN LADY TYGER TRIMIAR WOULD LIKE TO FORGET FROM THE 1980'S! TRIMIAR TRAVELED TO JAPAN TO TAKE ON WRESTLER... AH, TYGER WAS BOXING!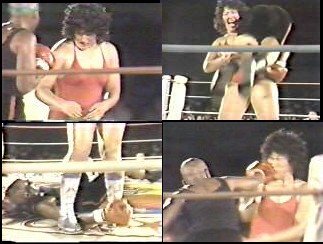 CAN YOU GUESS WHO THIS WOMAN
BOXER IS?...THOSE TATTOOS ON HER
BACK AND ARMS ARE REAL
BY THE WAY!

YOU WANT TO SEE MORE BOXERS THAT HAVE BEEN BUSTED? JUST GO HERE!